Festival for GNI's Youth Development Clubs held in Thanh Hoa
About 1,000 students from Youth Development Clubs (YDC) in Hoa Binh, Thanh Hoa and Tuyen Quang provinces which were established by Good Neighbors International (GNI) in Vietnam, participated in a series of exciting and meaningful exchanges in Vinh Long commune, Vinh Loc district in the central province of Thanh Hoa on October 19.
Dance performances by club members. Photo: GNI
Park Dong Chul, Chief Representative of GNI in Vietnam, said the YDC Festival Day has been held annually since 2017.
As of September this year, the organization had supported and operated 37 clubs in different fields such as football, math, painting, English and science at primary and secondary schools in the provinces of Hoa Binh, Tuyen Quang and Thanh Hoa.
Following the success of two previous YDC festival days in Tuyen Quang and Hoa Binh provinces in 2017 and 2018, GNI had organised the third YDC festival day themed "What do you dream?" with the aim of motivating and encouraging children to pursue their dreams.
The festival event aims for club members from three provinces to exchange, learn from each other, and bring out handmade products and artworks for the purpose of encouraging children to pursue their dreams as well as promoting talents, fair competition, friendship, team spirit in sport and confidence in the field of culture - art.
The festival included various activities such as writing, painting, theatre drama and mind games.
The event also included team building activities on dream-related topics, including The Amazing Race, billiards, foosball, flycam photography and football.
In the evening the children enjoyed a gala night including dance performances, choir singing performed by club members, and an exchange programme with artists Tu Long and Xuan Bac.
Good Neighbors is an international humanitarian development non-government organisation in the Republic of Korea in 1991, working in 37 countries and supporting more than 9.6 million children in the world. The organisation has been active in Vietnam since 2005 focusing on such areas as child protection, education, health promotion, clean water and sanitation, livelihood development, networking, mobilisation and emergency relief./.
VNF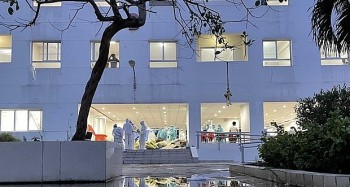 National
Vietnam News Today (Aug. 16): More than 251 million doses of Covid-19 vaccines administered in Vietnam; HCM City ready to reactivate Covid-19 treatment hospitals; Vietnam Airlines opens ticket sales for upcoming Tet Holiday; Demand for logistics real estate increases sharply: Savills Vietnam.