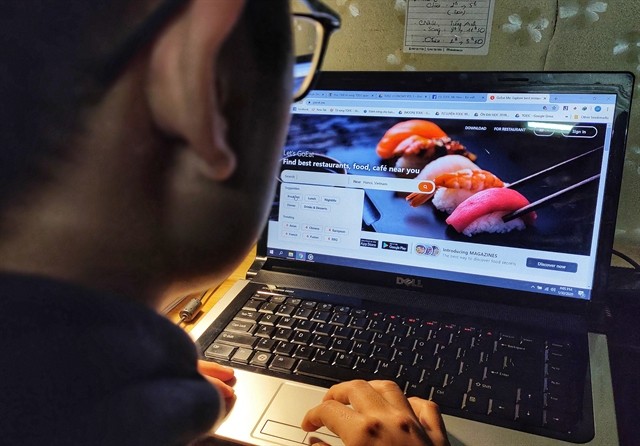 A customer uses GoEat Me to find restaurants. — VNS Photo Đoàn Tùng
It's not always easy to find the food you want in a new place, which is why apps like GoEat Me are stepping in to bridge the gap between tasty bites and the stomach.
"Food-lovers are what people call us, we look for delicious food to taste when we discover a new place. We realised there is room to improve the way people look for food and restaurants no whether they're at home, in the office, or travelling. So basically, we did it because of our passion," said Việt Phạm, founder and CEO of GoEat GmbH – a start-up located in the heart of Luzern, Switzerland.
"We test this idea with 1,000 people. It turned out, we were not alone. People are still looking for a better solution that can help them discover what to eat nearby in an innovative way, a personalised recommendation."
He said they decided to start in Việt Nam to introduce Vietnamese food to foreign visitors.
Việt Nam has many delicious dishes such as phở (noodle soup), bánh mỳ (baguette) and bún chả (grilled pork). However, not all tourists and even residents know the best spots for each dish, Việt said.
"The idea was nurtured by me and Kevin Quân Nguyễn when both of us were working for a wealth management company in Switzerland."
"The minimum viable product (MVP) was bootstrapped by me thanks to my little knowledge of computer sciences and web development, we gained a lot of achievements and awareness with that MVP," he said.
"However, we realised that we could not go on sustainably without a real CTO [Chief Technology Officer]. Luck came to us by bringing Phong to the team, his project at university was similar to GoEat Me and he was interested in being part of this journey."
According to Trần Nam Phong, co-founder of GoEat Me, they faced many challenges in the past two years since founding the firm.
"At the very beginning stage, we knew exactly what technology we should use, how we were developing and testing. However, we didn't know how to launch the product and grow it in the right way. How to reach our target audience. How we measure our achievements," he said.
"Just like any other start-up, we did not take any salary at the beginning until we got funded. The product was beta launched after five months since the participation of Phong," said Việt.
"Challenges create an exciting journey, we love but also hate it. By entering this journey, founders likely have to face the problems of finding the right people, having enough capital to survive until the company gets funded and securing the next round of funding, and last but not least maintaining the start-up spirit of the whole team."
Finding the right people was tough because as a leader with limited resources, it was difficult to ask for commitments with an unsure future.
"I was a lucky founder when I found the right people to join the adventure and to share the challenges. In the journey, founders may have to face team members or even people you trust the most left. But what's meant to be is meant to be. Just move on! Giving shares is also a way to incentivise employees to contribute to the company and develop it together with the founders," Viet added.
Việt said fundraising was time-consuming and expensive. A deal could take from six to nine months on average to close, costing a lot of mental and physical stamina to get over the line.
When they first raised capital, they thought it would be easy to get more but had to quickly learn to be aware of the company's cash flow to avoid running out of money.
As fundraising was a tough period, team members would tend to relax after money was secured, however, Viet told them this was just the beginning.
According to him, the most difficult moment was when their investment proposal was rejected by investors as it hurt the motivation of the whole team.
"We then figured out that we are not the only ones who suffer that in this world, just because we did not have enough experience to face what we would have to face," Việt said, adding that they finally found two investors after a few months of looking.
To compete with big players on the market, GoEat Me uses machine learning to deliver unique culinary experiences by personalising recommendations based on user preferences, habits, location, allergies, and outer factors, such as weather, time and traffic.
"We maximise user satisfaction to maximise conversion rate to bookings, which drives more traffic and transactions to big players," he said.
Their efforts have paid off as GoEat Me has gained several achievements including a silver medal a the Swiss Innovation Challenge 2018, being named among the top 40 Food tech at KickStart Accelerator 2018 and among the top 10 Vietnam Startup Wheel 2019.
"We love to be part of competitions, it's a chance for us to know where we are standing at and what other founders are doing," Việt said.
Attending events is also an opportunity to enlarge their network and create chances to meet potential investors/members.
When asked about plans for the future, Việt said they hoped to partner with a local company to bring table reservation feature to foreigners so they won't have to download different apps when travelling to Việt Nam.
"We aim at becoming the most popular food app and food community in Europe within the next five years and in Asia from the sixth year onwards," Phong said.
"Until this day I'm not saying that we know everything we need. But we know how to move on and how our journey will be like. It comes from a continuous process of learning. We read books, met some awesome people, talked with our prospective users. Last but not least, we're learning by doing," he said./.
VNS