Finding the Best Vegetarian Dishes in Vietnamese Cuisine
.Vietnam has diverse and mouthwatering vegetarian food options, appetising enough to catch the attention of meat-eaters as well.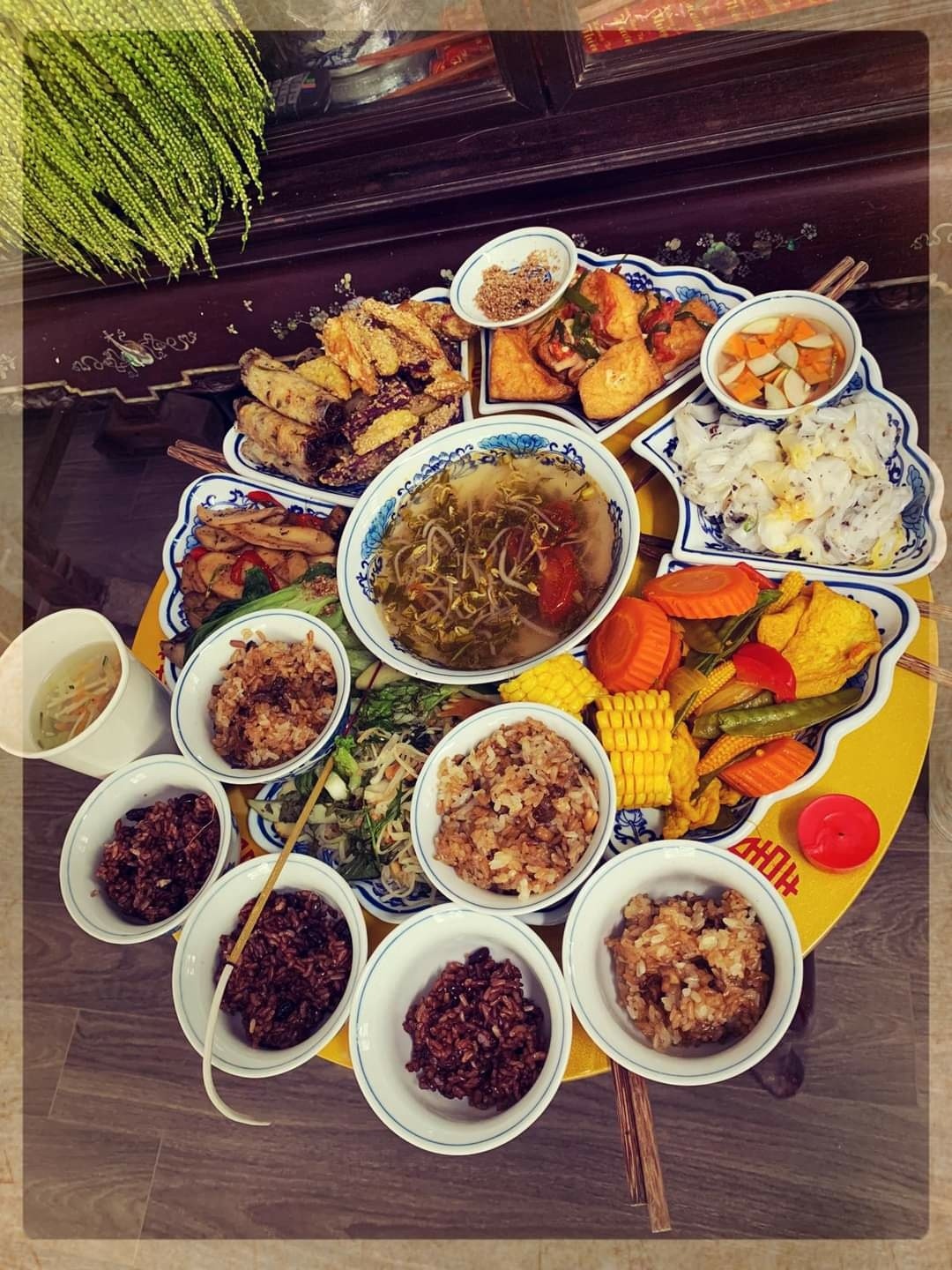 It is a norm of many families to maintain a vegetarian diet on the first day of Lunar New Year or on the first day and fifteenth day of every lunar month. Source: Veggie Castle - Nhà hàng chay Vegan
While Vietnamese cuisine might be known for its meaty soups, and meat makes up a big part of Vietnamese cuisine, there is a lot of Vietnamese vegetarian food. It is common to find vegetarian versions of traditional Vietnamese street food such as Pho (Pho chay) or Banh Mi (Banh mi chay).
Popular Vietnamese vegetarian dishes include vegetarian spring rolls, xoi chay (a vegetarian rice with vegetables), banh khoai tay chien (potato cakes with vegetables), dau sot ca chua (tofu with tomato, green onion and herbs), rau muong xao toi (water spinach fried with garlic), and cai xao nam (fried bok choy with shitake mushrooms).
Vegetarian food is believed to first appear in Vietnam during the reign of the Ly Dynasty in the 11th century. However, it only became popular during the long rule of the Nguyen Dynasty in the early 19th century. It was the time when the King requested the chefs to offer the finest food as part of a royal ritual, a prayer for peace and prosperity in the kingdom. That kind of food is vegetarian food.
Since then, eating vegetarian food has become a tradition in Hue, where the King lived. A lot of Hue people have vegetarian meals on the first and full moon days of every month. On those days, restaurants serve vegetarian food instead of non-vegetarian food. Hue people also have vegetarian food on the first day of the New Lunar Year.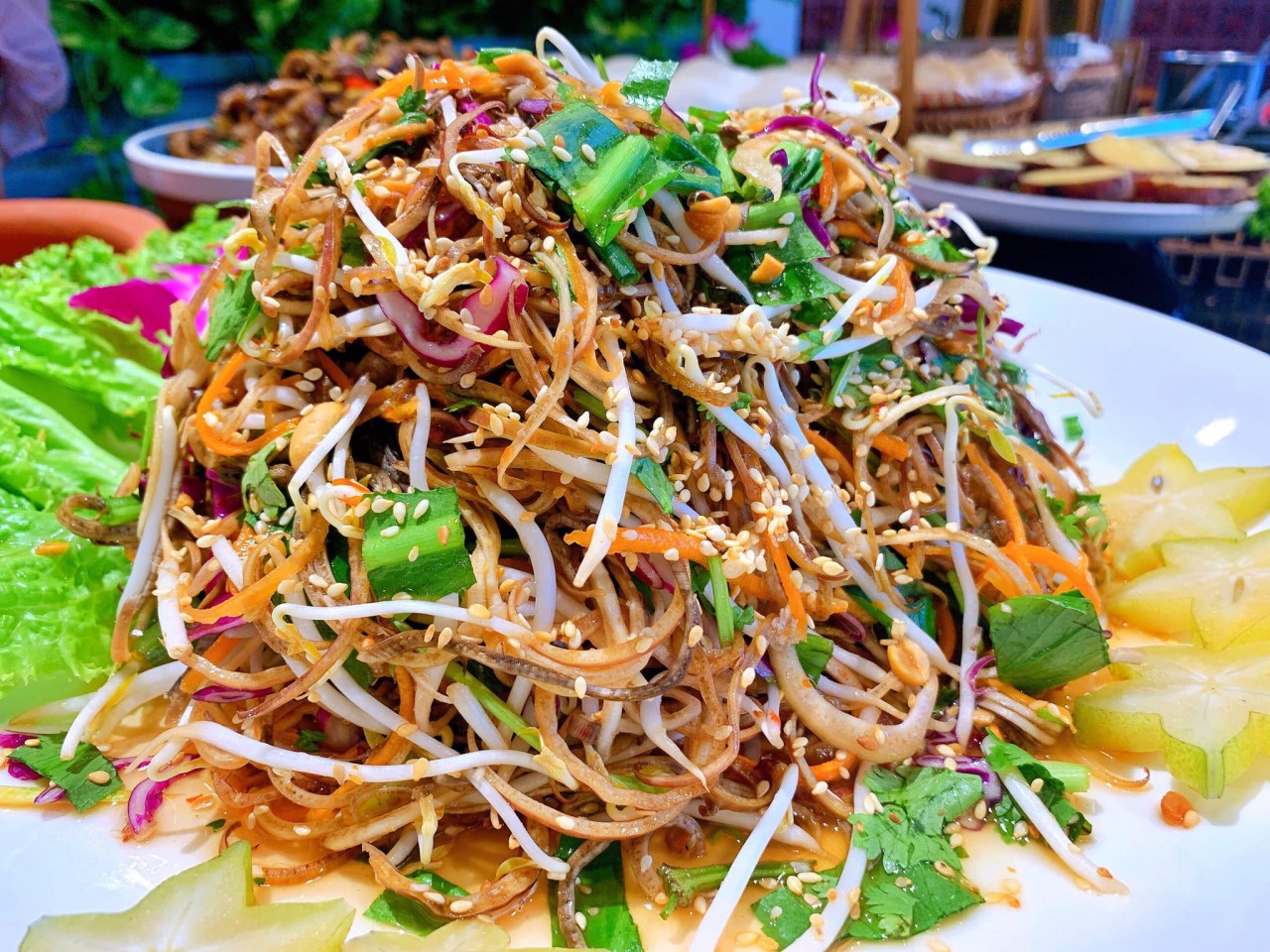 Vietnamese Banana Blossom Salad. Source: Internet
Vegetarian food has become increasingly popular in Vietnam over the last few years. All major cities, including the capital, have many restaurants that serve vegan food, and their number is increasing. Hanoi and Ho Chi Minh City has a whole range of vegetarian eateries from the street food stall to the most luxurious restaurant. Many came up with their own specialty menu by re-creating numerous Vietnamese classics with a modern twist while other served a sizable menu of head-turning international options.
Some of the most common vegetables in Vietnamese cuisine include eggplant, water spinach, radish, cucumber, carrot, cauliflower, bamboo shoots, corns and bok choy. Pickled vegetables are the base for some characteristic dishes like Dua Kieu (made with Allium Chinense and eaten during Tet festival) or Dua Mon (made with carrot and white radish).
Vegetables are also the base for many sauces: Turong, for example, made from fermented soybeans; or the sweet and salty hoisin sauce, made with sweet potatoes, sugar, soy beans, sesame seeds, salt, and garlic. Soy sauce is also commonly used.
Fruit like papaya, mango, and jackfruit are used mostly for salads. Finally, another common ingredient for salads is tofu; an example is Goi Dau Hu made with tofu, cabbage, mint, and soy sauce.
Banh mi chay
Banh Mi Chay must be among the top choices for vegetarian food in Vietnam. Banh mi is a French baguette filled with many different ingredients. A vegetarian version is made from tofu, mushrooms, cheese, or fried eggs. It is also filled with fresh chilies, pickles, and herbs and finished with a sprinkling of soy sauce. While banh mi is relatively inexpensive, banh mi chay is even cheaper. It can be found in Vietnamese street food stalls or restaurants.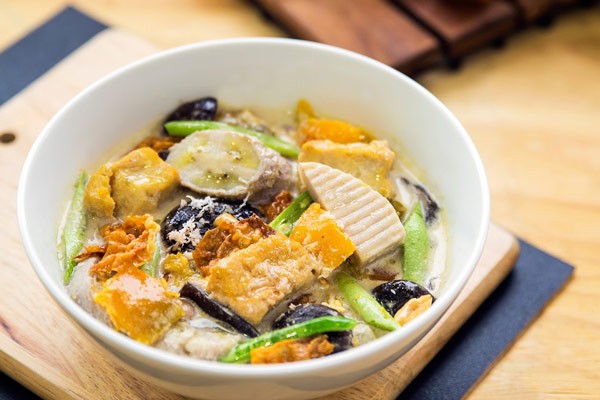 Source: Internet
Canh kiem
This double dose of sweet and savory contains a mountain of vegetables, but its delights are often missed by many foreign visitors. The broth is made with kambu (an edible kelp), coconut milk, and water, while the base is comprised of sweet potatoes, pumpkins, and cooked peanuts.
Throw in a healthy portion of long beans, portobello mushrooms, carrots, corn, and the almighty tofu, and you have the basics of a bowl of canh kiem. Get some steamed rice or rice noodles on the side and a plate of fresh herbs like basil, mint, and cilantro, begin to ladle the broth over your noodles, and you're set.
Xoi chay
Rice is a staple Vietnamese food. Xoi Chay or Sticky Rice can be practically had with anything - meat or vegetables. Xoi Chay is made by cooking rice and slicing the cooked rice into flat round shapes. After this dries, the slices of steamed rice are fried in hot oil pan until they turn yellow and crisp. The vegetarian version of Xoi Chay is generally served with items as diverse as chickpeas, coconut, sugar, mushrooms, broccoli, pepper, red chilli and onion.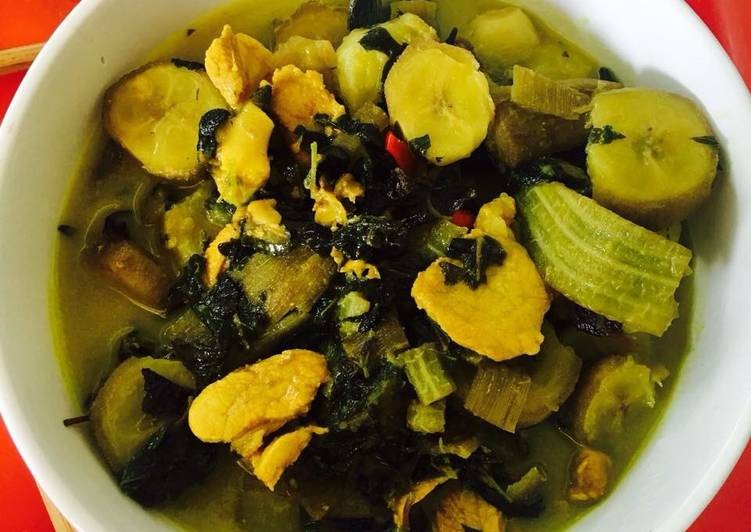 Vegan banana-tofu soup is the only-vegetable version of a traditional Red River Delta dish, which normally includes shellfish or snails.
Chuoi nau dau phu
This vegan banana tofu soup is one of the north's most cherished vegetarian-friendly staples. If it sounds unique, that's because it is, with its origins traced to the Red River Delta region. The secret is the use of green, unripened bananas. They are cut and soaked in lime juice before being stir-fried with tofu, then braised in water with fermented rice to give it a nice sour kick. Many restaurateurs additionally throw in mushrooms or onions. Naturally, it's often garnished with a variety of attractive greens.
Dau sot ca chua
Dau Sot Ca Chua is an authentic vegetarian Vietnamese dish which consists of yellow tofu pieces with slices of tomato, green onion and Vietnamese herbs. The dish offers a flavourful medley of soft tofu and fresh tomatoes and is best served with steamed rice.
Rau Muong Xao Toi, a healthy Vietnamese dish made of Spinach. Source: Internet
Rau muong xao toi
Rau Muong is freshwater spinach. To make Rau Muong Xao Toi, you need to boil rau muong, then deep it in cold water. After that fry it with garlic and other Vietnamese herbs. This dish topping with peanut powder is often served with steamed rice. This dish is available in almost all diners across Vietnam.
Pho chay
Traditional Pho noodle soup is meat-based with noodles, beef, and vegetables, however, it is not difficult to find vegetarian pho. The way of cooking vegetarian noodle soup is the same as normal pho, people use vegetables instead of meat. It is served with piles of vegetables, herbs, fresh chilies and limes. Vegetarian pho particularly popular in central Vietnam in cities such as Hue and Da Nang, where the majority of populations are Buddhist.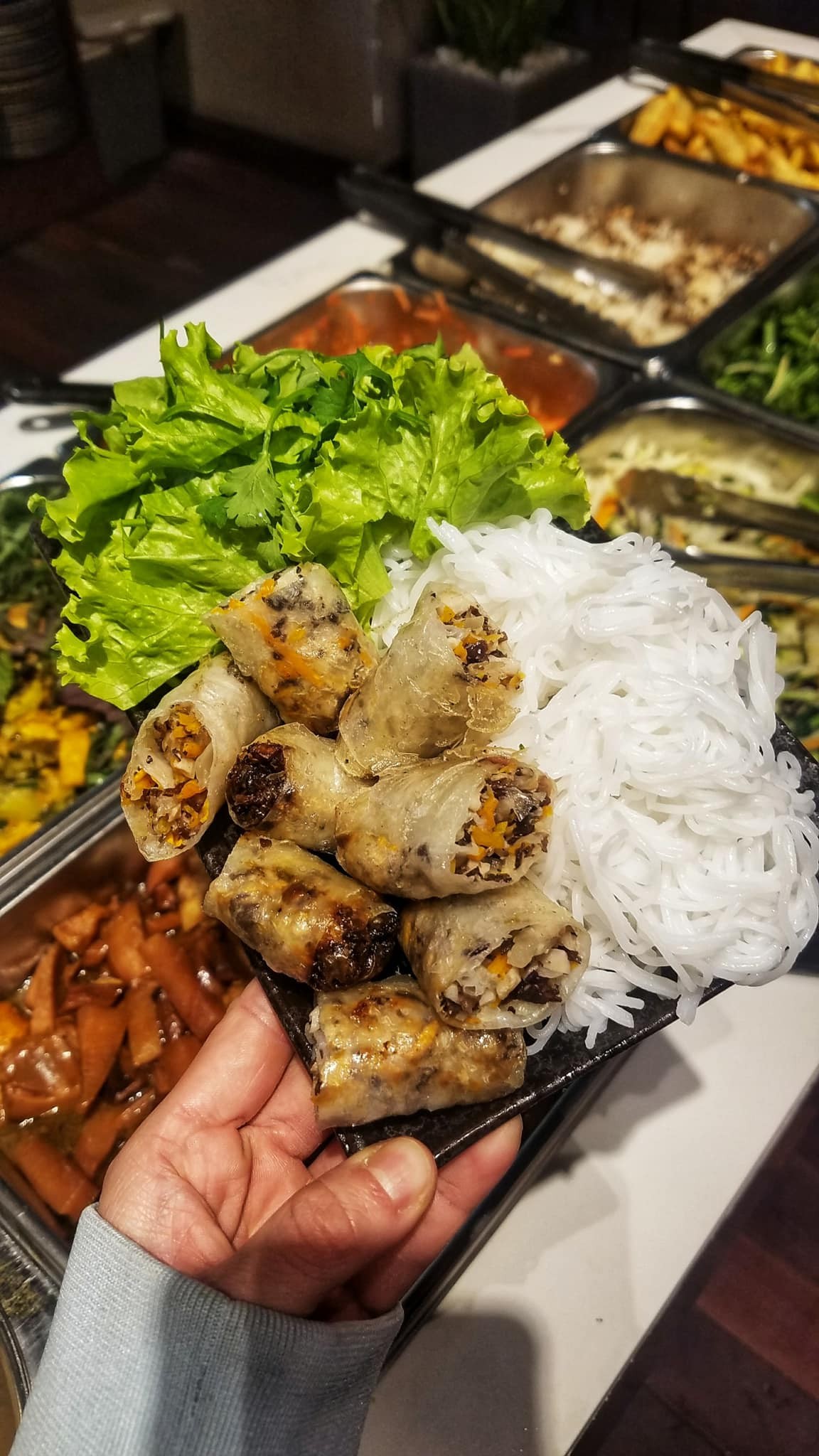 Deep-fried spring rolls served with dips, herbs, and fresh rice vermicelli. Source: Veggie Castle - Nhà hàng chay Vegan
Bun cha gio chay
Place some chilled rice noodles on a plate with a few veggies like mint, cucumber, lettuce, and bean sprouts. On top of the noodles throw in some vegetarian spring rolls packed with taro, mung bean noodles, mushrooms, and fried tofu. Season them with some salt and pepper and you're ready for the next step; a garnish delivered on a side plate with pickled carrot and winter radish. Apply as you wish, and to finish, dip it in fish sauce or a completely vegetarian sauce.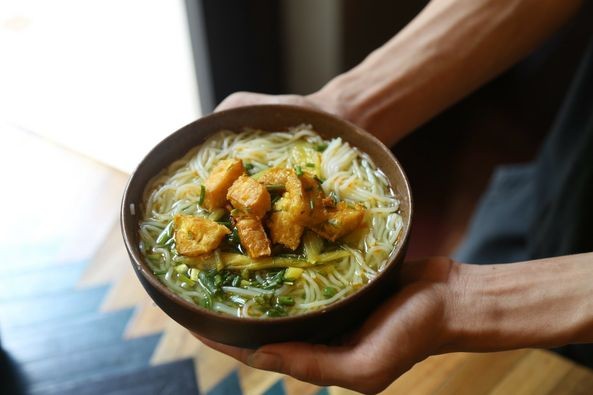 Bun chay. Normally, it's served with crab or fried fish, but for the veggie-friendly option, this element is omitted. Source: Veggie Castle - Nhà hàng chay Vegan
Bun rieu chay
Normally, it's served with crab, but for the veggie-friendly option, this element is omitted. In fact, the dish is found in many variations, but the most popular version consists of rice noodles served in a broth made with apples, vinegar, radishes, and often, pear, and tamarind. The soup is loaded with mushrooms, tomatoes, tofu, and bean sprouts.
Again, the vegetables used can vary greatly, as with most vegetarian food in Vietnam. It can literally depend on which vegetables are in the fridge at the moment or bought during the daily run to the market. It's nice and light, a bit sour, and a good one to eat any time of the day.
Mien xao rau cu
Mien xao (Stir-fried glass noodles) is a traditional Vietnamese dish. Glass noodles, otherwise known as cellophane noodles, are well known in Vietnam, but locals know them simply as mien.
Mien is translucent in appearance when cooked, normally round in shape, and originated in China. It is a starch-based noodle, usually made from mung beans, yams, potatoes or cassava. Mien should not be confused with vermicelli, which are made from rice and are white in color, rather than clear, after cooking in water.
Mien xao rau cu is an amazing vegetarian dish made from glass noodles, tofu, and lots of vegetables such as mung bean sprouts, corn, mushroom, and spring onion along with ear wood.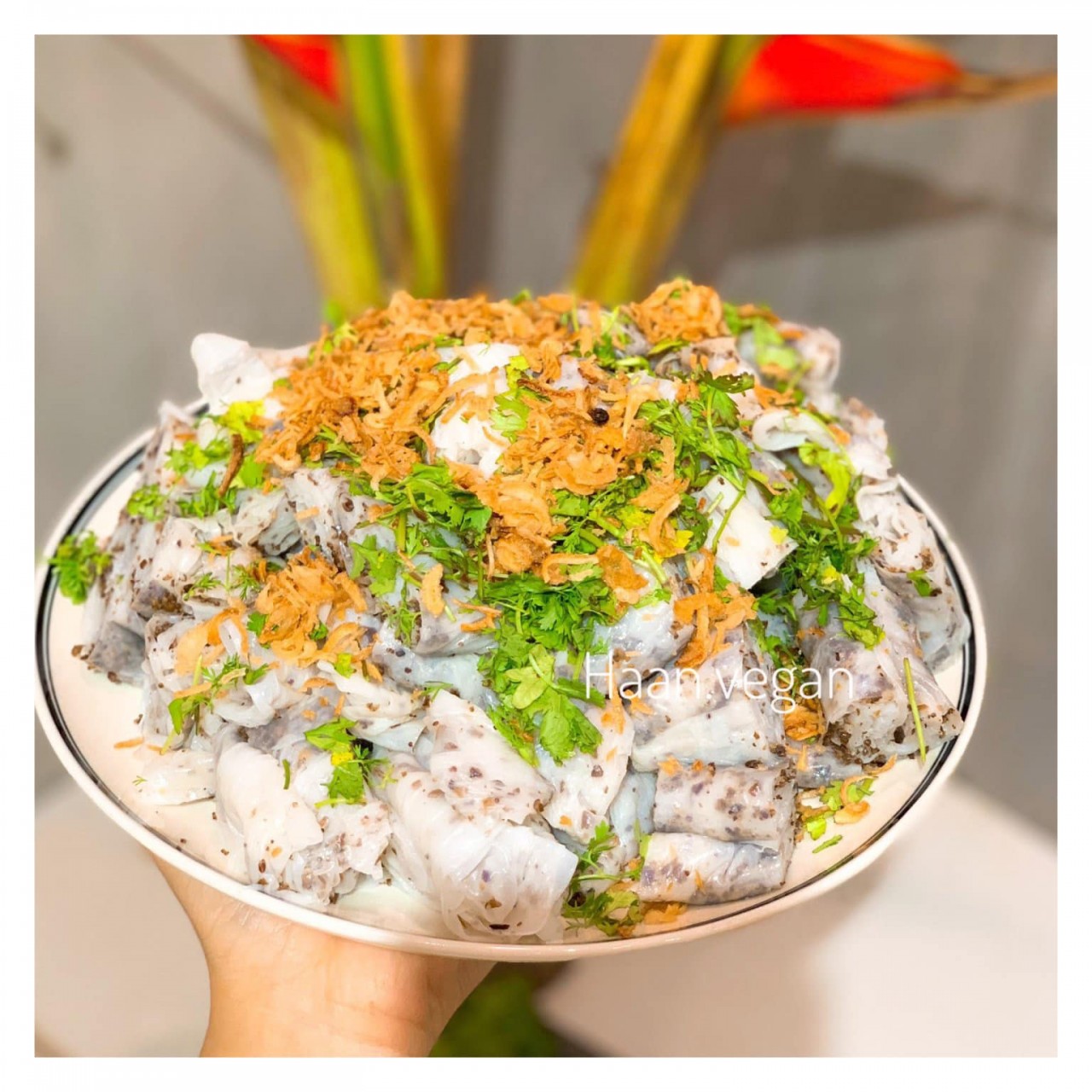 Bánh cuốn chay – Vietnamese Vegetarian Steamed Rice Rolls. Source: Haan.vegan
Banh cuon chay
Banh cuon chay is similar to a crepe. It is made from a rice flour batter, which is spread into a large, thin sheet and stuffed with plenty of greens and spices. Normal banh cuon are stuffed with ground pork and mushroom, but the vegetarian option uses tofu instead of pork. It's then topped with crispy onion and served with herbs and a spicy dipping sauce.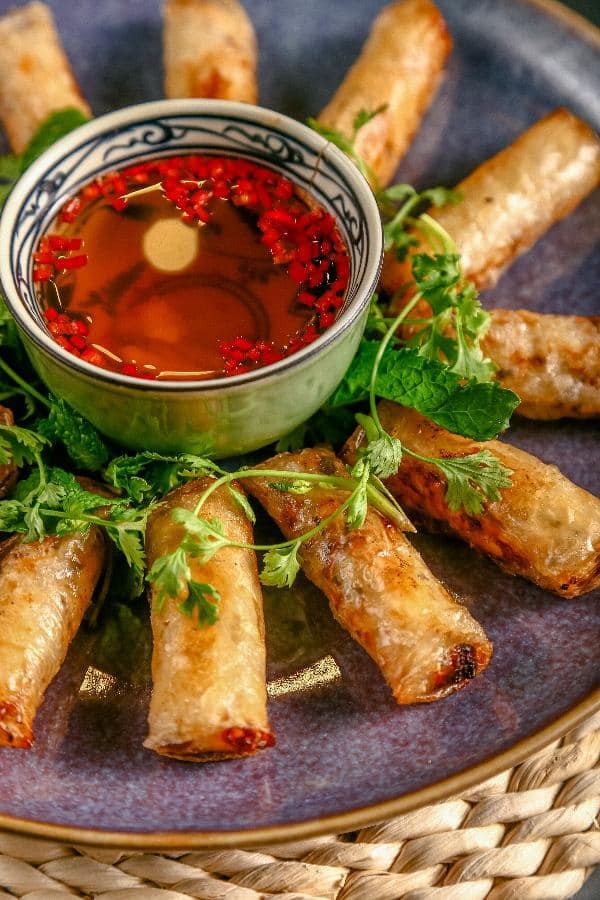 Spring rolls stuffed with noodles, mushrooms, and all manner of other good stuff are fried until crispy. Source: Veggie Castle - Nhà hàng chay Vegan
Nem chay
Vietnam fried spring rolls made by wrapping filling in clear rice paper wrappers (bánh tráng) and then frying them. The filling usually consists onions, carrot, and ground pork/shrimp/crab, wood ear mushrooms, and glass noodles. Though of course this version is vegan and the rolls are filled with a mix of wood ear and fresh mushrooms, vermicelli noodles, tofu, and carrots before being rolled in flour spring rolls wrappers.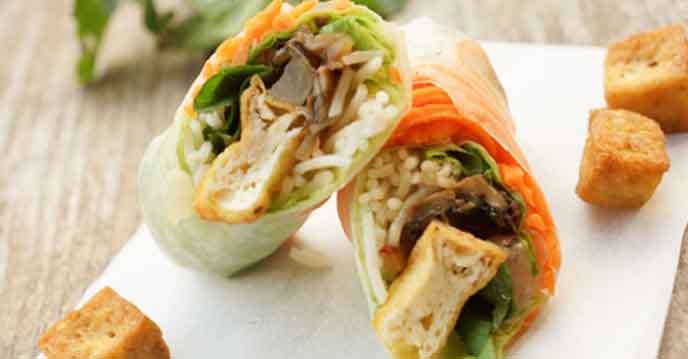 Delicious Vietnamese summer rolls.
Goi cuon chay
Summer rolls are wrapped (rolled) in a translucent rice-wrapper and served cold. Spring rolls are are wrapped in a dough made of flour and water, and then fried. The dish is best served after being dunked in sweet and sour fish sauce or a thick peanut dip.
Vietnamese often choose vegetarian dishes for Vu Lan festival (the 15th of the seventh lunar month), a day traditionally used to pay respects to one's parents.
If you want to try a unique twist on a fruit salad, you can try the fruit spring rolls with a filling of with strawberries, kiwi, blueberries, and mango are the perfect dessert for hot summer days.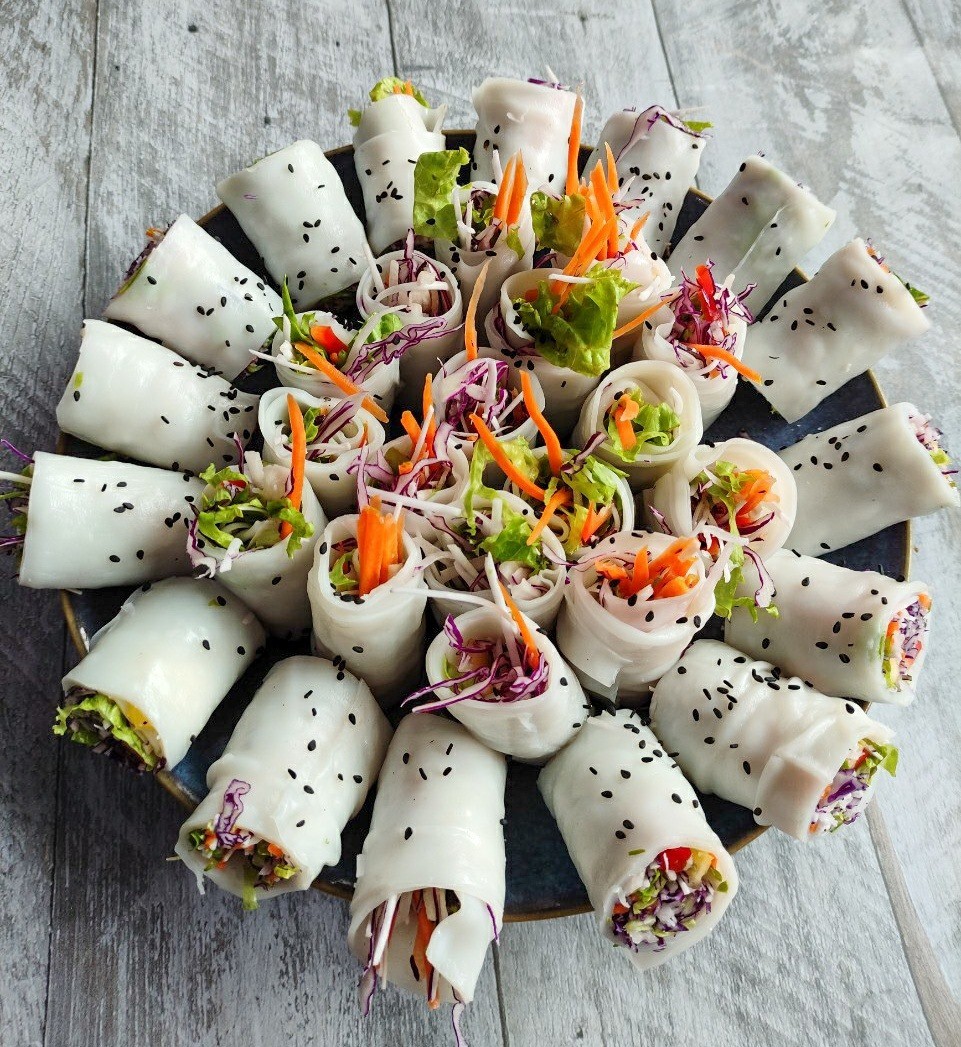 These healthy Vietnamese pho rolls are prepared using fresh vegetables such as spinach, carrot, cucumber. It can be served as lunch, dinner or as an appetizer for a party with the soy sauce based dipping. Source: Veggie Castle - Nhà hàng chay Vegan
Pho cuon chay
Pho rolls, a well-known dish of Hanoi, you can make the dish by simply wrapping cooked beef with some herbs in uncut pho sheets and served with the dipping sauce. Of course, it has vegan version. It's like wrapping your salad inside uncut pho sheets and dipping it in your favorite dressing. And, you can make it healthy in so many ways by adding greens, carrots, cucumbers etc.
Apart from everything mentioned in the article, Vietnam has innumerable street stalls and markets that have a variety of fresh fruits, yoghurt and smoothies available. So go forth and explore the vegetarian side of Vietnamese cuisine.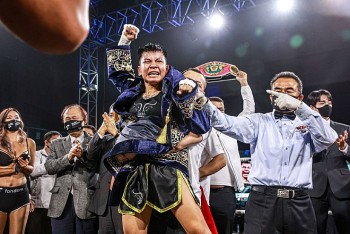 Overseas Vietnamese
Excellently defeating Japanese former champion Etsuko Tada, Nguyen Thi Thu Nhi became the first WBO world flyweight professional boxing champion in the history of Vietnamese boxing.