Five Chinese warships enter Philippine waters in July, August: Military official
The Armed Forces of the Philippines Western Mindanao Command (AFP-Westmincom) has reported 5 Chinese warships passed Philippine waters in July and August 2019.
5 Chinese warships enter Philippine waters in July, August. Photo from AFP-Westmincom
Five more Chinese warships were recently spotted venturing into the country's southernmost territorial waters, according to the Armed Forces of the Philippines Western Mindanao Command (AFP Westmincom).
They said this is in addition to the passage of 4 Chinese vessels earlier this year, all without permission from the Philippine government.
Coastal patrols monitored the passage of 2 Chinese naval vessels in July and 3 this month, said Lieutenant General Cirilito Sobejana, AFP Westmincom Commander, on August 14.
The warships were seen passing through Sibutu Strait, considered an international sea lane where foreign ships have the right of innocent passage. However, customary maritime law requires warships to notify the government of the coastal state beforehand.
"Since these are warships, their entry to our territory should be coordinated [with Philippine authorities]," Sobejana said in an interview provided to reporters.
Besides, the 5 Chinese warships' passage cannot be considered "innocent" because they were on a curved course, Sobejana said.
"They were not hostile. But the thing is, it was not an innocent passage because innocent passage should be in a straight line. Once you curve, that is no longer considered innocent passage," Sobejana said.
The Chinese warships immediately changed course and exited Philippine territorial waters after Philippine naval aircraft and other assets came within their view, he added.
On July 25, Philippine Defense Secretary Delfin Lorenzana said the military reported 4 instances of Chinese naval vessels traversing the Sibutu Strait in the waters of Tawi-Tawi province since February.
On August 6, the AFP Western Command said 4 Chinese warships passed through the waters near Balabac Island in Palawan province on June 17 without permission, and virtually ignored radio communications from Philippine patrols.
The reported passage of the 3 Chinese warships in August came after Chinese Ambassador in the Philippines Zhao Jianhua supposedly said he would tell the Chinese Navy to give notice before having their warships enter Philippine waters.
Lorenzana said Zhao made the commitment on July 22, the day of the Philippines President Rodrigo Duterte's State of the Nation Address.
Below are photos of the vessels, released by the AFP-Westmincom:
VNF/Rappler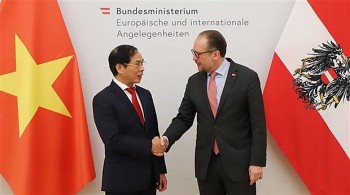 Overseas Vietnamese
Fifty years have passed since the establishment of the relationship, the two countries have enjoyed great strides in bilateral cooperation.