Following heat wave, heavy rain and strong winds expected for Vietnam's northern region
Heavy rain, accompanied by strong winds, are predicted to hit the northern and north-centra regions for next several days starting from May 23, VOV reported on May 22.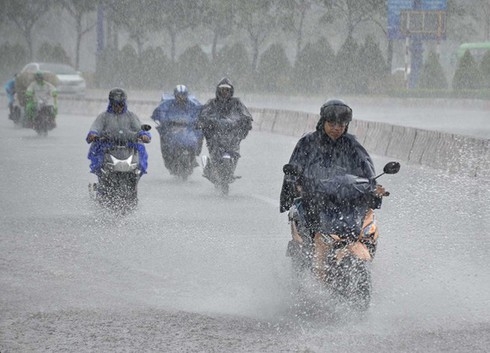 Illustrative image. Source: VOV
Some locations around the north recorded heavy rain from May 22 night to May 23 morning, with the highest rainfall being recorded in Tuyen Quang province with 96mm.
Due to the influence of low pressure, there is expected to be scattered showers and thunderstorms throughout the north. Mountainous areas are expected to endure heavy rain, with an average rainfall of between 30mm and 60mm over the course of the next 24 hours, whilst some places will endure rainfall of over 70mm.
The majority of rainfall will occur at night or in the morning, whilst thunderstorms bring a high possibility of tornadoes, lightning, hail, and strong winds.
Hanoi was hit by heavy rain on the night of May 22, with more heavy downpours expected in the capital over the course of the next several days, with residents able to enjoy cool weather after recent days of heat wave.
Many northern localities of Vietnam, including Hanoi, were experiencing scorching hot days with temperatures of up to 40-41 degrees Celsius.
The National Centre for Hydro-Meteorological Forecasting reported that this year would be among the hottest years on record.