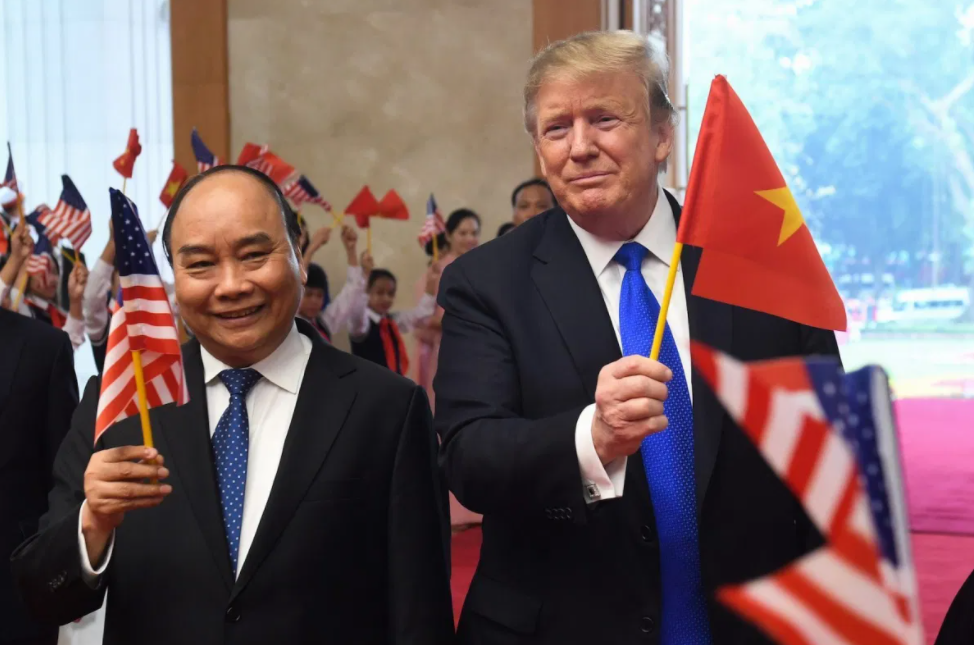 US President Donald Trump holds a Vietnamese flag as Vietnam's Prime Minister Nguyen Xuan Phuc (L) waves a US flag upon their arrival for a meeting at the Government Office in Hanoi on February 27, 2019. (Photo: AFP)
US trade partner that has fastest-growing economy since the beginning of this year
Possessing the largest per capita gold reserves in the world, Switzerland ranks first in the list of US trade partner that has fastest-growing economy since the beginning of 2020.
As of July, the trade turnover of the US - Switzerland increased by 55.13% over the same period in 2019. At this time last year, Switzerland is the 19th largest trading partner of the US. Currently, this country ranks at No. 8.
In the mentioned list, Vietnam ranked second. Forbes stated that in the past two decades, no US trading partner has grown as fast as Vietnam - a country that is gradually becoming the world's new manufacturing hub.
Last year, Vietnam ranked 28th on the list of America's largest trading partners. This year, the country reached the 10th.
US trade partner with fasting economy grow rate in August
Cambodia, Vietnam's neighboring country, is the first name on this list. Cambodia is a garment manufacturing country, with particular strength in backpacks, bags, and clothes. The US-Cambodia trade turnover increased by 65.79% from June to July, improving its ranking from 57th to 47th compared to the last months' lists.
The second position of this list belongs to Hungary, whose main products exported to the US are motor vehicles, computers, aircraft parts, and batteries. Last August, export figures between the US and Hungary increased by 62.02%, bringing the country from 53rd to 44th.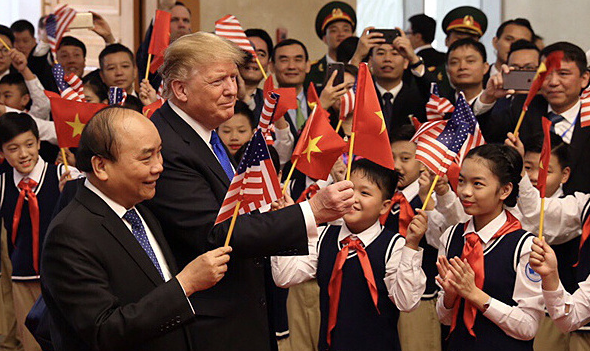 Vietnam's Prime Minister Nguyen Xuan Phuc and U.S. President Donald Trump are greeted at the Government Office in Hanoi, February 2019. (Photo: Vn Express)
US largest importing partner since the beginning of this year
Sweden leads the top countries imported from the US in 2020. US exports to Sweden have increased by $378.94 million this year. However, according to Forbes, that figures do not show a huge increase. Oil and vaccines are the two top US exporting products to Sweden.
Denmark follows Sweden in the chart as US exports to this country have grown by US$ 218.99 million, and a quarter of that belongs to the field of oil.
According to US Congressional Research Service, this year marks the 25th anniversary of the United States and Vietnam reestablishing diplomatic relations. Over the last 25 years, U.S.-Vietnam economic and trade relations have expanded rapidly. The United States was Vietnam's 2nd largest trading partner in 2019; Vietnam was the United States' 13th largest trading partner. Bilateral trade increased by nearly 32% in 2019, and the U.S. trade deficit with Vietnam rose to nearly $56 billion, an increase of 42% over 2018.
Valerie Mai