First Vietnamese woman makes Forbes Under 30 Slovakia List with Pho restaurant
Lucia Thao Huong Simekova, whose Vietnamese name is Vu Thao Huong, 27, landed a spot in Forbes Slovakia's 30 Under 30 list of 2020 for her successful establishment of a pho restaurant business in the country.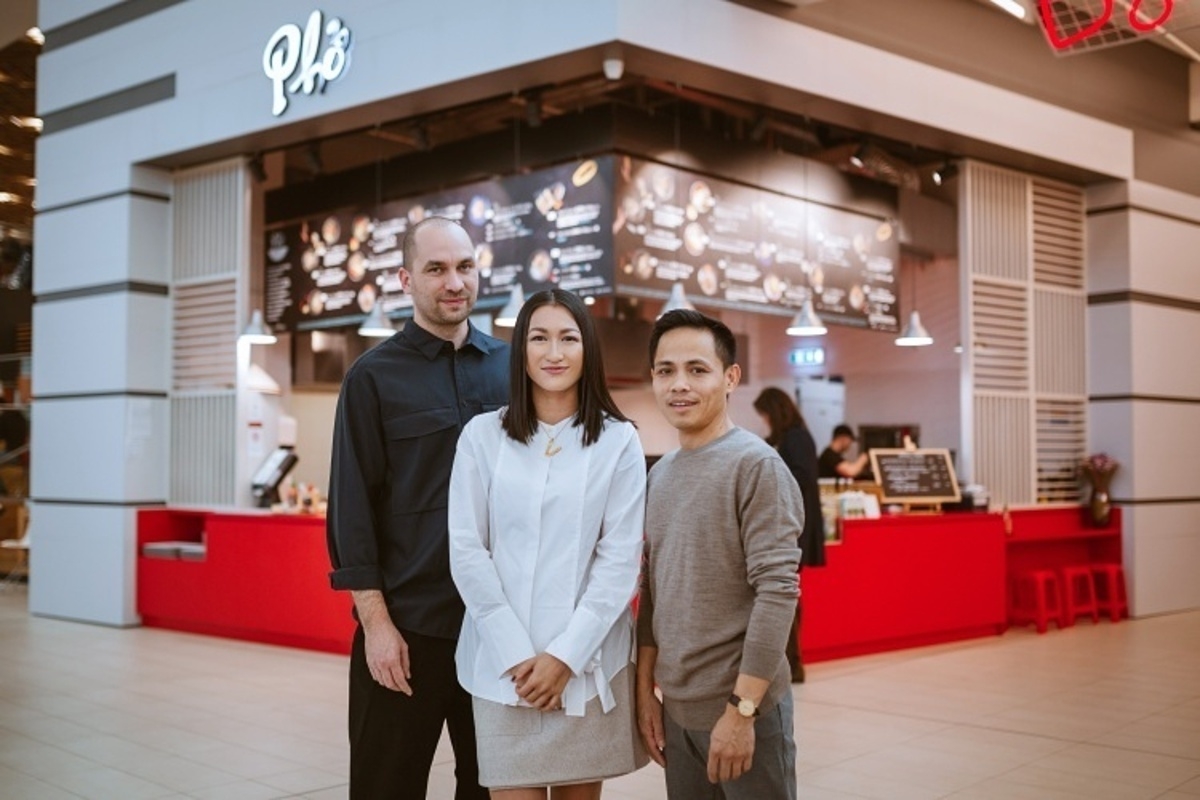 Huong's husband Jozef (left) with her and her cousin Thang Tran in front of one of the Pho restaurant's branches in Slovakia. Image via @phockaren
Recreating traditional meals
According to Next Shark, Huong owns the aptly-named PHO, which managed to earn over EUR 3 million (USD 3.4 million) in just two years.
"I'm very grateful to be chosen to be on Forbes's list. It gives me greater motivation, because my restaurant is still very young," Huong told VnExpress.
Born in Bratislava, Huong is the only daughter and eldest of four siblings of two Vietnamese immigrants who met in Warsaw, Poland after finishing their European studies. Her father is from Hanoi and her mother a native of the northern province of Nam Dinh
As the only Vietnamese family in their village, Huong struggled to fit in growing up. She recalled times when other children teased her at school and even on the street.
"The discrimination around me pushed myself to study well and make efforts to prove that Vietnamese people can succeed," she told VnExpress.
After winning a EUR 35,000 scholarship (USD 39,388) from the British International School Bratislava, Huong decided to study at the Bratislava branch of Seattle University. She then completed her master's degree at the University of Reading in the UK.
While working in real estate investment, Huong dreamt about opening her own restaurant business that would allow her to recreate meals her parents had fed her.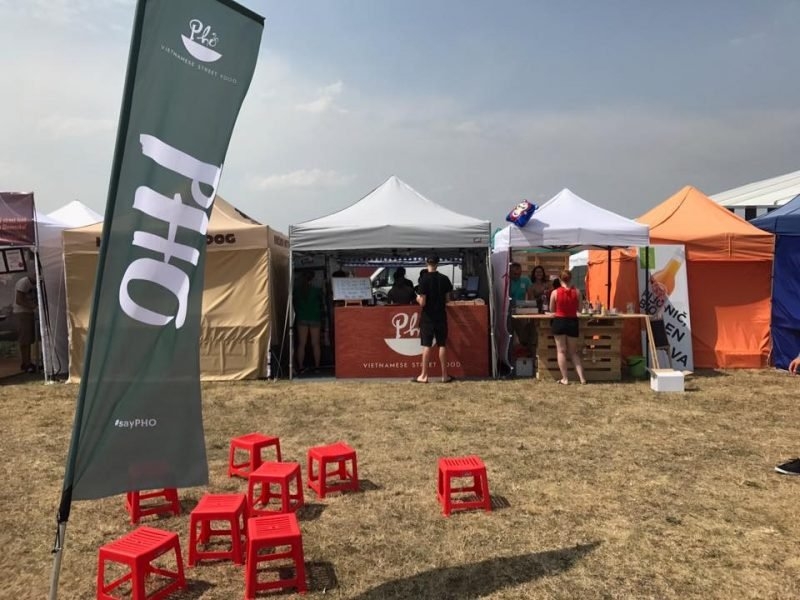 Huong first introduced PHO at the Grape Music Festival in Piešťany in August 2017. Image via @phockaren
She turned her dream into reality in 2017, shortly after getting a hand in serving people Vietnamese food at the Grape music festival in Piešťany in western Slovakia.
They worked tirelessly for two days, serving delicacies from Vietnam to what seemed like an "endless" line of people. The two bestsellers were 'pho bo', the flat rice noodle soup with beef and 'bun bo Nam Bo', the southern Vietnamese rice vermicelli soup served with beef that is thicker and fatter than the 'pho' version.
The huge interest in Vietnamese food at the festival pushed Huong to open her own restaurant. After discussing it with her husband Jozef, she called her cousin Thang and invited him to be the head chef.
Thang, also hailing from Nam Dinh province, where 'pho bo' had originated, had already worked for several restaurants in Slovakia and Germany.
Huong managed to open her first pho restaurant at the end of that year. Two other locations launched by the end of 2018 and in February 2019.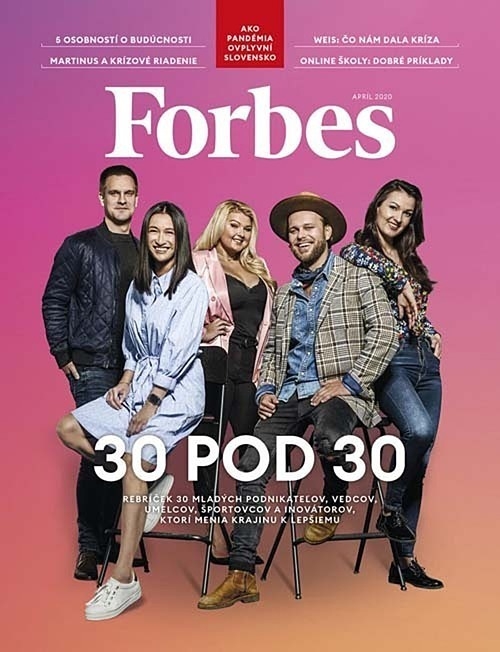 Lucia Thao Huong Simekova (L, 2nd) and other young entrepreneurs on the cover of the Slovakian edition of the Forbes magazine. Photo courtesy of Forbes Slovakia.
"Difference has brought us success"
With the opening of her third restaurant, Huong quit her job at Sharow Capital, a property management and real estate investment company specializing in Central and Eastern Europe, to invest her energies completely into her new venture.
While cousin Thang is in charge of creating the menus for the restaurant chain, Huong oversees its business operations. Her knowledge of commercial real estate has helped her go against the grain and prove the restaurants can do well in shopping centers.
Her husband, a real estate professional and Vietnamese food enthusiast, is impressed by her devotion to the business even when she was pregnant with their son.
"Despite the fact she is successfully running business of 50 people, she is the most caring mother, she still knows how to go crazy and funny," he said, adding that he will support her ventures wholeheartedly.
Once pushed to succeed because she was mocked for being different, Huong is proud of the difference today.
"Every day I smile. I no longer wonder about the fact that I'm different. That difference has brought us success."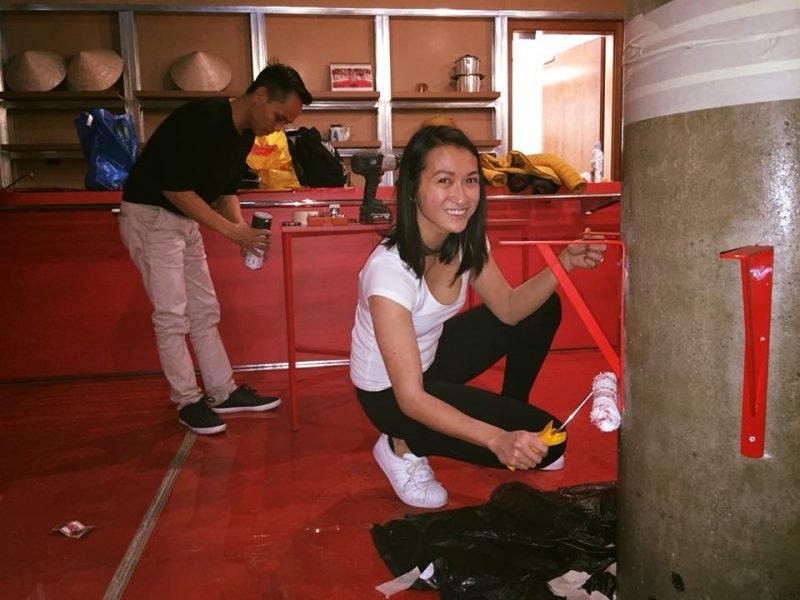 Huong helps paint PHO's first restaurant at Bory Mall. Image via @phockaren
Growing the chain helped Huong realize she has inherited from her parents the values of diligence and commitment to one's family. She feels blessed that she and all her siblings live close to one another in Bratislava and reunite for family gatherings every Tet, the Vietnamese Lunar New Year festival.
The family values also deepened Huong's connection with her homeland, Vietnam.
She had felt the same heartwarming family affection when she first visited her family in Vietnam when she was 10, which left a long-lasting impression in her.
Last year, Huong and her husband brought their 10-month-old baby boy to visit Vietnam.
When asked what the biggest problem of her generation is, Huong referred to the illusion of flawlessness in social media.
"The illusion of flawlessness [projected] in social media often control us and complicate our lives," she told Forbes Slovakia. "My generation is looking for fulfillment and self-esteem online, and this has a significant impact on mental health. I noticed this in my surroundings and on myself, so I try to disconnect more and enjoy real life offline."
Struggling through COVID-19
Like many other businesses in the food and beverage sector, Huong's restaurant chain has also been affected by the COVID-19 pandemic.
When Slovakia and many other countries imposed national lockdowns, the chain's sales plummeted, and profits fell a whopping 80 percent.
Huong decided to employ a number of measures to save the business, including registering her restaurants on food applications, partnering with online sales companies, reducing certain costs, etc.
Once lockdown restrictions eased, Huong opened one of the branches located in an area with high traffic and increased takeaway orders while also expanding her delivery zone.
The pandemic has not dented Huong's plans. She aims to open another restaurant at a strategic location after the pandemic crisis passes. She wants to secure jobs for her 50 employees, two-thirds of whom are Vietnamese.
"I want Pho to not only become the biggest chain, but also the most trusted one in the restaurant scene in Central Europe," Huong said.