Foreign capital eyeing Vietnamese fintech
Foreign investment funds have expressed renewed interested in Vietnamese financial technology startups, despite a series of challenging setbacks that occurred in previous e-commerce deals.
Foreign investment funds have expressed renewed interested in Vietnamese financial technology startups, despite a series of challenging setbacks that occurred in previous e-commerce deals.
An ideal market
Recently, two Korean investment funds, Korea Investment Partners (KIP) and Mirae Asset Venture Investment, began pouring capital into a Vietnamese financial technology (fintech) startup.
The burgeoning company, called Appota, is a startup that builds mobile apps. The $10 million investment from the Korean firms will prompt a new stage in Appota's evolution, and its main priority will be financial technology.
Fintech has become one of the hottest global industries in recent years, and fintech companies have attracted billions of US dollars from investors. In 2016 alone, the fintech industry received over $20 billion.
The accounting firm PwC predicts that total fintech investment in the next three to five years will reach $150 billion globally. Vietnam, with a young population and a low adoption of financial services, will be an ideal market for both domestic and foreign fintech investors.
In 2016, M_Service, which owns and operates the mobile payment app MoMo, raised $28 million from the investment fund Standard Chartered Private Equity and the global investment bank Goldman Sachs.
Shortly after, the investment fund Champion Crest – which is owned by Credit China FinTech Holdings Ltd., a Hong Kong-based fintech firm – paid $12.73 million to buy a large portion of Amigo Technologies JSC (Amigo).
These moves demonstrate that big foreign investment funds are interested in Vietnamese fintech startups, despite a series of challenges seen in previous e-commerce deals.
Figures from Topica Founder Institute show that in 2016, the total value of deals related to fintech startups in Vietnam was $129 million, accounting for 63 per cent of all startup deals. This proves that Vietnamese fintech firms have great potential and Vietnamese fintech startups are capable of capturing the domestic market.
Pick and choose
One of the biggest fintech deals in recent history involves the mobile e-wallet app MoMo. Both Goldman Sachs and Standard Chartered picked MoMo because the company is led by professionals with experience in banking, telecommunications, IT, and advertising.
Both investors believe that MoMo's business model is going to be highly profitable in the near future. MoMo's e-wallet is the first payment app in Vietnam to be ranked number one in the finance category of both the iOS and Android app stores.
With over 2.5 million users, MoMo provides customers with a one-click payment option and over 100 features including money transfer, bill payment, and mobile e-commerce.
Besides online payment via their smartphone app, MoMo is also the conduit for a transaction system comprised of over 4,000 independent agents spanning 45 provinces and cities. The firms connected to MoMo's network include EVN, VNPT, MobiFone, Vinaphone, Vietjet Air, Fim+, FPT, VTVcab, Home Credit, FE Credit, Prudential Finance, and many more.
Like MoMo, Appota is also rolling out their own electronic wallet app. Sang-Ho Park, executive director of the Investment Division of Korea Investment Partners – who joined Appota's board of directors – said that Appota demonstrated its global competitive advantage through its impressive user base.
The company has built a mobile ecosystem with over 30-million users, with each product in the ecosystem complementing other products.
According to Do Tuan Anh, chief executive officer of Appota, the company launched their fintech initiative to achieve two main goals. First, fintech will complement the Appota ecosystem to further serve its 30-million existing customers. Second, Appota aims to differentiate its core fintech product – their e-wallet app – by including a cashback feature which allows users to withdraw physical currency from their accounts at hundreds of service points nationwide.
Along with MoMo and Appota, Amigo is another famous brand in the Vietnamese tech scene. Amigo caught the eyes of many prospective investors in the past, but it was not until 2016 that they found a suitable partner with a complementary business approach – the Hong Kong investment fund Champion Crest.
"Champion Crest's experience in providing technological services will benefit our fintech service," said Nguyen Trong Hai Hoang, Amigo's general director.
Vina Investment Development and Technology Transfer JSC (VINATTI), a subsidiary of Amigo, built the Paypost payment system for the Vietnam Post, the country's state-owned postal service. Paypost is one of Vietnam's largest payment networks, connecting over 3,600 Vietnam Post branches and roughly 6,000 endpoint devices.
In search of a win-win business model
In Vietnam, the fintech industry has mushroomed in recent years with big names like MoMo, Moca, ECPay, Mobivi, VNPay, 123Pay, Payoo, Napas, Ngan Luong, VTC Pay, Smartlink, WePay, FPT Wallet, and many more. These start-ups expect that fintech, a field that allows creative ideas and business model that utilise technology to deliver win-win products and services for everyone, will receive more investment in the near future.
Even though several companies have established dominant market positions, there is always room for new startups. Being a first-mover is not necessarily a disadvantage. On the contrary, early entrants are responsible for educating the customers and changing the way they think, act, and behave. And by doing so, the pioneers carve out a name for themselves. "We believe that the Vietnamese market pie is big enough for everyone. The important thing is that you need to differentiate your product and find a niche market," said Do Tuan Anh, CEO of Appota.
Although the fintech market in Vietnam is in its infancy compared to other countries in the region, the potential for growth and expansion is enormous. Only a quarter of the population has a bank account, and Vietnamese fintech startups have the opportunity to bring new financial products to benefit customers that banks have been unable to reach.
The influx of new fintech products and funding from major international investors threatens the livelihood of traditional banks, but according to Appota's Do Tuan Anh, "fintech should be seen as a positive way to connect and deliver banking services to end users."
According to him, banks have an edge due to their established branding, large capital reserves, and ridged structures, while fintech companies are stronger in technology, innovation, and the ability to capture niche markets that banks are unable to reach.
By working together, they could both become more profitable, because fintech not only enables digital payments, but also helps to spur potential consumer demand thanks to the latest data analysis technology./.
VNF/VIR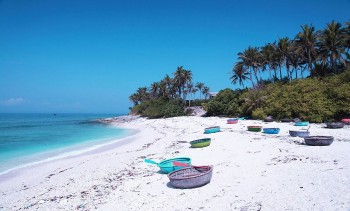 Travel
With more than 2000 miles of coastline, Vietnam brims with secluded coves, white sands, and waters fit for snorkeling. Crystal blue water, sandy beach, and bright sunshine, Vung Tau, and Nha Trang are voted among the most beautiful beaches by TikTok users.