Foreign languages dominate shop signs in Da Nang
There are few to none Vietnamese letters on many local signboards
The absence of the Vietnamese language has become a concerning issue in the popular beach city of Da Nang as foreign words take over local signboards, violating the law on advertising.
A signboard on Vo Nguyen Giap Street in the central city of Da Nang contains only English and Korean letters. Photo: Tuoi Tre
Located in central Vietnam, Da Nang's beautiful beaches, delicious food, and range of entertainment options have earned it a reputation as a must-visit destination in the Southeast Asian country.
As the number of tourists from foreign nations, particularly from East Asia, continues to increase, local businesses, eateries, and services have added foreign writing to their signboards to better serve their customers.
However, the trend has spiraled out of control to the point that few to none Vietnamese letters are used in most local signage.
According to the observation of Tuoi Tre (Youth) newspaper reporters, almost every restaurant, massage parlor, and frankincense shop in the central city advertises their services in multiple languages.
On such streets as Ho Xuan Huong, Vo Nguyen Giap, Pham Van Dong, and Nguyen Van Thoai, it is also common to see Vietnamese words overwhelmed by foreign letters on shop signage.
A massage parlor in Da Nang advertises their services in English, Korean, and Japanese. Photo: Tuoi Tre
L., the owner of a nail shop on Vo Nguyen Giap Street, stated that using foreign words is considerably more convenient for her clients.
In 2017, authorities in Son Tra District discovered violations on over 650 signboards, many of which contained no Vietnamese text, according Vo Thi Phuong, a district official.
Under Article 18 of the law on advertising, all signboards must include Vietnamese words.
Owners who wish to add another language to their advertising boards must place all foreign words below Vietnamese words, the law says.
The letters in foreign words must also be no bigger than three quarters of the letter size in Vietnamese words.
Phuong elaborated that most of these violations are due to the recent hike in the number of Chinese and Korean visitors to Da Nang.
Many business owners are not aware of the law on advertising, she continued, adding that some owners of local shops are foreigners.
Facilities specializing in making shop signs are also to blame, the official asserted.
Alongside penalties, local authorities are exerting their effort to raise awareness of the law within the business community, said Ha Vy, deputy director of the municipal Department of Culture and Sports.
"The most important thing is to help local businesses maximize their potential while preserving the Vietnamese language," the official remarked.
A similar situation is also gripping Nha Trang, a famous beach city in the south-central province of Khanh Hoa.
Chinese and Russian letters appear to dominate local signboards, especially along Hung Vuong, Nguyen Thien Thuat, and Huynh Thuc Khang Streets.
According to Pham Duc Hung, deputy chief inspector at the provincial Department of Culture and Sports, comprehensive examinations are carried out once every three months to deal with the violations./.
VNF/TTO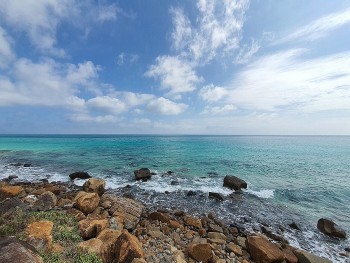 Viet's Home
Con Dao, a historical and famous island situating in the southern province of Ba Ria - Vung Tau, has been named among the top 16 best island vacations in the world, as compiled by tourism magazine Condé Nast Traveler (CNTraveler) of the United States.