Former Greek Ambassador: "Hanoi inspires me"
Nicolas D.Kanellos - the former Greek Ambassador to Vietnam had a brief discussion with Hanoitimes before leaving the country for new mission.
Nicolas D.Kanellos - the former Greek Ambassador to Vietnam had a brief discussion with Hanoitimes before leaving the country for new mission.
He left not only good achievement on relationship between Vietnam and Greece but also his art works inspired by Vietnamese people and Hanoi - the capital city.
Keep the smile of Vietnamese people in the heart
When mentioning about Nicolas D.Kanellos, it is said that people think about him not only as an ambassador but also an artist. For the one who deeply falls in love with music, paintings, books and cultural heritage, we are not surprised when everyone remembers him as an ambassador of culture exchange.
Former Greek Ambassador to Vietnam Nicolas D.Kanellos
When coming to his inspiration for these artworks, Mr. Kanellos said it came from the people. For him, all passion he put into each paintings is coming from the people he met in Vietnam.
"My inspiration is from the people. This is the people who are suffering, the people who are sad, the people who are happy and smile at me when I am walking on the street or in the night market or villages – this is my inspiration – the reality of Vietnam", he said.
Besides paintings, the Greek ambassador also has a special interest in the history of Vietnam – the long history of being invaded and defending against enemies – this is much similar as the history of Greece, according to him.
One painting about Vietnamese women by Nicolas D.Kanellos
When being asked about the best memory that he never forgets even he is leaving Hanoi now, the Greek ambassador shared that he will keep the innocent smile of people here in his heart. These people – men, women and their kids – just simply smile as who they are, not force themselves to do that. This is the way Mr. Kanellos was attracted by them.
"Hanoi inspires me"
About Hanoi, "I believe it is a very beautiful city. You have a fantastic lake – this lake should become the heart or the symbol of Hanoi but it will not when people are not happy to enjoy the lake", he said.
Everybody, according to the ambassador, know about Hanoi but they only know that Hanoi is the capital of Vietnam but the most important thing or the most beautiful thing in Hanoi is not outstanding enough. Therefore, he suggested that if we have something we love, we should take care of it in a very different way every day.
Greek Ambassador Nicolas D.Kanellos gives his first painting in Hanoi to Hanoi People's Committee Nguyen Duc Chung
Coming back to his passion in art, each painting or book or music he made and played, he did it all with passion. And for him, it is the way he expresses his feelings – his feelings of Hanoi – a beautiful city of Vietnam. "It is inspiring me in painting and painting is a good thing to keep all memories", he said.
"In Vietnam and Greece, they have some hidden force - the optimism for happiness. When they say that they are "hanh phuc" (happiness in Vietnamese) – they made me have the feeling for art – it's very important for me" – he shared.
"I have been an ambassador for a lot of countries but Vietnam is different because in Vietnam, I painted almost everyday. When staying here I have the feeling for painting and for art".
Most of paintings made by the ambassador focus on environment – the nature that he respects. Besides this, painting is the sarcasm between the reality and the right of dreaming. "That is why most of my colours are strong cause I want to show the dream included in reality", he said. They are about the landscape in Vietnam - the north, the south and the center of Vietnam where I try to travel by car– this is the best way to know people – the people is the reality for me.
He also shared that is the reason why he didn't travel to anywhere except Vietnam during last 3 years. He didn't travel to any other countries in Asia. So, It's a best way to know better and keep it in mind and to be able to talk about Vietnam and the reality.
About his work, Mr. Kanellos shared that he has worked for the cooperation between Hanoi and Athens. "We also signed at a ceremony to offer some scholarships for Vietnamese students. We also open a lot of strong cooperation opportunities with Vietnam", he stated.
Thanks for your supporting during last 3 years. Vietnamese will remember you and wish you all the best for your future./.
VNF/Hanoitimes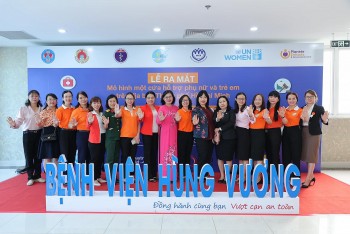 Viet's Home
What is the one-stop centre for women and children experiencing violence?