French photographer issues book about Vietnam's pagodas
French photographer, journalist and publisher Nicolas Cornet on June 1st released a photo book on pagodas in Vietnam in Ho Chi Minh City.
French photographer, journalist and publisher Nicolas Cornet on June 1st released a photo book on pagodas in Vietnam in Ho Chi Minh City.
Cover of photobook Vietnam Pagodas by French photographer, journalist and publisher Nicolas Cornet. (Photo from the artist's Facebook page)
The 250-page book Vietnam Pagodas in English and French includes hundreds of photos of 31 pagodas and temples taken over the last three years.
Cornet began his journey from northern to southern Vietnam in 2014 to discover Vietnam's major pagodas, temples and places of worship.
He took more than 20,000 pictures, and visited nearly 100 pagodas and temples.
"I decided to make the book to show the beautiful heritage of Vietnam's pagodas, and to allow the next generation to remember this heritage. I wanted my children, whose mother was Vietnamese, as well as my Vietnamese friends'children, to be able to have memories about that," said Cornet.
Published by the Viet Nam News Agency Publishing House, the book consists of five chapters, featuring traditional pagoda architecture, artistic details, daily life of monks and people gathering for worship, and ceremonies.
The first and second chapters are about the beginning of Buddhism in Vietnam and its old pagodas and temples in the North.
The third chapter centres on Hue and the central region. Hue is considered a Buddhism centre in Vietnam, with many famous monks coming from the region.
The fourth chapter introduces pagodas and Chinese temples in HCM City, and the last chapter highlights Khmer pagodas in Cuu Long (Mekong) Delta.
A photo on the book capturing the Thien Mu pagoda in Hue. (Source: "Vietnam Pagodas" by Nicolas Cornet)
A collection of 49 photos in the book are on display at the Vietnam: Pagoda Legacy of Faith exhibition on June 1st-10th, which opened at the HCM City Fine Arts Museum on Friday.
Cornet has been piding his time between Europe and Asia for over 30 years.
He has collaborated with major European newspaper and magazines such as L'Espresso, Mare and Le Monde, and film crews and TV documentaries.
Cornet has published six photo books on Vietnam and South East Asia and plans to release a new book on Vietnamese cuisine next year.
As an art director and curator, Cornet has organised several photo exhibitions and events in France, Germany, Switzerland, Thailand, Indonesia and Vietnam, and conducted photo workshops and photojournalism courses.
Vietnam Pagodas is available at Nam Phong Book Shop, Tri Books, and Art Book in District 1. It will be released in Hanoi later this month.
Cornet will hold a book signing at the museum at 97A Pho Duc Chinh Street in District 1 on June 9th and 10th./.
VNF/VNS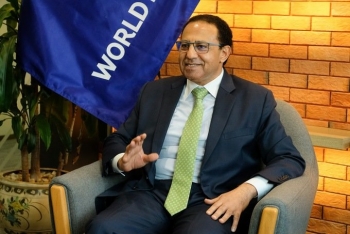 Economy
Vietnam's agriculture is transforming from quantity targets towards profit, environment and farmer income targets. Ahmed Eiweida, Vietnam Sector Leader for Sustainable Development (World Bank).