G20 summit opens in Buenos Aires
Fissures on trade, climate change and Ukraine divided world leaders on Friday (Nov 30) as U.S. President Donald Trump came under sustained fire and Saudi Arabia's de facto ruler came in from the cold at G20 talks.
Fissures on trade, climate change and Ukraine pided world leaders on Friday (Nov 30) as U.S. President Donald Trump came under sustained fire and Saudi Arabia's de facto ruler came in from the cold at G20 talks.
World leaders participate in a family photo at the G20 summit in Buenos Aires, Argentina. (AP Photo/Pablo Martinez Monsivais)
The leaders of countries representing four-fifths of the global economy opened a two-day meeting in Argentina facing the deepest fractures since the first G20 summit convened 10 years ago in the throes of financial crisis.
Trump was attacked for destroying the group's past unity on trade and climate change. But he won a breakthrough with the signing of a new trade pact for North America and, having ignited a trade war with China, touted "good signs" ahead of a dinner on Saturday with President Xi Jinping.
In remarks to the summit relayed by the Xinhua news agency, Xi reaffirmed his pledges of economic reform "with increased efforts in intellectual property rights protection and more imports."
If that was designed to soothe Trump, Xi more generally urged his fellow G20 leaders "to stick to openness" and to "steer (the) world economy responsibly," Xinhua reported.
The summit began in Buenos Aires with a traditional "family photo" by the leaders of a group whose relationships range from warm and friendly to chilly and distrustful.
Elsewhere in Buenos Aires, as Argentina goes through a painful economic crisis, tens of thousands of protesters rallied to denounce the government for spending millions on the summit while the public endures rocketing inflation and unemployment.
They paraded with signs attacking Trump and the International Monetary Fund, whose largesse is keeping Argentina afloat at the cost of hard-hitting austerity measures.
Russian President Vladimir Putin, under pressure himself after his security forces seized three Ukrainian ships, set the tone for a combative two days by condemning the "vicious" use of sanctions and trade protectionism.
The target was clear, as Trump - who cancelled a planned meeting with Putin in Buenos Aires - tears up the stability promoted by the G20 powers a decade ago.
Saudi Arabia Crown Prince Mohammed bin Salman (left) talks with Russian President Vladimir Putin during a G20 session in Buenos Aires, Argentina. (AP Photo/Pablo Martinez Monsivais)
The summit marks a quick return to the international stage for the Prince Mohammed after the kingdom came under fire for the killing of journalist Jamal Khashoggi in the kingdom's Istanbul consulate.
French President Emmanuel Macron and British Prime Minister Theresa May both raised the murder of Khashoggi during meetings with the 33-year-old prince.
May also told British media she intended to use the summit to sell the vision of a "global Britain" after its Brexit departure from the European Union, scheduled for March next year.
EU president Donald Tusk was more focused on the Ukraine crisis, saying at the G20 that he was "sure" the bloc would roll over its sanctions on Russia next month.
On the G20 front, Tusk admitted the world was undergoing a "difficult moment" overall, as Trump pursues a vision at odds with the idea of collective action on trade and climate change.
PROGRESSIVE FRONT
U.S. objections on those fronts have seen two major summits this year, of the Group of Seven democracies and the Asia-Pacific Economic Cooperation forum, end without the once-routine statements.
The same disputes were hobbling adoption of a G20 communique, observers said. One French source said European leaders were trying to forge a separate statement on climate change excluding the U.S.
Such a statement would endorse the Paris Agreement on climate change, repeating one issued at last year's G20 in defiance of Trump who has yanked the United States out of the pact despite increasingly urgent warnings from scientists that action is needed now.
A draft of the G20 communique seen by AFP omits any mention of climate change, just ahead of a major U.N. meeting on the issue starting in Poland next week, and also any mention of past pledges to fight trade protectionism.
For Trump, there was no escape from the lengthening shadow of the U.S. investigation over Russian meddling in his 2016 election, which is now reaching into his business affairs.
The U.S. president began on Friday with another Twitter blast defending his past property dealings in Russia, again denouncing the investigation as a "witch hunt," a day after his ex-lawyer pleaded guilty to lying to Congress over the affair.
But on the G20 margins, Trump scored one victory for his "America First" agenda with the signing of a successor to the North American free trade pact NAFTA, the U.S.-Mexico-Canada Agreement (USMCA).
Although the new pact inherits key features from the old one, Trump has declared it a victory for the U.S. workers he claims were cheated by NAFTA and on Friday called it the most "modern and balanced agreement in history."
"This is a model agreement that changes the trade landscape forever," Trump said at the signing ceremony in Buenos Aires./.
VNF/AFP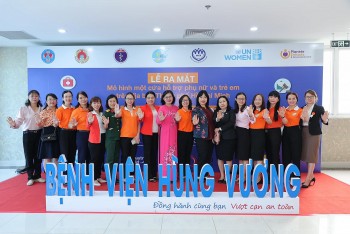 Viet's Home
What is the one-stop centre for women and children experiencing violence?