HCM City gears toward violence-free society
The Peace and Development Foundation and the Peace Committee of Ho Chi Minh City on October 13 jointly held the Day of Culture of Peace themed "For a non-violent society."
The Peace and Development Foundation and the Peace Committee of Ho Chi Minh City on October 13 jointly held the Day of Culture of Peace themed "For a non-violent society."
More than 30 non-profitable organisations, social businesses and universities in the locality joined hands in organising perse activities during the day. (Photo: VNF)
The event responded to the Programme of Action on a Culture of Peace and Non-Violence launched by the UNESCO.
More than 30 non-profitable organisations, social businesses and universities in the locality joined hands in organising perse activities, along with a seminar on a violence-free society and an art performance.
Ton Nu Thi Ninh, Chairwoman of the foundation, expressed her hope that the event will help improve public awareness of building peace in a peaceful period.
Huynh Minh Thien, President of the HCM City Union of Friendship Organisations, said the locality has organised a range of activities for all-level agencies, organisations and international friends to promote the building of culture of peace and sustainable development.
HCM City has approved a cooperation plan with the U.N. Children's Fund (UNICEF) for 2017-2021, aiming to become the first child-friendly city in Vietnam, the official said.
The initiative will improve living standards of local children, while directly contributing to completing UN sustainable development goals, Thien noted./.
VNF/VNA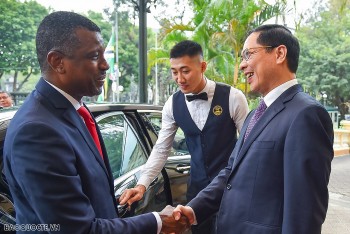 National
Dominican Minister for Foreign Affairs, International Business, Trade and Energy Vince Henderson is currently on a five day official visit to Vietnam. The five day visit is at the invitation of Vietnam's Foreign Minister Bui Thanh Son, and comes as Vietnam and Dominica are celebrating the 10th anniversary of the establishment of diplomatic relations between the two countries.