H&M to rub shoulder with Zara in HCM.City from this September
(VNF) – After Topshop, Zara, Mango, Vietnamese fashion fans will have more shopping choice when Hennes & Mauritz AB (H&M) first store is officially launched on September 9 this year.
(VNF) – After Topshop, Zara, Mango, Vietnamese fashion fans will have more shopping choice when Hennes & Mauritz AB (H&M) first store is officially launched on September 9 this year.
Illustrative photo: H&M will come to HCM.City this Sep (source: diadiemanuong.com)
The outlet will be opened in Vincom Center Dong Khoi, Ben Nghe ward, district 1, Ho Chi Minh City, the same shopping mall where Zara's first store has been located since September 2016.
According to representative from H&M, the outlet in HCM.City will cover an area of 2,200 square meters.
The two-floor flagship store will offer to customers a wide range of apparels, accessories for adults, children, especially introduce to the market the latest fashion trend of H&M, at a reasonable price.
H&M store in Vietnam will follow all common standards of H&M's flagship stores worldwide. Modernity and luxury are combined in a harmonious and elegant setup through the mixed-material furniture, which is designed as a bright space with clothes and accessories placed orderly at the middle, in order to bring about convenient feeling for customers while shopping.
According to Fredrik Famm, H&M Southeast Asia country manager, the launch of the H&M outlet in HCM.City will enrich customers' shopping style and experiences, offering more choice for fashion lovers to come up with their unique dressing style.
Especially, H&M's Autumn-Winter collection, which was introduced to public in July, will be available in the Vietnamese branch right from the opening day.
It is also expected that H&M's other global collections will be introduced to the country, including The Weekend Collection, ERDEM x H&M, as well as the Holiday collection, which is scheduled to be released at the end of 2017.
With the first flagship store being opened in the country, Vietnam will be one of H&M's five newest markets in 2017, besides Kazakhstan, Colombia, Iceland and Georgia.
This year also marks H&M's 70th year of presenting in the global fashion market.
For full-year 2017, approximately 500 new stores are planned to open, with a focus on growth markets. Most of the new stores in 2017 will be H&M stores, while approximately 70 to 80 stores will consist of the newer brands COS, & Other Stories, Monki, Weekday and ARKET.
The expansion of H&M aims to achieve its 10-15 per cent target for sales growth, with continued high profitability in 2017.
H & M was founded in Sweden in 1947 as a single womenswear store and since then has developed into a multinational clothing-retail company. H&M is well known for its fast-fashion clothing for men, women, teenagers and children.
Besides expanding its flagship stores around the world, H&M has been actively increase its presence in online markets.
In spring 2017, six new H&M online markets were opened in Turkey, Taiwan, Hong Kong, Macau, Singapore and Malaysia.
Mango, one of H&M's competitors in Vietnamese market (source: Harper's Bazaar Vietnam)
The presence of H&M and other international fashions brand in Vietnam recently is fueled by the rising living standards in urban areas of the country, which leads to increasing demand for clothing.
As a market dominated by a large population of young people, who are quick to catch up with latest international trends, Vietnam seems to be an appealing market for a number of fashion brands.
Before H&M, several affordable international fashion brands including Zara, Topshop, and Mango have already arrived in Vietnam.
Among all of them, Mango has been in Vietnam for the longest time. It opened its first store in Ho Chi Minh City in 2004. In 2015, Mango Mega Store chain with international standards appeared.
Affordable UK fashion brand Topshop joined the Vietnamese market in 2013. Topshop-Topman is a street-style Bitexco fashion brand for youngsters. The first Topshop-Topman showroom was opened in Financial Tower (Ho Chi Minh City). Together with the Topshop's second store in Hanoi, at the present, there are four Topshop-Topman stores in Hanoi and Ho Chi Minh City.
Half a year ago, in September 2016, fast fashion brand Zara opened its first store in Vietnam with an area of over 2,400 square metres in Vincom Dong Khoi (Ho Chi Minh City). Zara reported a revenue of VND5.5 billion (US$241,000) on the first day opening.
Affordable prices have always been the pride of H&M, Zara, Mango or Topshop. In Vietnam, many of those firms' products even have to be sold at a lower price compared to some other countries. For example, some of Zara's skirts in Vietnam may cost only VND100,000-200,000 (US$4.5-9).
The appearance of more brands means fiercer competition, especially for local apparels manufacturers and small intermediaries and retailers.
There is one certain thing though: Vietnamese customers will benefit from this battle as these brands widen their choice of products in the country./.
( VNF )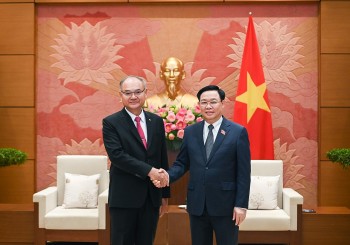 National
A Thai delegation is visiting Vietnam to learn about the guidelines and policies in the fight against corruption in Vietnam; exchange experiences with relevant Vietnamese agencies.
Friendship
There is plenty of room for Vietnam and India, as well as Ho Chi Minh City and its Indian partners, to beef up cooperation.
September 28, 2022 | 14:36