Ho Chi Minh City: Clean Water Systems and Medical Checkup Sponsored for Needy Children
Children with difficult circumstances in some areas of Ho Chi Minh City received free medical examinations and clean water systems from projects implemented by VinaCapital Foundation, Ho Chi Minh City Youth Union, and partners from May 19-21.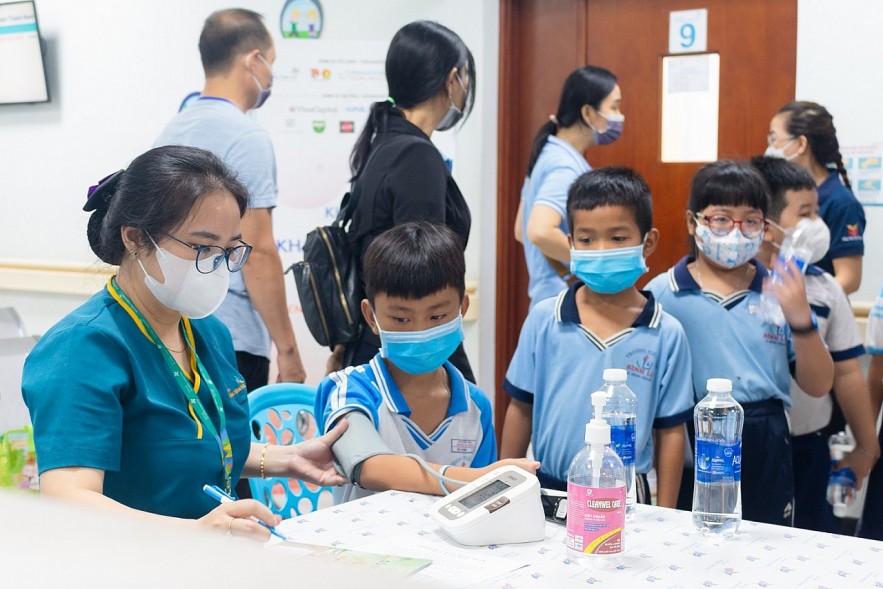 Children receive free medical examinations (Photo: VCF)
There were 1,200 disadvantaged children affected by Covid-19 in Binh Chanh district. They were given free medical checkups and treatment on May 20 and 21 at the City Children's Hospital.
They had a general examination; ear, nose throat examination; odontoid-stomatology examination; eye examination; musculoskeletal examination; and psychological examination. If diagnosed, they will be treated at City Children's Hospital with treatment and transportation expenses supported by Care to Rise program. Gift sets and meals after the health checkup valued at 250,000 VND each are also prepared for all the children.
This activity is under the supervision of the Care to Rise program, which is a joint initiative of HCMC Youth Union and VCF to support and provide free education assistance and health care for Covid-19 orphans and other disadvantaged children affected by Covid-19 in HCMC.
The Care to Rise program is divided into 3 phases with sufficient support for the children in each period of time. Phase 1 completed 1,924 detailed surveys for individual assessment. Phase 2 with remedial assistance was implemented in 2022. The long-term care with health and education services, Phase 3, will carry the program benefits until adulthood.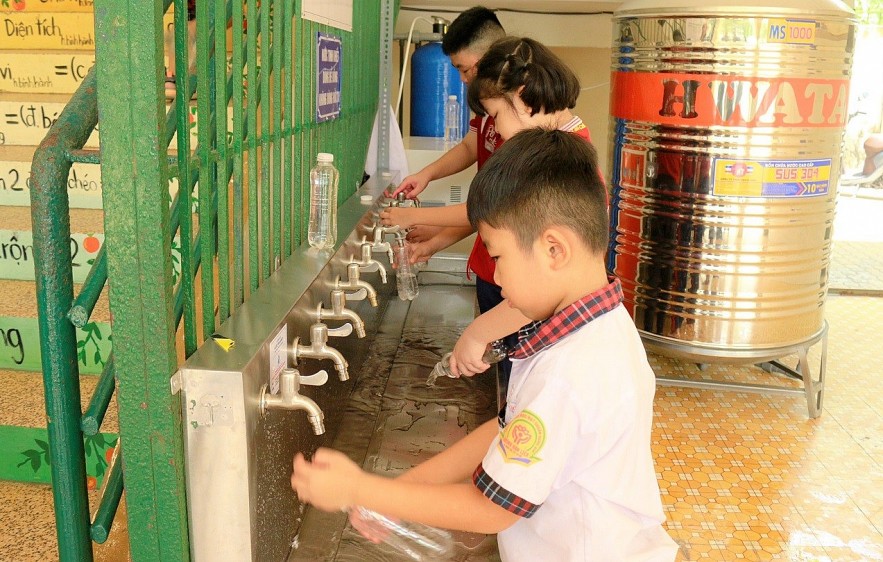 Students try using the clean water systems (Photo: VCF)
Earlier, on May 19, VinaCapital Foundation (VCF) collaborates with Scenic Group, Youth Union of Ho Chi Minh City (HCMC), Vietnam Youth Federation of HCMC, and other donors to inaugurate and hand over 5 clean water filtration systems to disadvantaged primary and secondary schools in HCMC.
The recipients include Duong Van Lich Primary School (Nha Be district), Nguyen Van Tran Primary School (Binh Chanh district), Nguyen Hue Secondary School (district 4), Bui Van Moi Primary School (Thu Duc city), Truong Thanh Primary School (Thu Duc city). These schools are located in the outlying districts of Thu Duc City and HCMC where internal migration is most concentrated. Some of the existing systems have deteriorated filtration systems and some have no filtration at all. The students and faculty lack access to clean, safe drinking water at school.
Through VCF's Clean Water program, the VND 355 million donations will provide safe drinking water to underprivileged children and improve sanitation at the schools. The 5 filtration systems will improve the overall health status of the population in HCMC.
"We are working harder than ever to ensure all the children get adequate psychosocial attention, quality healthcare services, and comprehensive educational support until they are adults," said Rad Kivette, CEO of VinaCapital Foundation."With all the support from the government, the Youth Union of HCMC and district-level Youth Union entities, partners like the City Children's Hospital, donors, and individuals in the community, VCF commits to continue bringing better healthcare and education services to the underprivileged children in Vietnam, contributing for a more resilient future for all. We will leave no child behind."
The VinaCapital Foundation (VCF) is a USA registered 501-c3 public charitable organization, licensed as an international non-governmental organization in Vietnam. Founded in 2006, VCF's mission is to create healthcare and education solutions to transform the lives of underserved and marginalized children and women in Vietnam. The work of VCF touches the lives of millions of Vietnamese in 63 provinces every year.
VCF invests in 3 areas: grassroots medical programs, healthcare capacity-building programs, and education programs.