Bulgaria Helps Reducing Infant Mortality in Vietnam's Northern Mountainous Province
Bulgaria and VinaCapital Foundation handed over medical equipment in the northern mountainous province of Lai Chau
The Republic of Bulgaria and VinaCapital Foundation (VCF) on June 22 handed over 18 pieces of essential neonatal equipment for Nam Nhun and Sin Ho district hospitals in Lai Chau province.
The activity is funded under the Bulgarian Official Development Aid program and implemented under the "Survive to Thrive" program to reduce infant mortality and build capacity in Vietnam's healthcare system.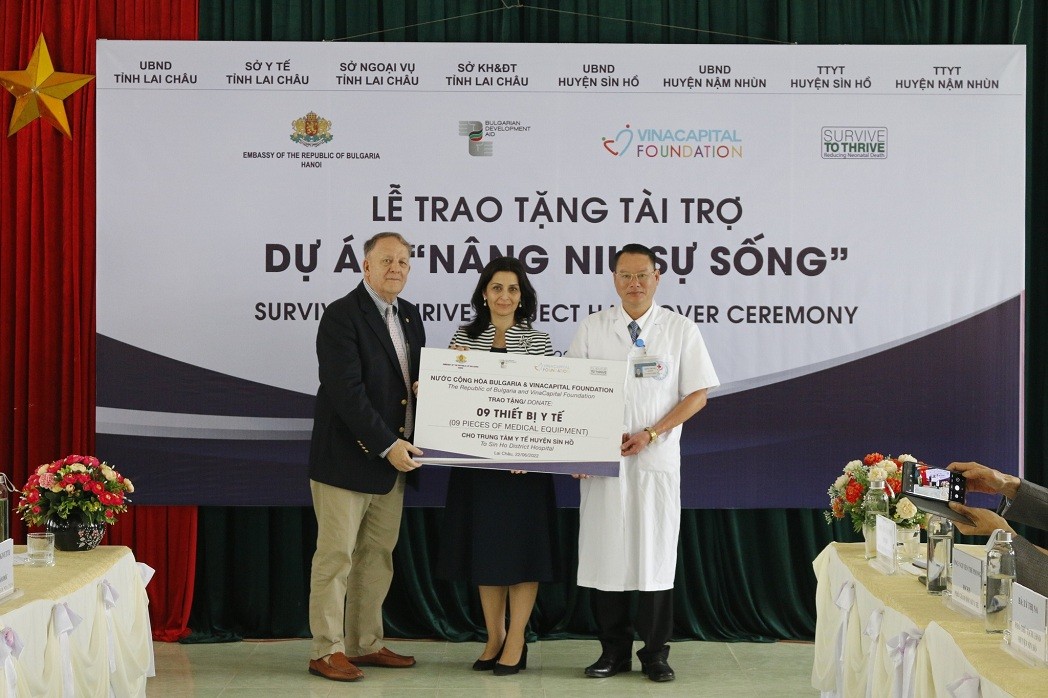 At the handover ceremony. Photo: VCF
Last year, the Ministry of Foreign Affairs of Bulgaria and VCF signed a grant agreement to provide neonatal equipment and training for the neonatal units in Nam Nhun and Sin Ho district hospitals..
This grant agreement to VCF's Survive to Thrive program totals BGN 62,572 (USD 36,000), which is funded by Bulgarian Official Development Aid. The medical equipment includes two continuous positive airway pressure (CPAP) machines to treat acute respiratory failure, two phototherapy machines for neonatal jaundice, two SPO2 oximeters, two infant warmers, two intubation kits, four injection pumps, and four infusion pumps.
Lai Chau, a rural ethnic province in the northwest region of Vietnam, has more than 20 ethnic minority groups. The infant mortality rate is 39.6 deaths per 1,000 live births, which remains the highest rate across the country.
Lack of essential neonatal medical equipment in the hospitals is one of the leading causes of infant mortality and increases hospital overcrowding because of the rate of referrals to distant higher-level hospitals.
Combined with remote geographical challenges, poverty, and lack of access to quality care, mortality rates for infants and mothers will remain high. This equipment and training gift will ensure a reduction in mortality and healthier children.
Through the provision of essential neonatal equipment accompanied by the requisite training on the equipment, doctors and nurses in rural and remote areas of Lai Chau will be able to provide infants with neonatal care and emergency treatment from their very first breath.
According to the Vietnam National Children's Hospital, the utilization of neonatal medical equipment has a major clinical impact, including a 75% reduction in 24-hour mortality from respiratory distress syndrome achieved after the introduction of the CPAP machine.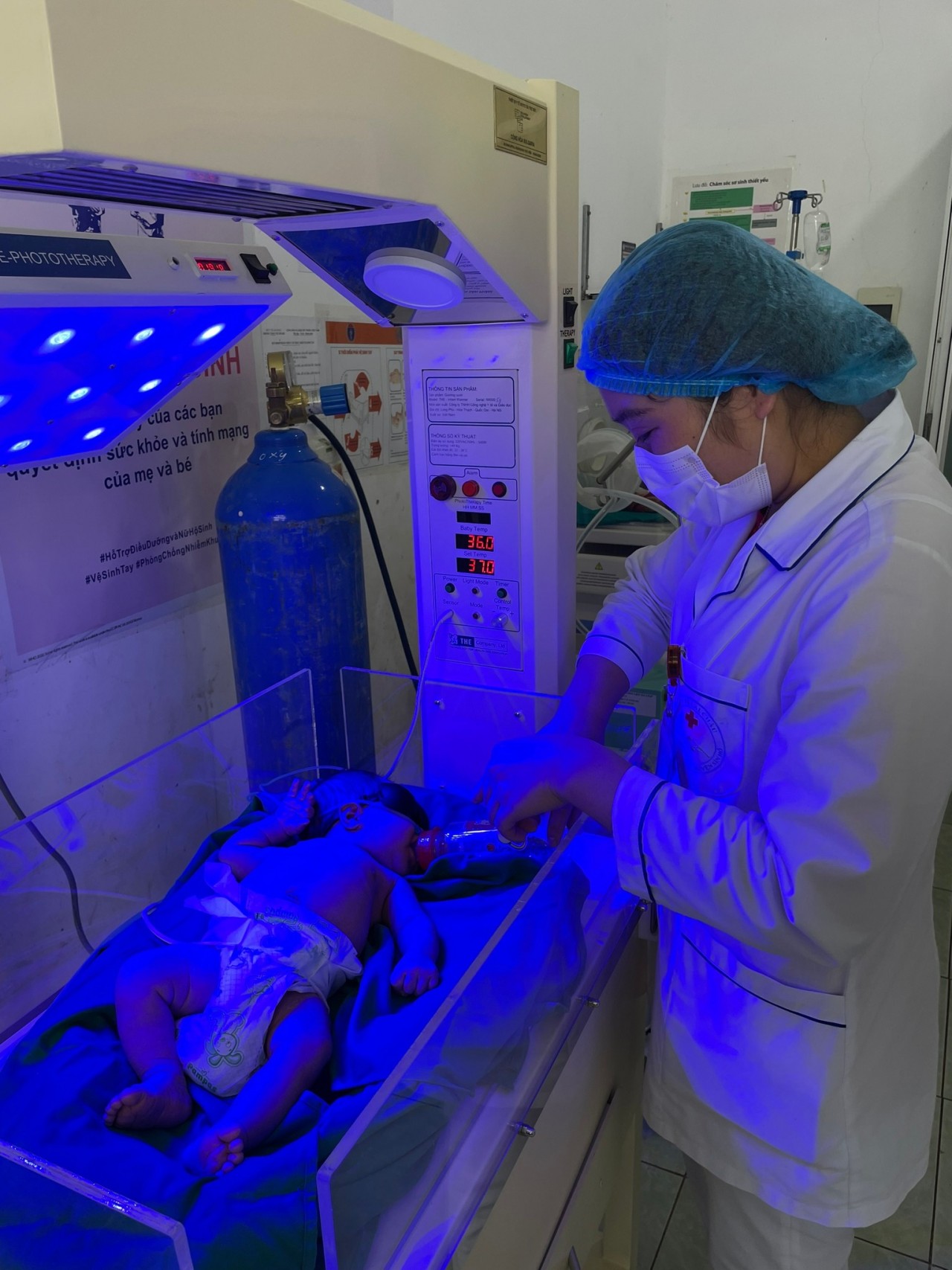 These devices will help complete the neonatal units in Nam Nhun and Sin Ho district hospitals. Photo: VCF
Speaking at the handover ceremony, Bulgarian Ambassador Marinela Petkova shared her gratitude to local authorities for the extended hospitality.
This project addresses intensive care needs for newborns in Lai Chau Province by increasing the capacity and quality of neonatal care, she said. The Bulgarian Embassy is confident that the handover of critical neonatal equipment to Nam Nhun and Sin Ho district hospitals, as well as the envisaged subsequent training of medical personnel, will provide newborns with quality care and emergency treatment.
Apart from benefiting vulnerable mothers and babies, we are hopeful that the project will also have broader positive implications relating to the overarching goals of inclusive social and economic growth of Vietnam.
The diplomat thanked VinaCapital Foundation and Lai Chau authorities' support and hope that this is the start of a successful future collaboration with Lai Chau in establishing lasting partnerships that are not only in line with the core philosophy of the Bulgarian Official Development Aid Program, but also complement the decades-long friendship between Bulgaria and Vietnam.
"VinaCapital Foundation is honored to partner with the Ministry of Foreign Affairs of Bulgaria and Bulgarian Official Development Aid to provide quality healthcare improvements for vulnerable, disadvantaged, and underserved communities," stated Rad Kivette, CEO of VinaCapital Foundation.
According to him, the Survive to Thrive program is designed to decrease infant mortality and improve outcomes for premature babies by building capacity for neonatal care in regional centers and rural hospitals throughout Vietnam. With the invaluable support of Bulgaria, this project will protect thousands of children and families from preventable deaths and provide those benefits for generations to come.
Since its inception, VCF's Survive Thrive program has donated 333 pieces of neonatal care equipment to neonatal intensive care units of 56 hospitals in Ho Chi Minh City, Da Nang City, Kon Tum, Cao Bang, Son La, Bac Kan, Ha Giang, Yen Bai, Khanh Hoa, Quang Nam, Quang Ngai, and Lai Chau Provinces.
In over 15 years, 123,636 babies have been treated thanks to VCF's donations of equipment. In Lai Chau province, previously, VCF has organized three Advanced Pediatric Life Support training courses for 96 doctors and nurses; donated nine crash carts to seven district hospitals and one provincial hospital in 2017; provided free heart examinations for 2808 children, and diagnosed 29 cases of congenital heart defects requiring medical intervention/
VCF also sponsors one ethnic minority girl from Lai Chau with a 7-year scholarship for high school and university.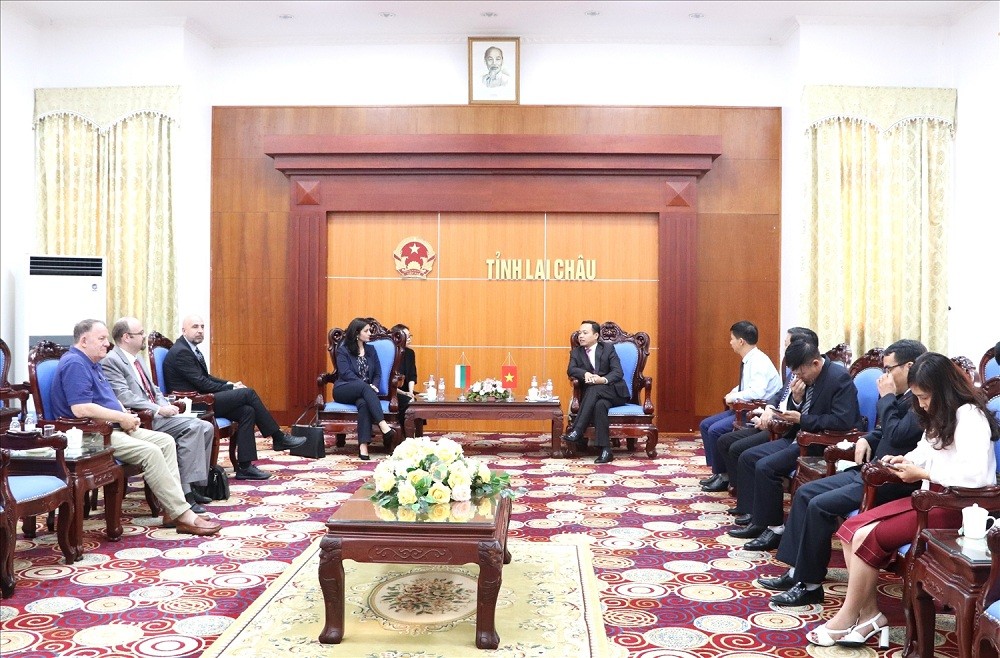 Lai Chau province look to boost agricultural and tourism cooperation with Bulgaria. Source: baodantoc.vn
Previous, on June 21, Chairman of Lai Chau Provincial People's Committee Tran Tien Dung and representatives of leaders of a number of provincial departments and branches received Bulgarian Ambassador Marinela Petkova and VCF's delegates.
Sincerely thanks for the good feelings and personal support of the ambassador and VCF for the province in the past time, Dung wishes that in the future, Lai Chau province will continue to receive the support of the Bulgarian Embassy and VCF.