Hong Kong airport reopens despite flights cancelled, after protesters leave
Although Hong Kong International Airport reopened on Tuesday after the protesters got out, more than 200 inbound and outbound flights were canceled. The airport presented the notification "Hong Kong International Airport will implement flight rescheduling today with flight movements expected to be affected" on its mobile app.
Hong Kong's airport has reopened on Tuesday when the protesters left the airport after rallying and staying inside for five days which China called "sprouts of terrorism". However, more than 200 flights were canceled.
Hong Kong International Airport reopens (photo: Aljazeera)
As Reuters News Agency reported, most of rioters came out of the airport after midnight, nevertheless, 50 people stuck in here.
On Monday, China had described the Hong Kong protesters' action were "sprouts of terrorism". Yang Guang, spokesman of Hong Kong and Macau Affairs commented "Protesters have been frequently using extremely dangerous tools to attack the police in recent days, constituting serious crimes with sprouts of terrorism emerging".
He also said "This wantonly tramples on Hong Kong's rule of law and social order. Hong Kong has come to a critical juncture."
Hong Kong legal experts concerned the actions of protesters which was called "terrorism" could lead to the implement of the anti – terrorism laws.
The rioters not only expressed their disagreement about extradition bill at the airport, but also made other places in the city in chaos. Typically, the protesters had blocked the transports and clashed with the police on streets on Monday. The demonstrators started the battle with the petrol bombs which injured one police and the police countered by using tear gas and force, caused the city in an anarchy.
Hong Kong has not escape from the destabilization since the protest of anti – extradition bill started on March despite the dispersing protesters from Hong Kong police and warnings from China.
Reuters, Aljazeera ( Van Nguyen )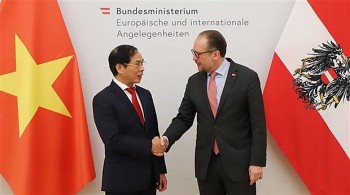 Overseas Vietnamese
Fifty years have passed since the establishment of the relationship, the two countries have enjoyed great strides in bilateral cooperation.