How Queen Elizabeth II Passing Affects Vietnamese Students in UK
Upon Queen Elizabeth II's death, many Vietnamese students were stuck by surprise as their scholarships, sponsored by the UK government, announced several changes.
On the evening of September 8, Dang Thanh Van celebrated winning a UK government-sponsored Cheneving scholarship for the 2022-2023 school year at the house of the British Ambassador in Hanoi.
A few hours later, the scholarship successor learned about Queen Elizabeth II's death. "We were talking about the Queen just after seeing the Ambassador. At midnight, we were surprised to read about her death," said Van.
Van had planned to arrive in England soon to attend entertainment activities before the school year started. However, fun activities have been canceled because of UK's national mourning for the Queen.
"The Queen has a huge influence in the UK. I think the country is going through a great loss. Therefore, I am even more worried when I have to fly to the UK in just a few days," Van said. Her departure day is about to come yet no flight ticket has been sent by Chevening's airline partners.
"I don't want to push them to get my flight ticket. Initially, I want to arrive in the UK on September 12, just in time for my university's orientation week. However, considering the current situation, I think all those activities have been canceled, meaning I don't have to leave Vietnam that early anymore," said Van.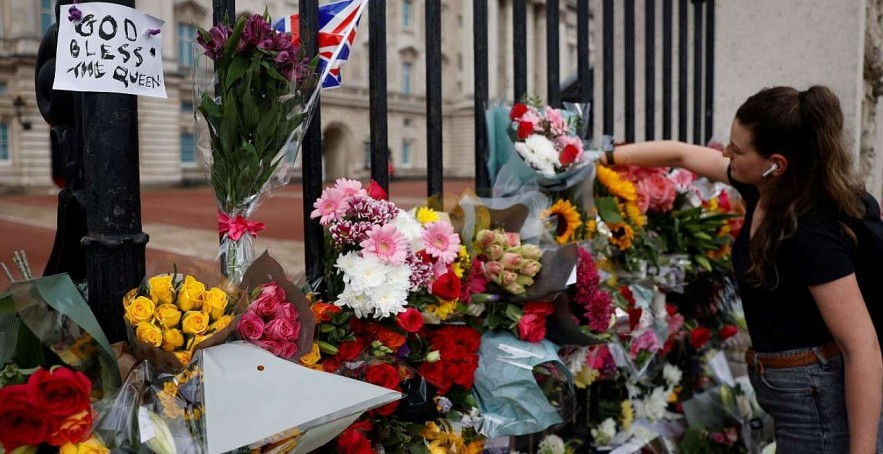 People in London pay tribute to the Queen. (Photo: Le Monde)
Luong Ngoc Linh, another Chevening successor, has been constantly updating the news about national mourning activities to avoid unexpected changes. Linh will enter Sequential Illustration at the University of Brighton on September 26. He said his university's upcoming activities will be changed to adapt to the Queen's funeral.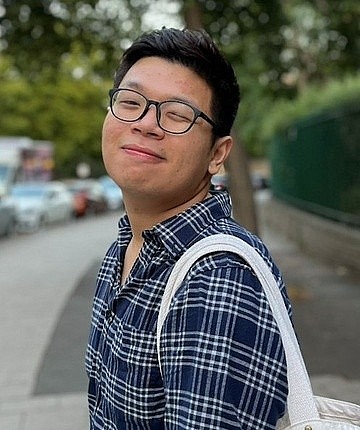 Nguyen Hoang Hai, a 23-year-old business analyst in the UK. (Photo: Zing)
Meanwhile, graduates have other concerns. Nguyen Hoang Hai, a 23-year-old business analyst, noticed many changes in the UK after the death of Queen Elizabeth II.
"On the afternoon of September 8 (London time), Buckingham announced the news. People in the UK have anticipated the change, especially since the pandemic broke out. However, I can feel their sadness. All news broadcasters wear black. All events are canceled," said Nguyen Hoang Hai.
"The United Kingdom has gone through many changes from the beginning of this year. A crisis in the cost of living, inflation, change of prime minister. The Queen's death, therefore, brings the negative atmosphere to a new level."
Trung Son, a Vietnamese student in Manchester, is concerned that the Queen's national funeral will affect his living cost. Son works part-time at the football field. After the queen's death, the field canceled weekend matches, leading to Son's salary cut.
Retail stores in London have been temporarily closed, while music and sporting events across the country have been suspended to pay respects to Queen Elizabeth II. On the morning of September 9, the British flag was flown at half-mast in all government buildings and corporate headquarters. Fortnum & Mason Group has turned off the famous watch at its London Piccadilly Street store, while retailer John Lewis announced money earned from the Queen's memorial flowers at its London stores will be given to charities.
A series of events across the UK have been canceled or postponed. London Fashion Week organizers announced that "non-core business events" would be canceled. Burberry confirmed that it would not participate in London Fashion Week, scheduled to take place on September 17. Russell & Bromley, London's long-established shoe chain, also closed its stores on September 9.
Football matches across the UK will also be suspended, including the English Premier League. Premier League organizers said the decision was made after a meeting between clubs so that clubs could pay their respects to the Queen. Meanwhile, the meeting of the Bank of England's Monetary Policy Committee scheduled for September 15 will be delayed to the following week, when the UK finishes its national mourning.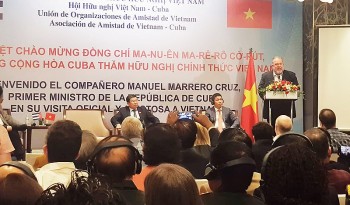 Friendship
Cuban Prime Minister Manuel Marrero Cruz met representatives from the Vietnam-Cuba Friendship Association in Hanoi on September 30, as part of his visit to Vietnam from September 28 to October 2.