International Experts Impressed by Vietnam's Initiatives to Prevent Drowning
Vietnam impresses public health experts for creating a safer generation of swimmers.
Responding to the World Drowning Prevention Day (July 25), a Family Festival to Raise Awareness of Child Drowning were organized in Hanoi on July 22- 23. The event hosted by the Department of Child Affairs in collaboration with Bloomberg Philanthropies, the World Health Organization (WHO) and the Campaign For Tobacco-Free Kids of the United States.
Among the international guests who are public health experts at the festival, Dr. Jagnoor of the George Institute for Global Health said that the community event left a great impression thanks to its interactiveness.
"[The Family Festival] is a great community event, interactive and inspiring where we spread the message about being mindful of the drowning risk when enjoying the water in summer and the work has been put in drowning prevention," said Dr. Jagnoor.
She first used an example of the major process in Australia's child drowning prevention to demonstrate the variation of water safety intervention across countries. Thereby, public awareness about this issue is relatively high.
"Australia, where I spent more than 20 years living and working, is successful in child drowning prevention with having strict regulations for swimming areas and big water safety volunteer programs," said Jagnoor.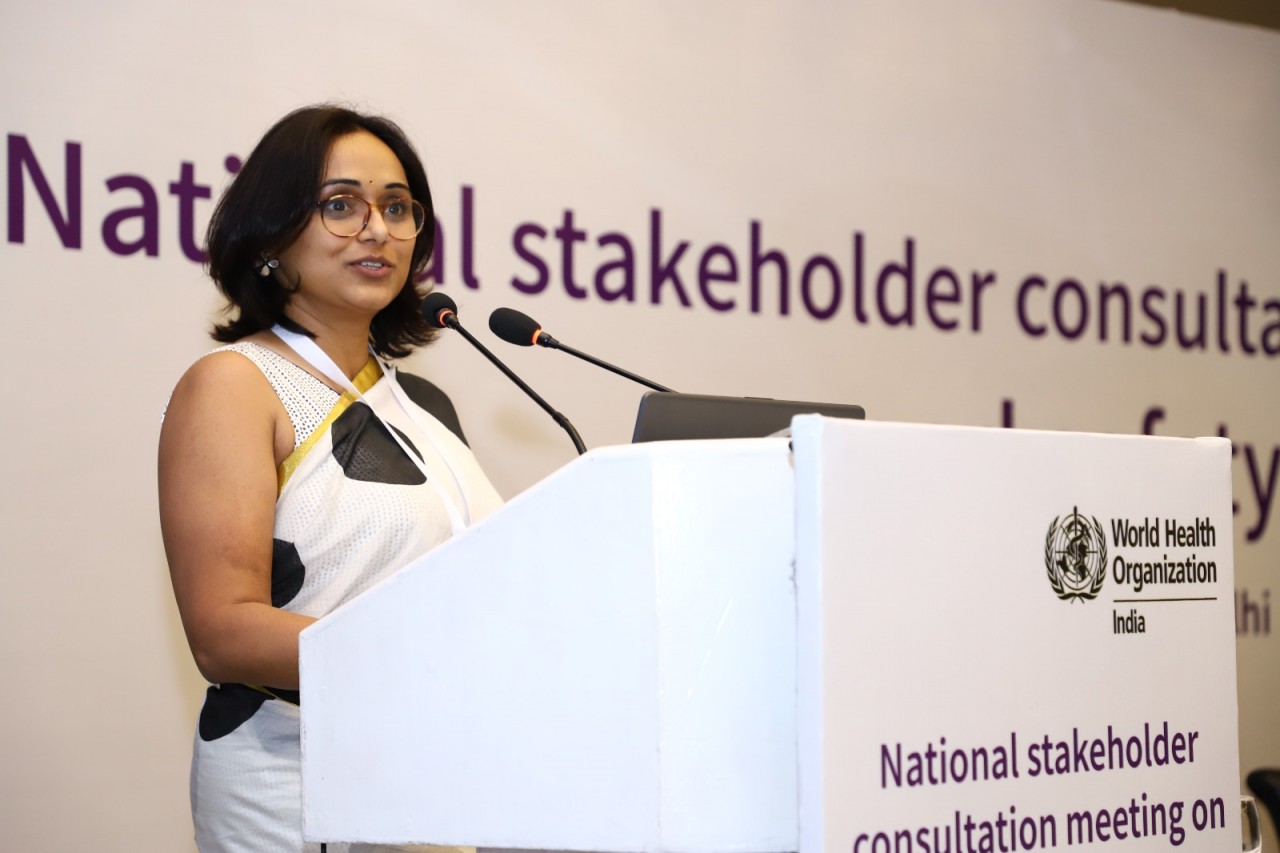 Dr. Jagnoor of the George Institute for Global Health (Photo courtesy of Jagnoor).
On the other hand, Dr. Jagnoor shared that India, her home country, faces similar challenges to Vietnam in the effort to save children from faces drowning. Children under the age of 15 are at the risk by playing at the beaches, lakes, ponds without having adult supervision and survival swimming skills. Jagnoor is most impressed of the communities from different fields joining in child drowning prevention in the host country.
"Vietnam set lessons for many countries including Bangladesh, Uganda, India about policy implementation. We can also learn [from Vietnam] about how child protection and child safety programs are inter-related and need the ministries, disciplines and the peoples from different communities to work together," said Dr. Jagnoor.
Regarding the program implementation on local-scale, Graham Buckley, Director of Hue Help, said the work towards addressing the challenges child drowning prevention at global-scale and local-scale have brought many good results.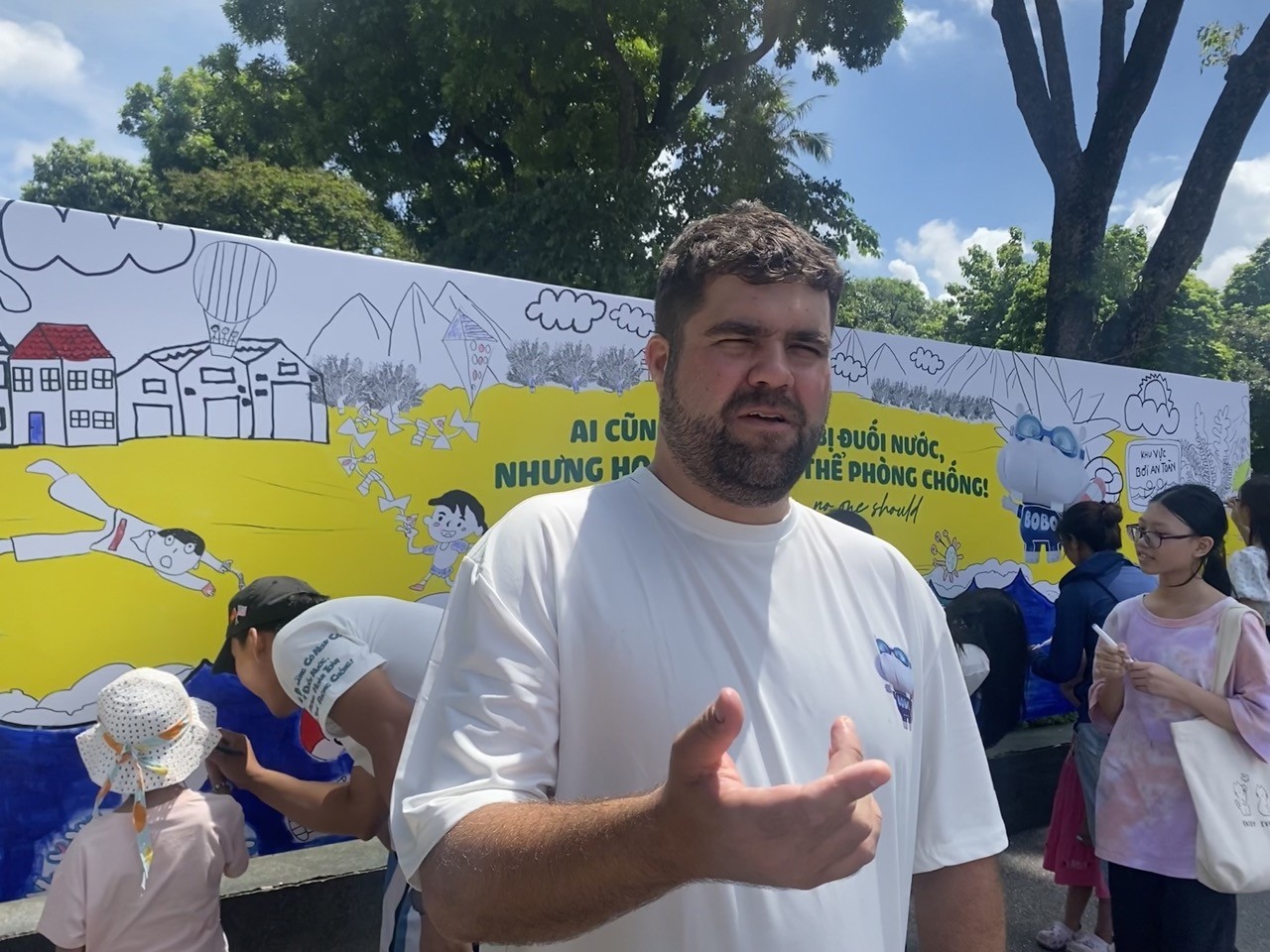 Graham Buckley, Director of Hue Help (Photo: Nhung Nguyen).
"The Family Festival to Raise Awareness of Child Drowning is a great event that highlights challenges globally and in Vietnam, as well as the solutions. At Hue Help, we have worked in drowning prevention since 2011. I think it's a privilege to see more investment in intervention from like Bloomberg Philanthropies and t he Ministry of Labor - Invalids and Social Affairs (MoLISA) and to be apart of the implementation and learn from it organizations," Graham said .
Swimming For Safety by Hue Help provides children in Central vietnam with knowledge and skills to be safe around water. Since 2011, Hue Help has operated Swimming For Safety in 6 provinces in Vietnam, training over 400 teachers, 11,000 children. Ten thousands of people, mostly children aged 6-15, benefit from this water safety intervention over the past 10 years.
Drowning is preventable
Drowning is a greatly unrecognized threat to health and well-being. However, every drowning is preventable. The theme of the 2023 World Drowning Prevention Day is "Anyone can drown. No one should".
Parents and children are highly encouraged to learn water safety skills include swimming, response to drowning and recognition the risk of drowning among ourselves and others.
"Vietnam is A Leader in Drowning Prevention"

On the occasion of Bloomberg Philanthropies' Partner Meeting in Hanoi from July 19-22, Director of Bloomberg Philanthropies' road safety and drowning prevention program Kelly Larson ...