Iran asks US to lift sanctions before sitting in negotiating table
Iranian President Hassan Rouhani announced Iran will negotiate with the US in case the US lifted all sanctions on Tuesday (August 27), after Trump had said he was willing to meet Rouhani put an end of nuclear issue's stalemate. 
Iran's President Hassan Rouhani had demanded that the US lifting sanctions before nuclear talks on Tuesday (August 27), following the US President Donald Trump's suggestion that he wants a meeting with President Rouhani.
Photo: Aljazeera
Rouhani spoke on Iranian state TV "the step is to retreat from sanctions. You must retreat from all illegal, unjust and wrong sanctions against the nation of Iran. So take the first step, without taking this step, the deadlock will not be unlocked".
He also emphasized "Without America withdrawing from sanctions and abandoning the wrong path it has chosen, we will not witness any positive development. The key to positive change is in the hands of Washington".
The US President Donald Trump had suggested meeting his Iranian counterpart to negotiate on the nuclear issue after French President Emmanuel Macron's advice. In addition, Iranian President Hassan Rouhani also showed his wish to discuss on its nuclear program that he "should not miss opportunities" .
President Emmanuel Macron had arranged a meeting on a sideline of G7 summit with Iranian foreign minister Mohammad Javad Zarif on Sunday (August 25) for a talk on French proposal which let Iran export its oil to make attempt to salvage the 2015 nuclear deal.
Nevertheless Iran had requested to raise its oil export up to 1.5 million bpd and minimum 700,000 barrels per day.
Furthermore, Iranian Oil Minister Bijan Zanganeh said that Iran would needed three day to bring the level of its oil production as before the US's sanctions on Tuesday (August 27), as Iran's Mehr news agency reported.
The tension on nuclear issue between Iran and the US has not decrease since the US got out of the 2015 nuclear deal in 2018 and re – imposed sanctions on Iran. However, the France's effort open the door to for resolving the deadlock of the nuclear deal.
Reuters, Aljazeera ( Van Nguyen )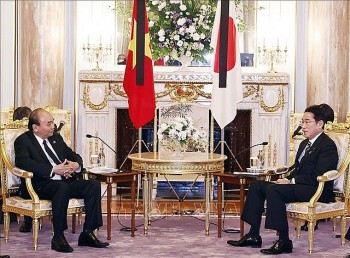 Friendship
Vietnam always treasures the extensive strategic partnership with Japan and views Japan as an important and long-term strategic partner, President Nguyen Xuan Phuc told Japanese Prime Minister Kishida Fumio in Tokyo on September 26.