IUU Fishing Prevention and Control for Sake of People and Vietnam's Image
The fight against IUU fishing must be carried out for the sake of the people and Vietnam's image as a responsible member of the international community, said the Vietnam's Prime Minister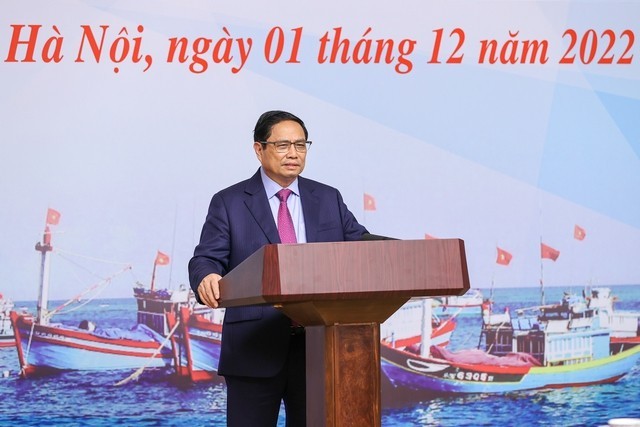 PM Pham Minh Chinh (centre) chairs the teleconference on IUU fishing prevention and control on December 1. Photo: VGP
Prime Minister Pham Minh Chinh called for concerted efforts to fight illegal, unreported and unregulated (IUU) fishing while chairing a teleconference with 28 coastal provinces and cities on December 1, VNA reported Thursday.
The Ministry of Agriculture and Rural Development (MARD) reported that IUU fishing has been reeled in since the European Commission issued a "yellow card" warning five years ago.
However, problems and shortcomings remain, regarding which an EC delegation gave recommendations on during their third inspection recently, MARD noted, adding that the EC also highly valued Vietnam's strong political resolve, especially the drastic directions delivered by the Government and the PM.
At the meeting, ministries, sectors and localities pointed out causes and obstacles, looked into international experience, and proposed solutions to prevent IUU fishing.
Applauding their recent efforts, PM Chinh said many problems still exist and haven't been addressed quickly enough.
PM Pham Minh Chinh (centre) chairs the teleconference on IUU fishing prevention and control on December 1. Photo: VNA
He noted those problems are caused by not only people's limited awareness but also a lack of sense of responsibility among some organisations and individuals. This sluggish progress is due to a lack of strong action, attention, inspection and supervision over the issue, as well as long-term solutions, including ensuring livelihoods for fishermen.
"The fight against IUU fishing must be carried out not for the sake of formality but for the sake of the people and Vietnam's image as a responsible member of the international community in implementing international commitments, including marine environment protection," he emphasised.
Chinh also asked for developing a 180-day action plan to carry out the EC's recommendations, devising a long-term strategy to prevent IUU fishing, reviewing sea areas and territorial waters, re-assessing fishing and aquaculture activities, and creating sustainable livelihoods for people.
In 2017, the EC issued a warning against Vietnamese fishery products exported to the EU. The decision had an impact on the country's seafood exports to the EU, which account for 16–17% of the country's annual seafood export value.
In August, Vietnam saw an increase in seafood exports to the EU, up 95% from last year's period, according to the Vietnam Association of Seafood Exporters and Producers (VASEP).
Vietnam's seafood exports decreased to less than USD 1 billion in July after sustaining above USD 1 billion in a row from March to June. This trend was sustained in August with sales down to USD 917 million, which is 3% less than the turnover for July.
Vietnam is intensifying the long-term efforts that it has made over the past more than four years to combat IUU fishing for a sustainable fishery sector and the lifting of the European Commission's "yellow card" warning against the country's seafood products.
Stopping IUU fishing has been defined as the responsibility of not only fishermen and fishery firms, but the whole political system with an aim to increase the prestige of the fishery sector and Vietnam in the world arena.
Therefore, raising fishermen's awareness of legal fishing has been seen as the first and foremost task, especially when traditional practices have been entrenched in them for generations.
Over the year, the Ministry of National Defence has taken the lead in educating fishermen on sustainable fishing by coordinating with other forces, sectors and localities to popularise related legal regulations to fishermen.
The ministry's steering committee on IUU fishing combat has guided relevant units to continue with the work this year in collaboration with authorised agencies.
As part of efforts to combat IUU fishing, 28 coastal provinces and cities have taken prompt measures to implement tasks given by the national steering committee for 2022.
They intensify educational activities to ensure that all local officials and residents thoroughly understand regulations and laws related to sustainable fisheries development and IUU fishing.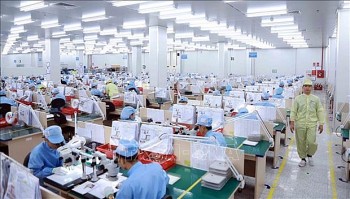 National
Vietnam News Today (Jan. 26): Vietnam - important partner of RoK; HCM City maintains growth momentum, reaps successes in 2022; Vietnam's tourism forecast to strongly rebound in five years; Many localities attract a large number of visitors during Tet.