Jack Ma to step down in 2019, Daniel Zhang to become Alibaba chairman
Jack Ma, co-founder and chairman of China's largest e-commerce firm Alibaba Group, will step down as chairman in exactly one year on Sep 10, 2019, the company said.
Jack Ma, co-founder and chairman of China's largest e-commerce firm Alibaba Group, will step down as chairman in exactly one year on Sep 10, 2019, the company said.
Daniel Zhang, Chief Executive Officer of Alibaba Group Holding Ltd will replace Jack Ma as the chairman of the company. (Photo: REUTERS/Aly Song/File Photo)
Current Alibaba chief executive Daniel Zhang will replace him as chairman, while Ma will complete his current term on Alibaba's board of directors following the company's annual general meeting in 2020.
Ma, who turned 54 on Monday (Sep 10), said in a letter released by the company on the same day that he is staying on as executive chairman for 12 months to "ensure a smooth transition".
"While remaining as executive chairman in the next 12 months, I will work closely with Daniel to ensure a smooth and successful transition," Ma said.
"Thereafter, I will stay on the Alibaba board of directors until our annual shareholders meeting in 2020."
Ma relinquished the role of chief executive in 2013. Zhang, 46, has been in the job since 2015 after serving as chief operating officer and is known as a key architect of Alibaba's Singles Day, the Nov 11 event that has become the world's largest online shopping event.
"Under his stewardship, Alibaba has seen consistent and sustainable growth for 13 consecutive quarters ... Starting the process of passing the Alibaba torch to Daniel and his team is the right decision at the right time," Ma said in the letter.
Zhang will also retain the CEO title, the company said.
Ma, who co-founded Alibaba in 1999, is one of China's richest people with a net worth of more than USD 40 billion, according to Bloomberg. The company has grown to have more than 66,000 full-time employees and was valued at USD 420.8 billion when the stock market closed last Friday.
Ma was an English teacher before starting Alibaba in 1999 and building it into a multibillion-dollar Internet colossus, becoming one of the world's richest men and a revered figure in his homeland.
The statement did not specify exactly what Ma planned to do after stepping down but it said he wants to "return to education". Ma has lately taken on educational initiatives as a pet project.
"As for myself, I still have lots of dreams to pursue. Those who know me know that I do not like to sit idle.
"I also want to return to education, which excites me with so much blessing because this is what I love to do," he said.
Since handing over the CEO role, Ma has concentrated on philanthropy and promoting Alibaba internationally at business and political events.
Last year Ma invested 300 million yuan (USD 45 million) in a rural education project in China. He has also established a scholarship program in Newcastle, Australia.
In an interview with Bloomberg TV released on Friday, Ma hinted at his retirement plans, saying he wanted to follow in the footsteps of Microsoft founder Bill Gates, one of the world's most prolific philanthropists./,
VNF/CNA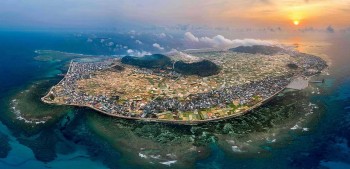 Viet's Home
Dozen of beautiful photos from the "Homeland View from the Sea" national photo contest will be featured in a 2022 calendar.