Japan to invest 22 billion yen to help Ho Chi Minh City tackle inundation
Japan International Cooperation Agency (JICA) said Japan would help Vietnam tackle inundation.
Japan International Cooperation Agency (JICA) said Japan would help Vietnam tackle inundation.
HCM streets are flood after torential downpours (PHOTO: Vietnam News Agency)
This inundation management project will be implemented in 2017, with total investment of up top 22 billion yen (about USD211 million).
Besides supporting the loan with low interest rates, JICA also involves in the operations of the project as a private investor.
Japanese firms considering participating in the project includes: Mitsui & Co. (general trading company, a part of Mitsui Group), Mitsubishi UFJ Financial Group, Shimizu Cooperation, Maeda Cooperation.
The project will be implemented in a residential area along the Sai Gon River where is regularly inundated. This is a no embanked area and virtually has no sewer system, leading to more accumulation of mud.
It will be built a concrete channel about 8.1 km long and a sewer system, thereby creating an area of approximately 61 hectares. This work item is expected to be completed in 2020.
Then, Japanese firms will build on this land 20-storey buildings. Expected by 2022, 24.000 apartment will be completed.
To carry out this project, HCMC will receive in advance a sum of money for infrastructure construction such as embankment, roads, sewer and for residential relocation.
Not only implemented in Vietnam, the project is also underway in other Southeast Asian countries, such as Myanmar, Cambodia. The project in HCMC is considered to be quite effective./.
Ngoc Tran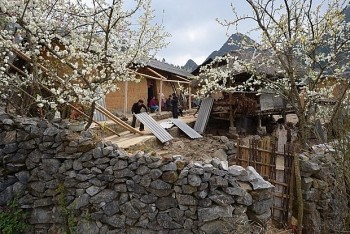 National
Vietnam News Today (Feb. 3): Vietnam and Trinidad & Tobago establish diplomatic ties; Severe cold spells expected to hit northern mountainous provinces late this month; Vietnam among top 10 best places to go for budget honeymoon; Hanoi, HCM City record highest disbursement of public investment capital in January.