Japanese-style Manufacturing Introduced to Vietnamese Students
The seminar on the analysis of Japanese's leading position in manufacturing and productions as lessons for Vietnam's growing manufacturing industry, hosted by Vietnam Japan University, Mitani Sangyo Co., Ltd and Koganei Seiki Co., Ltd. in March 9 in Hanoi, attracted more than 130 participants from both countries.
The seminar organized by Vietnam Japan University, Mitani Sangyo and Koganei Seiki was based on the keyword "Monozukuri" (translation: Japanese-style manufacturing"). The main topic focuses on "The future of Monozukuri - Japanese manufacturing in Vietnam and the new role of Vietnamese universities."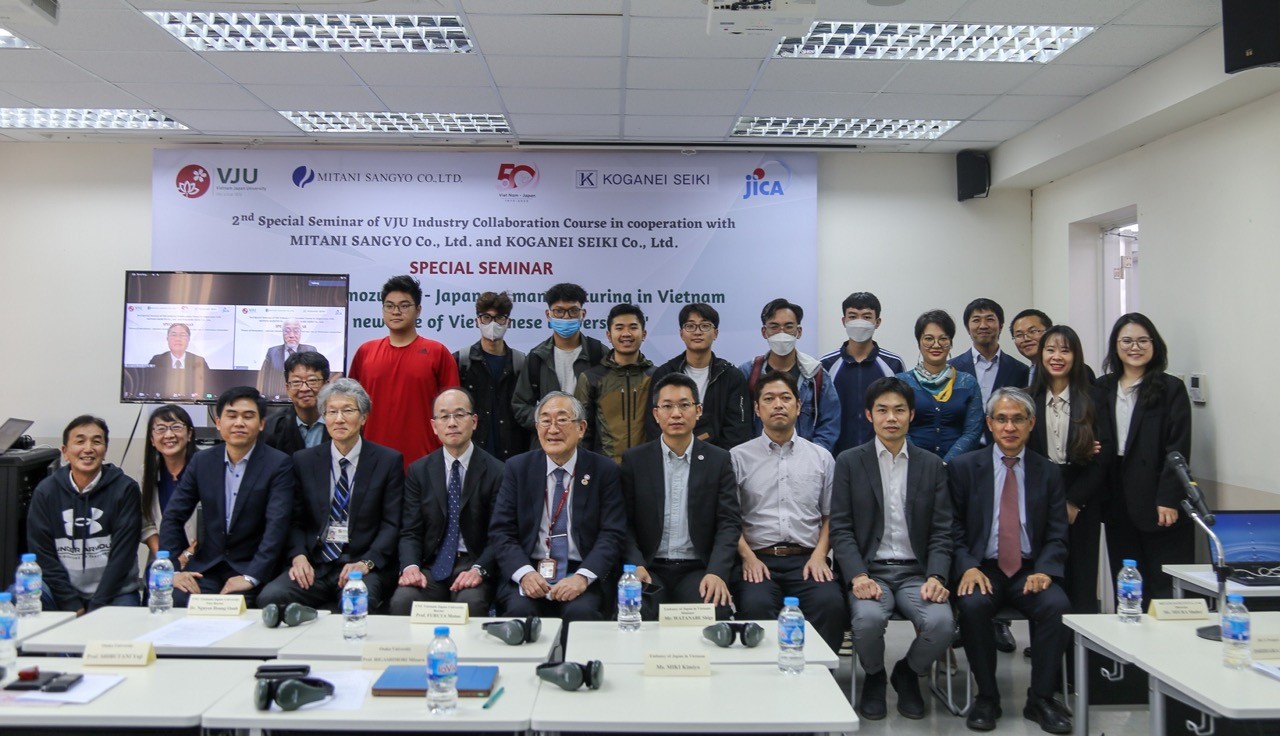 "The future of Monozukuri - Japanese manufacturing in Vietnam and the new role of Vietnamese universities" seminar is the 2nd Special seminar of VJU Industry Collaboration Course in cooperation with Mitani Sangyo CO., Ltd. and Koganei Seiji Co., Ltd. (Photo: VJU)
Speakers of the seminar include Professor Fujimoto Takahiro of Waseda University (Japan) and Professor Enomoto Toshiyuki of Osaka University (Japan).
Professor Fujimoto Takahiro analyzed the historical transformation of the Japanese manufacturing industry, the characteristics, and strengths of the Japanese manufacturing industry, and compared the current situation of this industry with the situation in other countries. In addition, he presented a suggestive analysis of the future of Japanese manufacturing in a world where digitalization is evolving and the direction that Vietnam's manufacturing industry should take.
In his keynote presentation titled "Digital Production Strategies for the 2020s", Professor Fujimoto Takahiro highlighted how Japanese enterprises analyzed and adopted the Internet of Things (IoT), artificial intelligence (AI), and automation in the manufacturing industry. The Japanese cases suggest Vietnam pays attention to the human resources for production, not only factory workers but also researchers, engineers, and scientists.
The panel discussion, moderated by Professor Enomoto Toshiyuki, discussed the future of manufacturing in Vietnam and the new role universities should play in it. Lecturer Nguyen Van Thang from Vietnam Japan University raised the issue that Vietnamese young people are very interested in Information Technology and Financial Technology. In response, the Chairman of Koganei Seiki Co. Ltd, Kamoshita Yusuke used his firm as an example to emphasize that Japanese companies always welcome excellent foreign human resources.
Professor Enomoto Enomoto Toshiyuki concluded the discussion by adding that Vietnamese and Japanese partners, both businesses and education institutes, want to design a program that would serve a combination of requirements of the companies where students are working, so we look forward to seeing a variety of requirements from the companies."
"Monozukuri" encompasses a synthesis of the technological prowess, know-how, and spirit of Japan's manufacturing practices. The spirit includes a sincere attitude towards production with pride, skill, and dedication and the pursuit of innovation and perfection.
For Vietnam's manufacturing industry, Monozukuri is a relatively new concept. With the rising number of Japanese companies in the Vietnamese market in recent years, learning about "Monozukiri" has created a new trend for local businesses to determine their practices.
At the seminar, Professor Shibutani Yoji, Director of the Institute of Sustainability Science (Vietnam-Japan University), introduced its new training program called "Intelligent Mechatronics and Japanese Manufacturing".
According to Shibutan Yoji, "Materials", "Machining", and "Assembly" are essential elements for Japanese-style manufacturing, and the new training program at Vietnam Japan University is designed to comprehensively meet all three. This program is newly established in 2023 by Vietnam Japan University, with support from Osaka University and Japan International Cooperation Agency (JICA).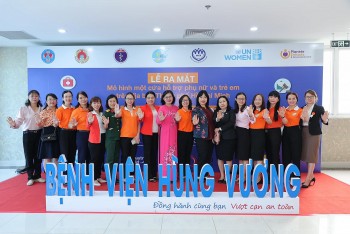 Viet's Home
What is the one-stop centre for women and children experiencing violence?