Japan's Mazda opens largest Southeast Asia factory in Vietnam
Vietnamese PM Nguyen Xuan Phuc attended the factory's opening on Sunday
Japanese automaker Mazda on Sunday launched its largest and most modern production facility in Southeast Asia in central Vietnam.
A car is assembled at a Thaco-Mazda factory in Quang Nam Province in central Vietnam, March 25, 2018. Photo: Tuoi Tre
The factory is the result of cooperation between Mazda and local automaker Truong Hai Auto Corporation (Thaco), according to which the latter will produce Mazda cars for local sales and exports to regional markets.
Located in Chu Lai Open Economic Zone in Quang Nam Province, the factory is Mazda's biggest and most modern in Southeast Asia capable of producing cars of Japan-made quality, according to Thaco chairman Tran Ba Duong.
Duong was among four superrich Vietnamese included in the latest Forbes list of the world's dollar billionaires.
The Thaco-Mazda factory in Quang Nam can produce 100,000 cars a year upon completion, at a cost of VND12 trillion (US$526.8 million).
The entire factory is integrated with the latest Industry 4.0 technologies available in Southeast Asia, making it fully automated and digitally controllable, Duong said.
Vietnamese Prime Minister Nguyen Xuan Phuc attended the factory's opening ceremony on Sunday, which saw the launch of its first phase capable of manufacturing 50,000 cars yearly.
The premiere also launched a maritime trade route between Japan and Chu Lai the same day, and later oversaw the first shipment of car parts from Hiroshima to supply the Thaco-Mazda factory.
Tran Ba Duong, chairman of Truong Hai Auto Corporation (Thaco). Photo: Tuoi Tre
According to Hiroshi Inoue, managing executive officer at Mazda, Vietnam is the company's 10th largest market worldwide in total auto sales.
Mazda's investment of technology and production concepts in a Thaco-run factory would build a strong foundation for the local auto industry to make its own breakthroughs, he said.
Dr. Tran Dinh Thien, president of the Vietnam Institute of Economics (VIE), told Tuoi Tre (Youth) newspaper that the Thaco-Mazda cooperation would be a game changer in the local auto market in the years to come.
The Thaco-Mazda factory's approach is to introduce more luxury cars for the Vietnamese market while increasing the localization ratio, Thien asserted.
Thaco has already inked deals to sell 1,000 buses produced at its newly-opened factory to Thailand, Indonesia, and the Philippines in 2018.
The company also plans to export $10 million worth of car parts and accessories to regional markets by the end of the year./.
VNF/TTO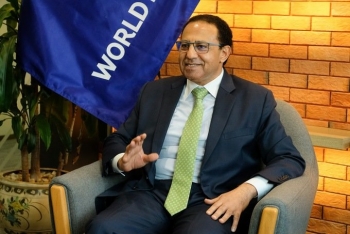 Economy
Vietnam's agriculture is transforming from quantity targets towards profit, environment and farmer income targets. Ahmed Eiweida, Vietnam Sector Leader for Sustainable Development (World Bank).