Kashmiri Artist and Fulbright Scholar Taha Mughal Recounts His Journey
Born and raised in the HMT area of Srinagar in Jammu and Kashmir, Taha Mughal, a Cambridge alumnus and winner of the prestigious Fulbright scholarship for 2022-23, stands at the intersection of art, writing, and architecture.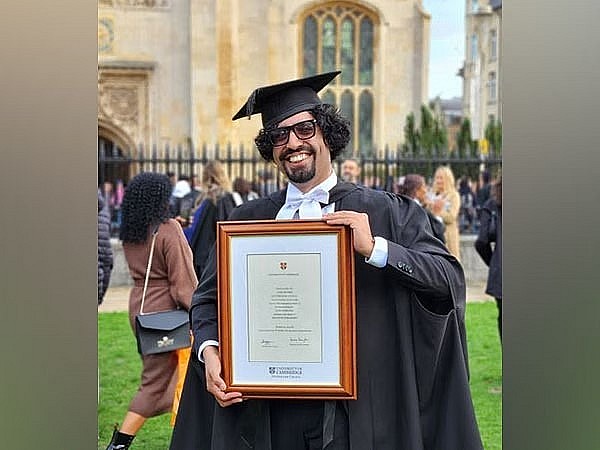 Taha Mughal, born in Srinagar, awarded with world's prestigious Fulbright Scholarship(Photo/ANI)
Taha's remarkable journey from Kashmir's Minto Circle School and later Tyndale Biscoe School to the world's most renowned universities is a testament to his determination and the support of his mother.
Despite facing numerous challenges, Taha's relentless pursuit of education led him to receive offers from esteemed institutions such as the University of Cambridge, Harvard University, and the University of Pennsylvania.
Within two years, he has now earned a Master's in Science of Design (Historic Preservation) from UPenn and an MPhil in Heritage Studies from Cambridge.
Taha recalls, "I finished my Cambridge thesis while studying at the University of Pennsylvania, during a time when I underwent surgery and was ill for over two months. The overlap of courses was unexpected but turned out to be a blessing."
Taha's academic achievements caught the attention of prestigious international organizations. Offers from the coveted Chevening Scholarships and Commonwealth scholarships came his way but he chose to sign a contract with the British Council's Charles Wallace India Trust instead. This decision allowed him to further pursue his education in the United States to realise his dreams.
To secure his place at Cambridge, Taha's translation project on the "History and Culture of Bhaderwah," written by Bashir Bhaderwahi, which he meticulously researched and translated over six years, played a vital role.
This ambitious project is set to be his first major literary and scholarly contribution.
Additionally, his work on INTACH Kashmir's book "Architectural Ornamentation in Shrines and Mosques of Kashmir," edited by Qamoos Bukhari, featuring Taha's intricate drawings, solidified his candidature at Cambridge.
Before leaving for Cambridge, Taha was awarded the world's prestigious Fulbright scholarship, cementing his place among the world's brightest minds.
Soon Taha was in a fix when he had to choose between offers from Harvard University and the University of Pennsylvania, both Ivy League and among the world's most reputed.
Ultimately, opting for a more practical program led him to opt for UPenn, confident that Harvard could be pursued later in his academic journey.
Having completed his Fulbright-sponsored program with distinction at the University of Pennsylvania, Taha has now embarked on a short-term research position at the Center for the Preservation of Civil Rights Sites in the United States where he will delve into the historical significance of the Civil Rights movement at sites in Alabama, listen to people's stories, and document their lived experiences.
As an architect and writer, this opportunity allows Taha to merge his passions and contribute meaningfully to preserving history.
Education from the world's best institutions has enabled Taha to establish himself as a preservation architect and heritage practitioner. Through his work, he tackles complex themes of identity, memory, and politics in architectural design, striving to create spaces that foster a sense of belonging. Taha emphasizes, "All art should be made for belonging. There are already enough forces that divide humans."
When asked about his future plans, Taha said he will continue exploring at his own pace. Whether working with organizations like UNESCO or the Aga Khan Foundation or pursuing further studies, Taha said, he remains committed to his personal growth and professional development. (ANI)