Laos students learn Vietnamese: Challenge, Excitement and Passion
(VNF) – For the Vietnamese people, learning Vietnam is already a challenge, and it is even more challenging for Laotian students.
(VNF) – Learning Vietnamese language is a challenging yet exciting journey for the Laotian students in Tan Trao University (Tuyen Quang province).
The Tuyen Quang News has talked to Laotian students who are pursuing Bachelor programme in Tan Trao University, to catch a glimpse of how these young people pick up the neighbor country's language, which is considered one of the most difficult languages in the world.
Laotian students sing the song "Viet-Lao friendship" (source: Tuyen Quang News)
Kham-La-Thoong-Si-Phan is one of the first five Laotian students arriving of Tan Trao University. Kham-La is now majoring in Land Management. His love for Vietnamese language was kindled when he was a kid and had the chance to listen to his neighbor, a Laotian student studying in Vietnam then, speak very fluent the foreign language.
He was so immediately impressed by Vietnamese that he did not hesitate to affirm his dad: "In the future, if I can study abroad, I will definitely choose Vietnam to be my destination."
Kham – La dream came true when he embarked on his overseas learning journey in late February, 2014. Together with four other Laotian students, Kham-La arrived at the College of Tuyen Quang, where the five took up the first lessons of Vietnamese language, in preparation for the Bachelor programme in university.
Upon their arrival, each was given a Vietnamese name by the Vice Rector of the school, Ms. Pham Thi Tram.Their name were Truong, Cao, Dang, Tuyen, Quang, of which Kham-La's name was Tuyen. When being put together, their names form the word "Truong Cao Dang Tuyen Quang" ("The College of Tuyen Quang", in Vietnamese).
The College of Tuyen Quang was where Kham-La began to pick up the language he has strongly loved since early day.
Vietnamese language is beautiful, but hard to learn. It therefore took Kham-La and his peers vast deal of efforts in picking up the language.
Everyday, in addition to attending classes, the Laotian students spent their time in dormitory on revising and practicing what they learned, from the alphabeticals, pronunciation, spelling to making sentence.
Laos students dance on occasion of Lao's traditional New Year - Bunpimay festival held in Tan Trao University (source: Tuyen Quang Department of Foreign Affairs)
The alphabetical of Vietnamese language was not something challenging to them since they had learnt English before. However, the vocabulary was a real challenge, especially the multi-meaning-in-one words. "The writing skill is truly tougher than speaking", Kham-La admited.
Kham-La's case is not rare. A friend of him, Pa-Ni-Luong-Vong-Thoong (studying the same major - Land Management) has to struggle with the same problem when learning Vietnamese.
Nevertheless, there is a will, there will be a way. The Laos students have managed to find the most effective way to improve their Vietnamese skills, (and at the same time, help reduce the nostalgic feeling), which are watching Laos movie with Vietnamese subtitle, singing Vietnamese songs, chatting with Vietnamese friends and 'playing' with Vietnamese language app on smart phone.
That's was how they, step by step, overcame the language barrier and be confident with Vietnamese language.
However, when it comes to study the major, new challenge comes.
While listening to the teachers' lectures, there are glossaries, concepts which Pa-Ni has never heard before. In those cases, she will note them down, and when the class ends, look them up in dictionary or Google and read until she fully capture the meaning.
Apart from these challenges, Vietnamese language also brings to Laos students a lot of memorable moments. One of the most exciting thing to them is being addressed by Vietnamese name.
Vi-Lay-Van Huong-Lit-Sin, a female student, said, her name, Vi-Lay-Van means "day" in Laos language. Her teachers and students call her by the first word of her surname "Huong", which means "fragance" in Vietnamese. "Huong" therefore is a beautiful name, like the sweet scent of flowers.
Meanwhile, Sin-In-Tha-Say is called Hue (Tuberose flowers in Vietnamese), but sometime her peers also called her "Say Sin" . When Sin-In-Tha-Say discovered the meaning of the word in Vietnamese, which mean "drunken", it makes her burst out laughing.
A ritual in Bunpimay festival held in Tan Trao University (source: Tuyen Quang Communist Youth Union)
The success of a learning process depends not only on the students' effort, but also the teachers'.
In over the last three years, the dedicated Vietnamese language teachers in the College of Tuyen Quang and Tan Trao University have been trying their best to find the most simple yet effective way to convey Vietnamese language skills to Laos students.
Ms. Vu Thi Huong, Literature Lecturer, Elementary education faculty, is an experienced Vietnamese language trainer. Huong has to put immense efforts in teaching, since she did not have the chance to attend a formal course in Laos language, but only a 2-month course, instead.
At the beginning, teacher and students had to resort to body language most of the time. When it came to teaching them a difficult word, Huong had to go online to search for the illustrative image, then translate the word into Laotian language. After the students have got the new word's meaning, the teacher guided them to practice pronouncing, spelling and making sentence with the word.
Laos students have good behaviors and are hardworking, with strong willingness to progress, according to Huong. After providing training for three batches of Laos students, the teacher realized that they are quick learner. After 1 to 2 months, they will be able to use Vietnamese in casual conversation. After 6 months, the students can speak fluently and possess relatively rich vocabulary, she said.
The commitment of Laos students to studying Vietnamese has paid off, in the form of good study results. For them, the delightful feeling and the pride of being capable of confidently using a second language, one of the hardest languages in the world, was indescribable./.
( Translated by Phi Yen )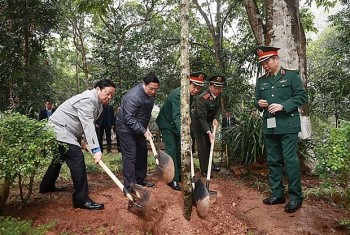 National
The Prime Minister launches a tree planting festival in Ba Vi on New Year of Cat.