Lengthened Covid Restrictions Could Cause Businesses to Leave Vietnam: EuroCham
No European business has left Vietnam due to Covid-19, but continued restrictions and delayed vaccination could cause them to do so, a EuroCham executive said.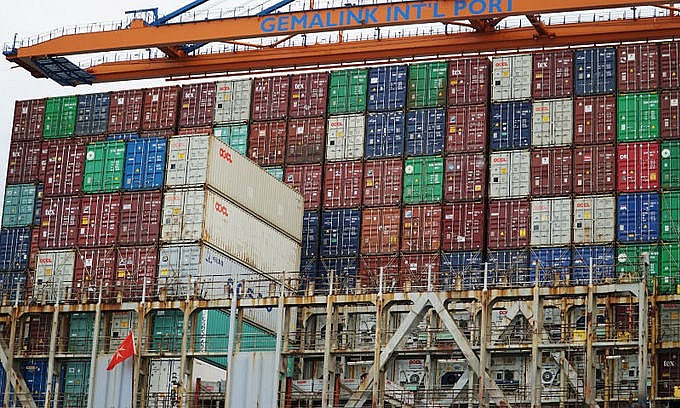 Containers are seen at Tan Cang Cai Mep Terminal in Ba Ria Vung Tau Province. (Photo: VnExpress)
European firms still showed strong confidence in Vietnam's ability to control the pandemic and for the Southeast Asian economy to pull off a strong recovery in a near future, heard an online conference organized by the European Chamber of Commerce (EuroCham) in Vietnam on September 9.
The firms, however, stressed the importance of mass vaccination drives, uninterrupted flow of goods and services as well as shorter time to process foreign workers' entry to Vietnam, said Alain Cany, Chairman of EuroCham, according to VNA.
"There is no disguising the fact that this fourth wave outbreak is having a dire impact on business. The EuroCham Business Climate Index is now recording the lowest sentiment in more than a decade," he said.

An online conference organized by the European Chamber of Commerce. (Photo: Baoquocte)
However, continued restrictions and delayed vaccination could cause them to do so. "If these conditions persist for too much longer, new investment projects could be put at risk and companies could consider relocating elsewhere in the region," the business group's chairman, Alain Cany, told the media Thursday after a meeting he and other European business executives in Vietnam held with Prime Minister Pham Minh Chinh and other top government officials.
Almost a fifth of European companies in Vietnam have temporarily shifted some production overseas, with another 16 percent considering similar action, he said. The EuroCham Business Climate Index is now at its lowest in more than a decade. It has dropped to 15.2 points out of 100, continuing a declining trend since the second quarter when the fourth Covid wave began, VN Express said.
"What our members need now is a clear roadmap out of these current measures; one which resolves the roadblocks to their commercial operations and gives them a predictable path on which to plan the reopening of their businesses," he said.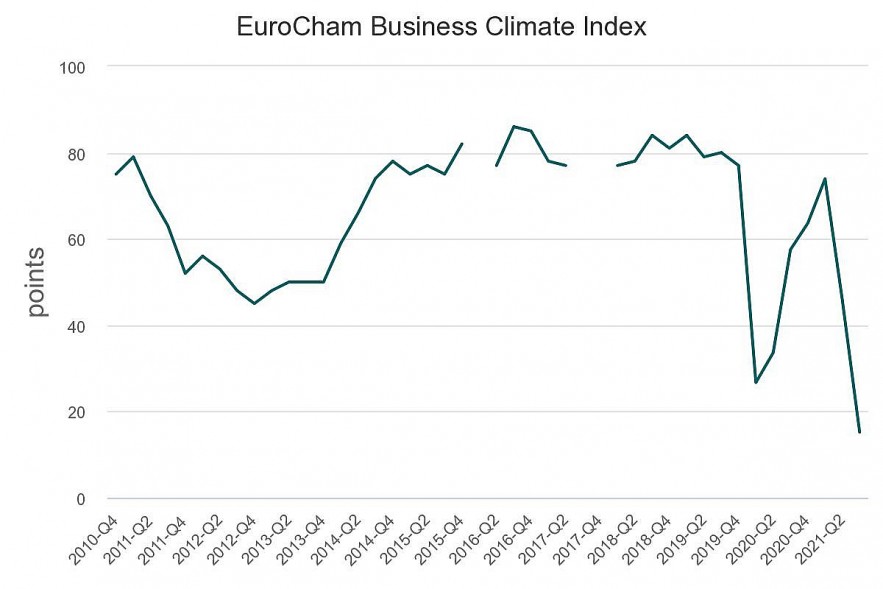 EuroCham Business Climate Index. (Photo: EuroCham)
Cany said the solution is mass vaccination, and EuroCham members are willing to fund the acceleration of the process, but due to the exclusive arrangements between manufacturers, suppliers, and governments, it is not possible for them to buy vaccines for Vietnam.
Last week he told Samsung executives that Vietnam would not fail the trust foreign companies have in its ability to combat Covid-19.
Speaking of the country's current three-on-site strategy - a string of measures to allow firms to keep their operations running by providing workers with accommodation, food, and Covid-19 testing within their factories - European firms voiced their concerns over a number of limitations and shortcomings.
"Meanwhile, the current 'Three-in-One' policies need to be refined. While the principle is sound, it places a huge burden on both companies and their workers in practice," Cany said.
Firms placed great importance on a vaccination roll-out which prioritises those most at risk to allow a gradual opening up of cities and provinces so that commercial operations can resume; consistent, centralised regulations to reduce confusion for companies and to ensure the smooth circulation of goods; alongside a streamlining and simplification of customs requirements.
France's ambassador to Vietnam, Nicolas Warnery, has asked Vietnam to relax its policy to allow fully vaccinated foreign experts to visit, said VN Express.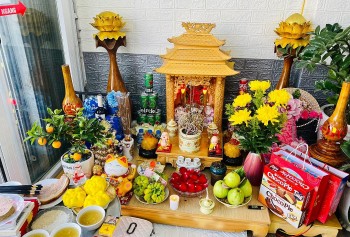 Handbook
Learn more about an ancient Vietnamese tradition that may bring you good fortune!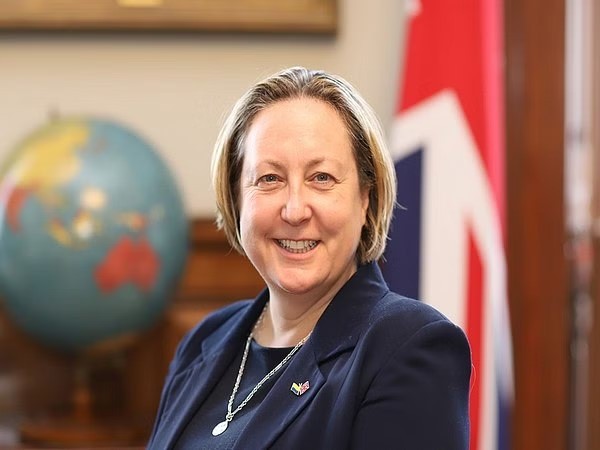 Economy
The United Kingdom is working to conclude a Free Trade Agreement with India, Secretary of State for International Trade Anne-Marie Trevelyan said on Wednesday.
February 01, 2023 | 04:00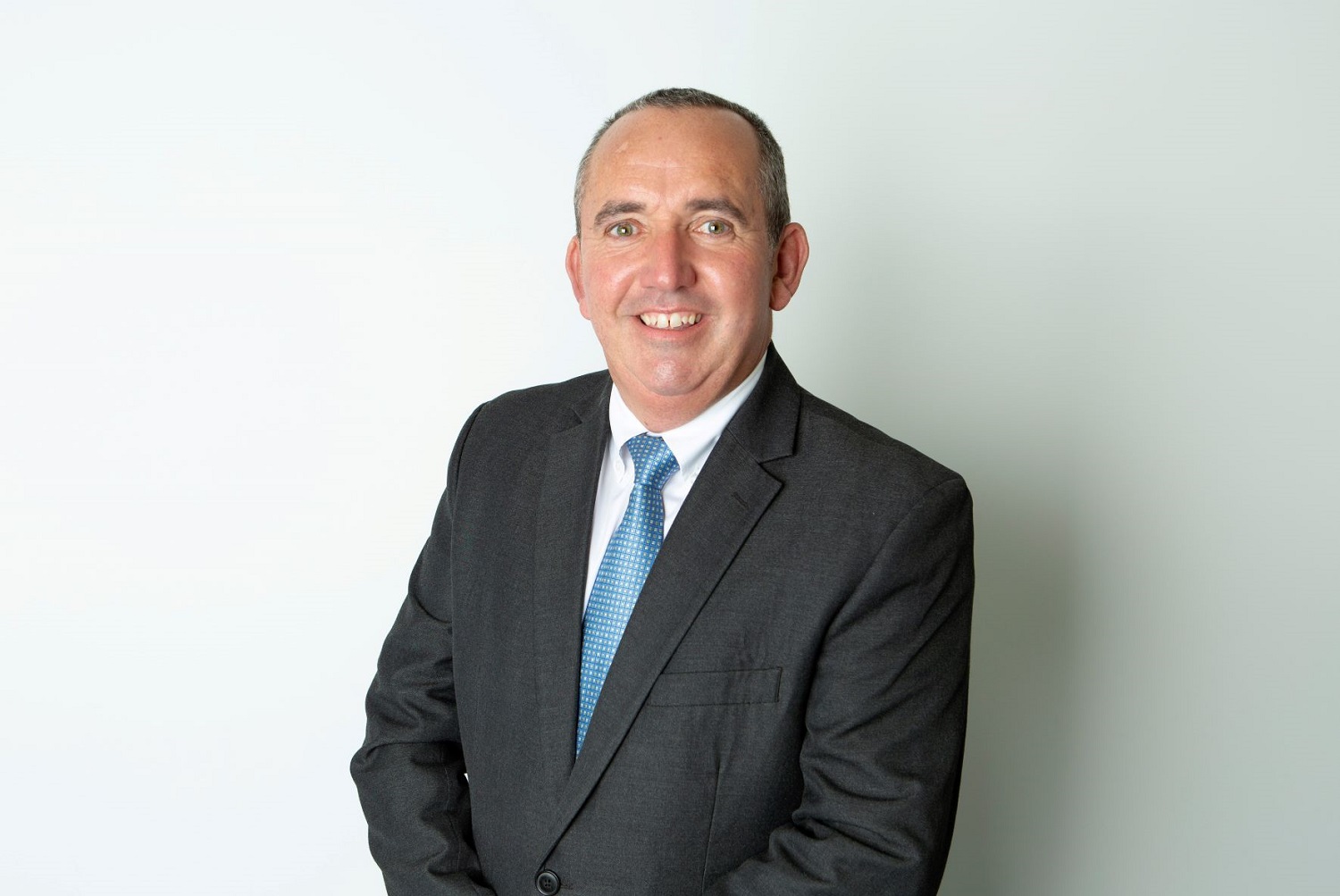 Economy
Skipton International, the award-winning Guernsey-licensed bank, has announced the launch of limited company buy-to-let lending giving customers an additional financing option for growing UK property portfolios.
January 31, 2023 | 10:30