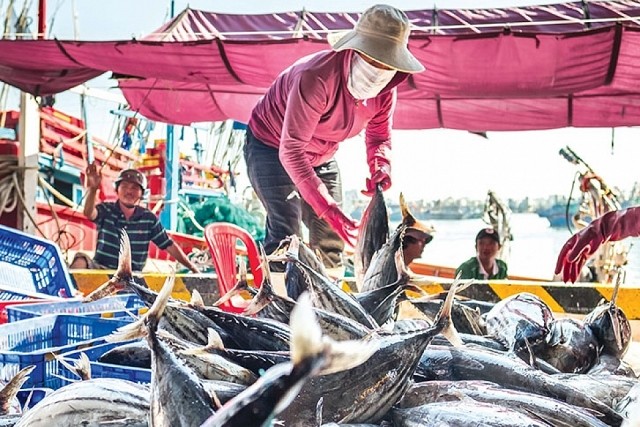 Vietnam's seafood falls in grades because of IUU yellow card. Photo: VASEP
On October 23, 2017, the EC issued a "yellow card" warning to Vietnam, after the country failed to demonstrate sufficient progress in the fight against illegal, unreported and unregulated (IUU) fishing.
The EC also recommended nine recommendations to Vietnam to combat IUU fishing, in order to lift this "yellow card" warning.
Sharing with Vietnam News Agency, Hung stressed Vietnam has implemented groups of solutions according to the EC's nine recommendations in abolishing the yellow card warning the EC imposed on Vietnamese seafood for failing to make progress in fighting IUU fishing.
Accordingly, Vietnam has set up a National Steering Committee on IUU Fishing Prevention and Control to facilitate direction on this issue from central to local levels.
In addition, 28 coastal provinces and cities have also set up offices of inspection and control at fishing ports and implemented circulars and decrees under the Fisheries Law 2017, especially solutions against illegal exploitation. Thereby, control of fishing vessel operations and seafood output at ports is implemented well to serve traceability and collection of fishing records.
Vietnam has basically implemented EC recommendations on issues relating to the legal framework, Hung said.
For the group of recommendations relating to law enforcement at sea, the Fisheries Law is an important legal basis for further implementation.
For the recommendations on international cooperation, Vietnam has strengthened ties with other countries in the region and established an international illegal fishing prevention hotline. The international cooperation is bringing about noticeable efficiency in preventing illegal fishing activities.
In the future, the Government needs to re-plan the fishing exploitation industry and the fishing port system as well as increase investment in infrastructure according to the EC requirements and the sustainable development strategy of fishing exploitation, Hung suggested.
At present, the awareness of fishermen is the most important issue, including how they comply with provisions against illegal fishing, Hung pointed out. Fishermen must understand that the State has many guidelines and policies to maintain sustainability in fishing exploitation and ensure livelihoods for fishermen. When removing the yellow card, fishermen are the beneficiaries./.
VNF/VNS