Linh Quy Phap An: Beautiful pagoda at a glance
Linh Quy Phap An Pagoda is part of a bustling scene with big gates, evoking the Gates to Heaven.
(VNF) - Linh Quy Phap An Pagoda is part of a bustling scene with big gates, evoking the Gates to Heaven.
Linh Quy Phap An is a well-known destination these days in south and central highland Viet Nam.
Located on a remote highland, among tea and coffee plantations, Linh Quy Phap An is a hidden gem recently discovered and quickly become one of the famous destinations in Bao Loc, Lam Dong (just 2 hours away from Da Lat).
The far far away cloud rolling by; you can even see the raining storm in other area. (Photo: Thao Mai)
There's a zen garden graveled white and bonsai stones. (Photo: lyn.top)
Many travelers are eager to check-in the pagoda to enjoy its unique architecture and beautiful landscape. (Photo: tinnguyen.16)
Combination of green tea plantations and huge white cloud layers, which offers visitors nice photos and peaceful atmosphere. (Photo: duonghoangdang)
Quan Chieu Duong (Quan Chieu Hall) is popular in part because of its architecture. Its interior boasts big wooden poles and golden lanterns, hallmarks of ancient aesthetics, inspires legions of photos.
Quan Chieu Hall is often crowded, so tourists should come on weekdays to enjoy a peaceful atmosphere. (Photo: tomootd)
The pagoda also proves itself a prime place to catch the sunrise and sunset. (Photo: bouno.nguyen)
In the air, you can listen to the wind chimes sounding melodiously. (Photo: trangleo67)
800m above sea level, Bao Loc is not as hot as Sai Gon or as cold as Da Lat. Instead, the little city has an average temperature of 21-23 Celsius degrees all year round. Little sunshine, much rain and a lot of fog typically color a week in Bao Loc. This combination, mixed with natural beauty, vibrant culture and famous tea, make the small town a poetic destination.
Bao Loc is 180km northeast of Ho Chi Minh City, 110km from Da Lat, and 100km from Phan Thiet City. From HCMC, the 5-6 hour ride costs about VND 210,000 (USD 9.5)/ticket on an open bus.
Due to its undeveloped tourism industry, some hotels offer motorbike services, but others do not. However, tourists can travel around the city by taxi.
Many consider the dry season—which lasts from December through April— the prime times to visit Bao Loc./.
( Compiled by VNF )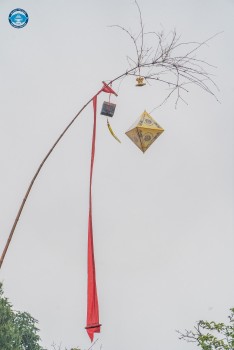 Viet's Home
In the past, the Neu pole (a tall bamboo pole with red garment strips used to ward off evil spirits during the lunar New Year) lowering ceremony at the royal palace of the Nguyen Dynasty was performed to mark the end of the New Year holiday and prepare to enter a new working year.