Logistics Through E-commerce Eases Difficulties for Businesses Amid Covid-19
In the complicated context of Covid-19, the domestic logistics industry is in the process of shifting, with over 50% of contracts now linked to the abrupt growth of e-commerce to serve the domestic consumption market share.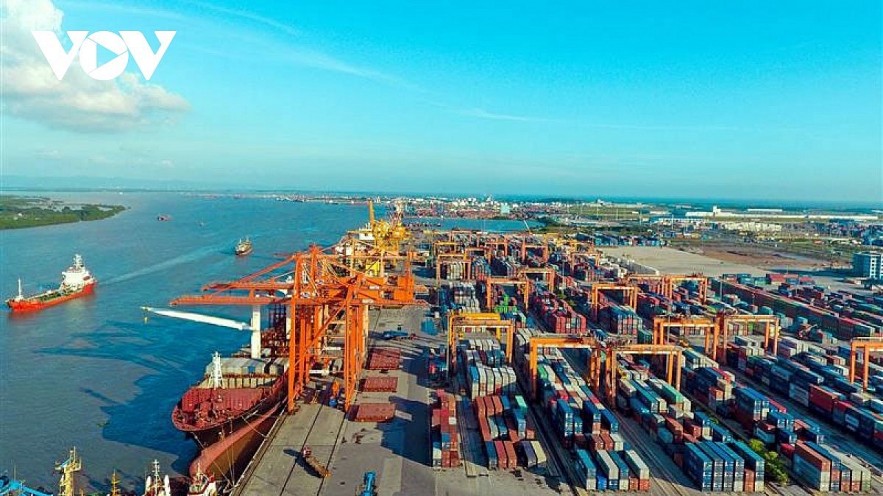 Growing logistical costs have caused plenty of difficulties for numerous enterprises. Photo: VOV
Businesses struggling with logistics due to Covid-19
Since the start of the year amid increasingly complicated developments relating to the spread of the pandemic, logistical costs have continued to escalate, thereby causing plenty of difficulties for numerous enterprises who are doing their utmost to cope with and maintain production activities throughout the challenging period.
Most notably, logistics costs remain an important component for the competitiveness of exported goods.
Currently, the impact of the Covid-19 pandemic is causing significant congestion at ports, especially in Europe and North America. This has led to a scarcity of space on ships, as well as a shortage of vehicles, thereby driving up freight rates and logistical costs and adversely impacting businesses.
Pham Thi Bich Hue, chairman of the Board of Directors of Western Pacific Joint Stock Company, said that at present it can be considered a success if enterprises are able to order one container due to all fleets are being dominated by foreign multinational corporations, cited VOV.
Furthermore, the nation has yet to engage in the international fleet market, causing an increase in total logistics costs relating to transportation as charges are very high. As long as a country or a government intervenes in the fleet, then the market share of Vietnamese goods will face many difficulties, Hue analyzed.
Logistics costs in Vietnam account for about 20 percent of the goods value, which is relatively high compared to the average costs over the world.
"However, devastating consequences caused by the prolonged pandemic, together with the rising prices of warehousing and freight services, makes logistics costs continue to increase, putting great pressure on businesses," said Nguyen Hoai Nam, sales manager of Golden Logistic Co. Ltd. in the northern province.
Businesses also faced a significant reduction in revenue from goods exported and imported from pandemic-affected countries. Commodities shipped to Vietnam dropped dramatically, those undergoing customs clearance were strictly quarantined. Delivery time from suppliers in the Asian market and some other regions is reportedly longer.
According to statistics of the Vietnam Logistics Business Association, up to 50 per cent of enterprises providing logistics services of all types experienced a downturn in activities and revenue. Air and road transportation services were hit the hardest, according to VNA.
Roughly 80 percent of the association's members are micro, small and medium enterprises, thus many of them are on the brink of collapse, meaning workers are losing their jobs.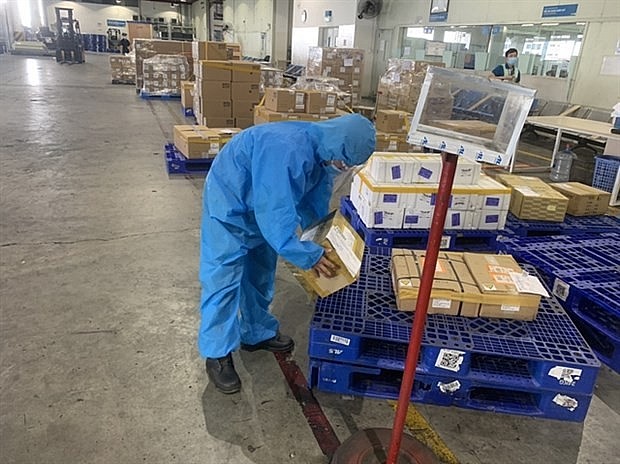 A worker wears protective clothing while working at Golden Logistic Co Ltd in the northern province of Bac Ninh. Photo: Golden Logistic Co Ltd
Logistics associated with digital transformation and e-commerce
Many experts believe that reducing logistics costs in the current context remains an essential but challenging problem for the majority of businesses operating in this field. Therefore, digitisation can be viewed as a necessary element for the time being, especially for logistics enterprises that do not want to be left behind.
Do Xuan Minh, director of SNP Logistics, said that recently, the Center has invested in applying a modern logistics service management system, thereby combining the deployment of many warehouse management systems in order to serve the diverse needs of customers, reported VOV.
"The application of IT solutions in logistics service management brings optimal efficiency, with 100% of orders from customers being well managed thus minimizing individual errors, evaluate honestly and effectively the capacity of each individual in the service chain," Minh explained.
This sudden growth of e-commerce therefore represents both an opportunity and a challenge as it poses a range of problems. This includes the speed of technological innovation, capital, and investment costs for the development of logistics centres, along with e-commerce centres, according to Pham Thi Bich Hue, chairman of the Board of Directors of Western Pacific Joint Stock Company.
Hue said that the pandemic requires logistics centers to adopt rapid technological innovation and make huge capital investment to follow the boom of e-commerce, cited VnExpress.
Photo: UNCTAD
Moreover, emerging logistics and e-commerce hubs all require specific land locations to form essential infrastructure for the industry. In the event that logistics and e-commerce firms can link together to give recommendations to the Government to access synchronous planning from the beginning, then the domestic logistics industry can develop faster than foreign multinational corporations. This is largely because there have been a range of remarkable improvements in dealing with legal procedures regarding land access and resources, Hue added.