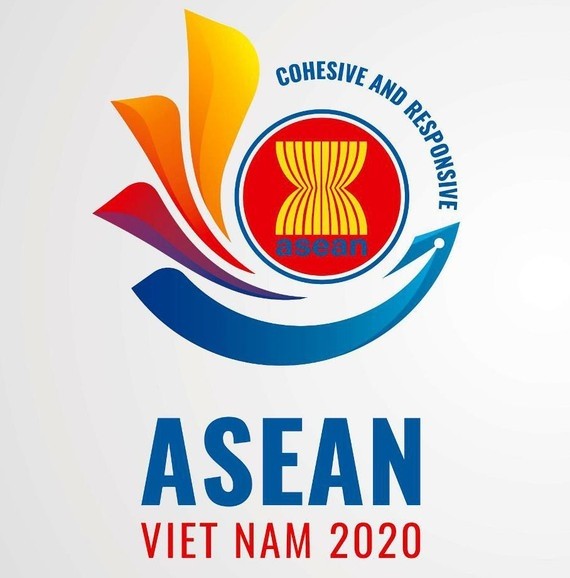 The official logo of the ASEAN Year 2020.
The Ministry of Culture, Sports and Tourism officially announced the official logo of the ASEAN Year 2020 at a ceremony in Hanoi on January 3.
The logo was created by Pham Ngoc Thuong from the southern province of Long An.
The lotus has three petals representing the three pillars of the ASEAN bloc, namely the ASEAN Political-Security Community (APSC), the ASEAN Economic Community (AEC) and the ASEAN Socio-Cultural Community (ASCC).
In the middle of the logo is the ASEAN symbol, surrounding by a flying chim lac (a legendary bird of Vietnam) looking like a boat moving forward, bringing the bloc to sustainable growth, connectivity and integration for common prosperity. The logo will be accompanied with the slogan 'Cohesive and Responsive'.
The colours of the logo symbolize harmony with yellow symbolizing prosperity, optimism and joy; red shows dynamism, energy and determination while blue is peace, wisdom and belief.
The logo was selected from 167 entries sent by 61 artists nationwide during a contest launched in April 2019.
The Association of Southeast Asian Nations (ASEAN) groups 10 member states, namely Brunei, Cambodia, Indonesia, Malaysia, Myanmar, Laos, the Philippines, Singapore, Thailand and Vietnam.
Vietnam has set the theme of "Cohesive and Responsive" for the ASEAN Chair Year 2020 which reflects Vietnam's wish to have an ASEAN standing firmly against impacts of regional and international situations.
Five priorities of Vietnam's ASEAN Chairmanship Year 2020 are promoting ASEAN's role in enhancing mutual support; strengthening regional connectivity and adaptability to the Fourth Industrial Revolution; spurring inclusive development; stepping up socio-cultural partnerships, especially those regarding children, women and human resources; and improving adaptability and operational efficiency of the ASEAN apparatus./.
VNF