'Made-in-Vietnam' social network Lotus: Will it follow the same path of doom?
Three 'made-in-Vietnam' social networks including Hahalolo, Gapo and Lotus, have just been launched in the last three consecutive months. Many of their impressive features are advertised widely. However, for them to be able to survive, not to mention to be competitive with Facebook, Youtube or Zalo, is a long way to go.
In June 2019, a social network developed by Vietnamese people, based on the integration of a social network, online travel agent and e-commerce, was launched in Ho Chi Minh city, named Hahalolo. As its self-claim the first tourism social network in Vietnam, Hahalolo proved quite confident.
Like Facebook or Instagram, Hahalolo also arrange timeline style interface, along with tools such as comment, like button, share.
Hahalolo also integrate an online travel agent and e-commerce service, make it a bridge for travelers among each other, or travelers and agents.
Made-in-Vietnam social networks need more identity to be competitive
Only one month later, in July 2019, the social network for young people called GAPO (gapo.vn) was born and was said to be full of potential because of its quite similar to Facebook interface.
Gapo is developed by Gapo Technology JSC, a member of G-Group, the owner of many brands, technology services, consumer finance.
On technology forums, many people say that Gapo's interface is quite user-friendly, a little mix of Linkedin, Pinterest and Facebook.
Users can make friends, text, watch video, share and interact with others. In general, the features on Gapo are similar to those on Facebook.
Following Hahalolo and Gapo, another 'made-in-Vietnam' social network named Lotus has just been launched. The app is developed by VCCorp, with capital contributions of domestic business and inpiduals.
The project has raised over VND 700 billion (over USD 30 million) from VCCorp and a number of domestic investors. VCCorp is expected to continue calling for an additional VND 500 billion (USD 21,5 million) in the first phase to prepare for long-term development.
VCCorp expects Lotus will reach 4 million users per day.
In fact, the previous two social network were not as expected. Both Hahalolo and Gapo are not very user friendly as advertised and have not met the expectations of the developer. On the App Store (iOS) and Google Play (Android), users rate these two apps very low.
Before that, Vietnam also had many social networks which were heavily promoted such as zing me, tamtay.vn, go.vn. They all died prematurely because they could not compete with Facebook and Zalo.
Lotus has abundant financial resources and technology platform
For Lotus, this Vietnamese 'pure' social network is receiving a lot of attention thanks to its quite new direction.
Mr. Nguyen The Tan, General Director of VCCorp (Lotus developer) said Lotus is a content-centric social network.
Nguyen The Tan is quite confident with Lotus
To have good content, Lotus has partnered with more than 500 creators in 20 different fields (education, economics, photography, blog, vlog, entertainment, music) and over 30 central press agencies (VTV, Tuoi tre, Lao dong, Thanh nien, Dan tri, Quan doi nhan dan). This will be the main identity of Lotus.
In addition, Lotus is also well supported from the existing technology platform of VCCorp and the bigger advantage is that it can soon have revenue from advertising with Admicro's ecosystem (also under VCCorp).
However, if looking at the fate of pure Vietnamese social networks such as Zing me, tamtay.vn or Go.vn ... before or the gloomy fate of Hahalolo, Gapo recently, even the most optimistic people are unlikely expect much on Lotus social network.
''It is time for us to develop a social network which is more humane, respects customers more and considers users as subject'', said Nguyen Manh Hung – Minister of Information and Communication in a meeting with the southern IT community on July 15.
To read the article in Vietnamese, please click the link below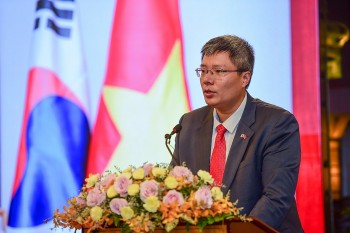 Viet's Home
Tran Hai Linh, member of the Central Committee of the Vietnamese Fatherland Front, chairman of the Vietnam-Korea Business & Investment Association (VKBIA) shared with the Vietnam Times about strengthening the capacity to promote Vietnamese culture to the world.
Economy
Vietnam Business & Weather Briefing (August 16): Vietnamese enterprises are limited in the global supply chain while international economists pro caste that the country can become a new tiger in Asia.
August 16, 2022 | 18:05