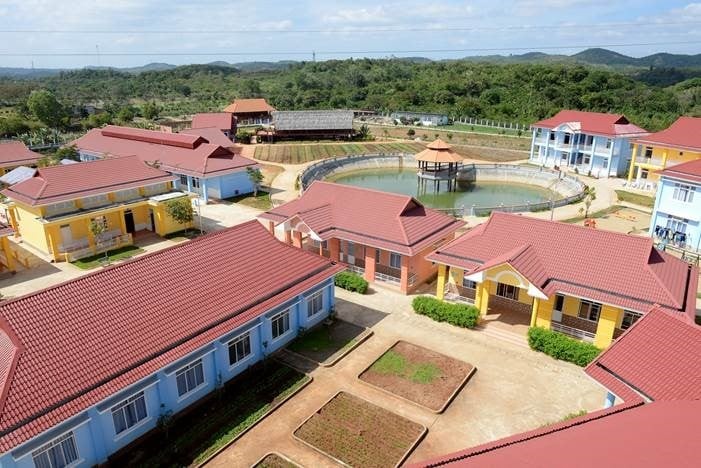 The social center Maison Chance in Dak Sor commune, Krong No district, Dak Nong province. Photos provided by the organisation
Maison Chance (Lucky House) is a non-governmental organisation that provides housing, healthcare and vocational training for orphans, street children, and the disadvantaged and physically handicapped in Vietnam. Along with its three centers in Ho Chi Minh City, the Maison Chance Shelter, Take Wings Centre and Village Chance, the NGO's fourth center just officially opened in the Central Highlands province of Dak Nong.
The center, with an investment of nearly 2.5 million USD (about 55 billion VND), included accommodations for residents, a school, an infirmary, a guesthouse for visitors, a 300-seat dining room, a heart-shaped swimming pool, and cafeteria.
Located 25 kilometres from Buon Me Thuot City in the Central Highlands, Maison Chance's new center have the capacity for 250 children and adults with severe physical disabilities.
Founded in 1994 by Swiss painter Tim Aline Rebeaud, Maison Chance has three other centers in HCM City. The center in Dak Nong will house mostly quadriplegic children and adults, as well as people with cerebral palsy and polio, and children with autism or delayed development. Currently, the Social Center have hosted 165 people with mental or physical disabilities.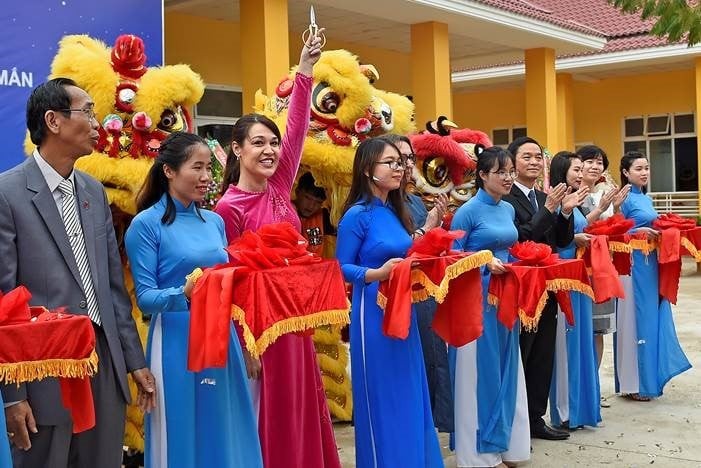 At the inauguration ceremony on December 14.
Maison Chance school has 5 classes from grades 1 to 5 and three specialized classes. Most students are in extreme difficult circumstances, orphans, mentally and physically disabled. Some of them are from poor families of the province, whose houses were not adapted to their physical condition. Others are tetraplegic adults who are already beneficiaries of Maison Chance. Here they are provided the chance to learn and play like any other children in an advanced educational environment, which helps them develop their physical and mental abilites.
Three specialized classes welcome disabled beneficiaries with intellectual disability, hemiplegia, trisomy, cerebral palsy, etc. Three specialized teachers take care of them and closely follow their development. They support these kids with, and help them in their daily tasks, regardless of their disabilities. The goals is to develop the kids' self-reliance, socialization, knowledge and adaptation to their surrounding environment.
Just like the Take Wing Center, the Social Center will provide vocational trainings for beneficiaries. The center has also set up gardens specially tailored for people on wheelchair, to facilitate their participation in gardening. This is an innovative therapy whose efficiency has already been proven by stimulating all the senses. They also use hippotherapy (therapy by horses) and hydrotherapy at the facility.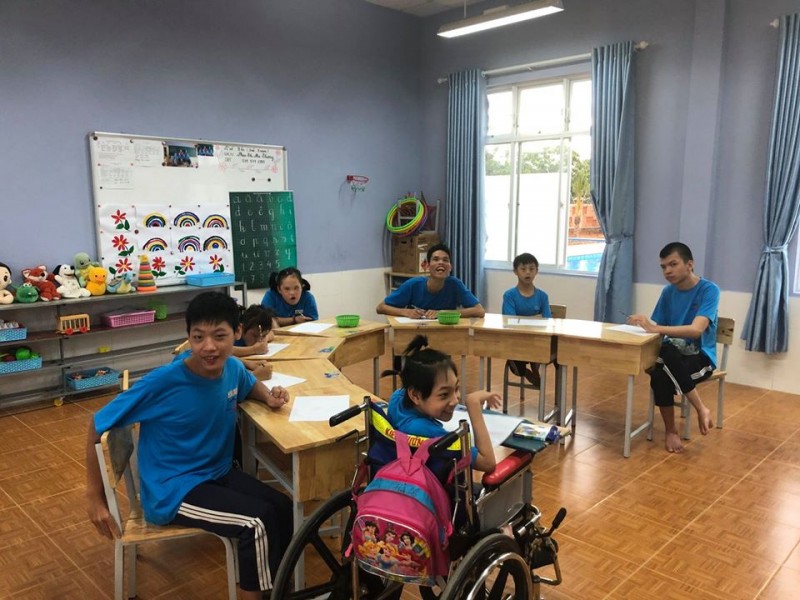 3 specialized classese welcome disabled beneficiaries with intellectual disability, hemiplegia, trisomy, cerebral palsy, etc.
Tim Aline Rebaund, who is lovingly called Hoang Nu Ngoc Tim in Vietnamese, said that a chance to encounter with a poor orphan in HCM City in 1993 has changed her life.
In 1994, she opened her first Maison Chance shelter in HCM City. She did almost everything by herself in the early days, from shopping and cooking to taking care of the residents.
In 2006, she established the Chap Canh (Take Wings) Center which specialises in vocational training.
In 2011, she completed Lang May Man (Village Chance) project with classrooms for kindergarten and grades one through five, a swimming pool, and a simple restaurant to serve people in the neighborhood.
Every year, the village welcomes dozens of groups of visitors from Asia, Europe and North America who come to take part in community activities.
The three centers in HCM City -- the Maison Chance Shelter, Take Wings Center and Village Chance -- are located in Binh Tan District.
Meanwhile, Maison Chance's representative branches in Belgium, Canada, the US, France and Switzerland generate funds to sustain the operation of Maison Chance in Vietnam./.
VNF