Make lives of children suffering with congenital heart defects more colorful and healthier
Recently, Fujifilm Vietnam collaborated with Heartbeat Vietnam in the event Feel Japan 2019 to raise more than VND 9 million (USD 387) to help save the children suffering with congenital heart defects.
At the event. Photo: Heartbeat Vietnam
As an annual Japanese Cultural event in Ho Chi Minh City, Feel Japan 2019 was held in 2 days, August 3 – 4 at White Palace Convention Center (Phu Nhuan District, Ho Chi Minh City).
In this year, Heartbeat Vietnam - VinaCapital Foundation joined Fujifilm in the Feel Japan exhibition. Each printed photo in the Fujifilm booth contributed VND 10,000 (USD 0.43) to fund children's heart surgeries.
Nearly 1,000 pictures were printed and taken at the Fujifilm Vietnam booth to help support the cause for Heartbeat Vietnam.
Visitors at the booth queued up excitedly for the kimono dressing and photo taking with the stunning Fuji moutain and cherry blossom background. The pictures were printed on high quality film for Instax Mini cameras.
The attandants were happy to have their beautiful photos and to contribute to saving lives of the children who were less fortunate.
Founded in 2006, VinaCapital Foundation (VCF) aims to empower the children and youth of Vietnam, by providing opportunities for growth and improvement through health and education programs. The work of VCF touches the lives of millions of Vietnamese in 63 provinces every year.
VCF's grassroots medical programs include Heartbeat Vietnam and Rural Outreach Clinics - designed to locate diseased at risk and disadvantaged children in even the remotest areas and provide access to quality healthcare.
Heartbeat Vietnam is a program sponsored by VCF that started in 2006 supporting heart operations to save poor Vietnamese children aged 18 or under./.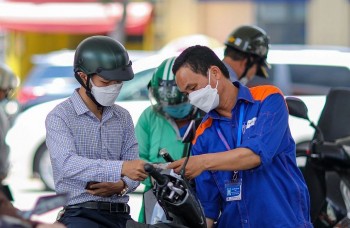 Economy
Vietnam Business & Weather Briefing (Oct 2): Binh Duong lures foreign investors with special care, the North and Central regions continue to have heavy rains, leading to the risk of flooding, flash floods, and landslides.