Medical Committee Netherlands–Vietnam and the untold 50-year touching stories (part 2)
Since the war ended, MCNV has kept walking beside Vietnam, helping the country in every stage of development.
Since the war ended, MCNV has kept walking beside Vietnam, helping the country in every stage of development.
Scientist "hunting" mosquitoes
After the war ended, the Vietnamese people faced many difficulties, including the outbreak of disease such as malaria.
Adversity once again proved the vitality of the Dutch's beautiful affection for Vietnam. In 1987, Ron Marchand, a parasitologist, left his homeland for Vietnam to begin the journey of assisting Vietnamese people in the fight against malaria epidemic.
As a dedicated MCNV expert, throughout his nearly 20 years of staying in the S-shaped country, Ron has set foot on almost all hotspots of malaria in Quy Hop (Nghe An), Son Hoa (Phu Yen), Can Tho, Long An, Khanh Vinh (Khanh Hoa). Despite coming from a developed country, the volunteer scientist did not mind sharing his life with poor indigent minorities living in the simple camps between the forests.
Ron Marchand with the mountain-goers against malaria. Photo from VTV4's documentary
Ron's twenty-year journey in Vietnam was filled with countless trips to dangerous areas to hunt...mosquitoes. He and his colleagues had been unwaveringly dedicated to their special battle against mosquitoes and malaria, despite they had to spend many nights in the dark, frosty jungle.
His dedication had paid off with important insights, particularly about the fact that mosquito transmitting malaria had increased its resistance against a variety of commonly used insecticides. Due to that, he proposed MCNV to help the Malaria Control Program in Vietnam, giving it a new direction, not only in the domain of supply of chemicals and medicines but also in technical consultancy, training and in educating the community to develop healthy habits to prevent malaria virus transmission via mosquitoes.
The initiatives of Ron and his colleagues have yielded positive results in the fight against malaria epidemic, particularly in Khanh Phu Commune, Khanh Hoa District, and Khanh Hoa Province.
At the beginning of the project, the prevalence of malaria in Khanh Phu was 90%. Thanks to the Dutch expert's support, the percentage had decreased to 50% later to 12% and finally to 3%. The spread of disease in the hamlet is currently only under 1% per year.
Meanwhile, the malaria control strategy in Vietnam has become a renowned case study, which has drewn the attention of a number of credible institutions, including Oxford University (UK), Nagasaki University (Japan) and the World Health Organization (WHO).
Even when malaria was significantly reduced in the 2000s, Ron Marchand kept staying in Vietnam. He went to poor households to find out the root causes of poverty and persuaded MNCV to continue funding a project on healthcare and livelihood improvement for the Khanh Vinh people in 2005. In this new project, Ron took time to instruct farmers to get access to clean water, improve their livelihoods through raising wild boars, hedgehogs, rattan etc.
Ron Marchand remains attached to Vietnam despite retiring. Photo: Gia Dinh Viet Nam.
After nearly 30 years with MCNV, dedicated scientist Ron Marchand officially retired in October 2016, and has become MCNV's elite cadres team member. Like Ad Spijker, who is no longer officially working for MCNV, Ron is still traveling between the two countries and is always available to assist whenever MCNV needs his advice.
Saving my saving for Vietnam
Fifty years ago, Suus van Hekken was one of those 70,000 Dutch who enthusiastically donated money and medicine to the Vietnamese people through the MCNV. Half of a century has passed, life has changed, but the position of Vietnam in the heart of the Dutch woman remains unchanged.
Over the course of the year, Suus continued to keep watching every step MCNV has made in Vietnam through the organization's regular newsletters. Every year, from the distant Netherlands, she came to Vietnam, travel to remote areas, talked and listened to local people to really understand what they truly needed, and how she could help them.
Every year, the Dutchmen who love Vietnam like Suus often take the time to visit the MCNV project area. Photo from VTV4's documentary.
"As long as MCNV is active, I will always support your organization," Suus said.
A former volunteer of MCNV, Ab Stokvis, said in the Netherlands, many inpiduals like Suus had maintained consistent support for Vietnam for 30, 40, or even 50 years. There are some donors, despite their limited economic capacity, still keep sending part of their saving to Vietnam (4-5 euros) like they've been doing for decades.
The 50-year history of MCNV is built by those passionate inpiduals. Transcending geographical distance and cultural differences, the longstanding sincere affection is the most valuable thing that unites the world in the most sustainable way./.
( Translated by Hue Minh )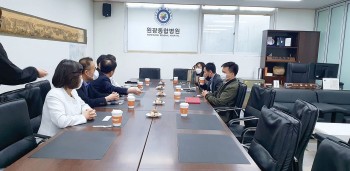 Overseas Vietnamese
A meeting was organized at the Wonkwang Hospital on the provision of medical support for the Vietnamese community in Korea in accordance with the signed cooperation agreement.