Ministry of Agriculture and Rural Development honors Vinh orange's Father
Vinh orange, with a typical sweet and fresh taste, not only generates high economic values but also are preserved and promoted as a cultural product of Nghe An province.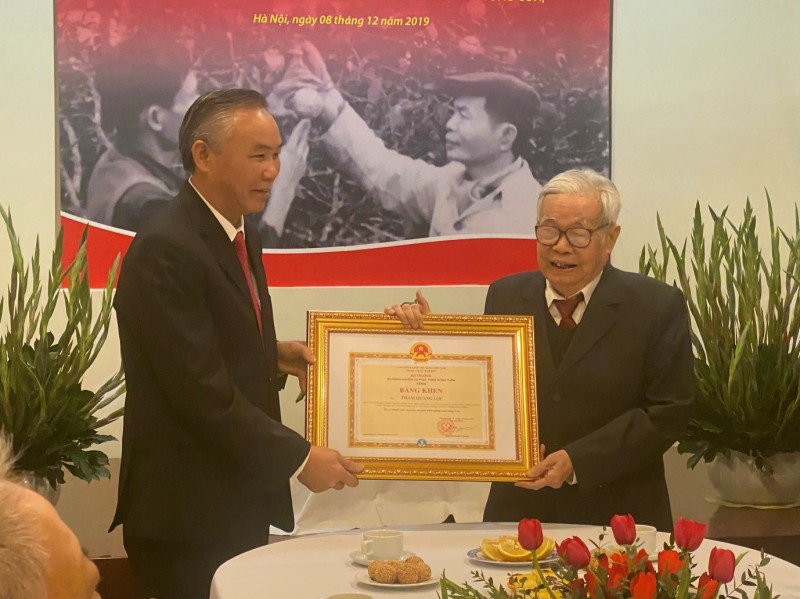 Deputy Minister of Agriculture and Rural Development Phung Duc Tien hands over the Minister's Certificate of Merit to Mr. Pham Quang Loc. Photo: VNF
On the morning of December 8, Deputy Minister of Agriculture and Rural Development (MARD) Phung Duc Tien presented a certificate of merit to Pham Quang Loc, 95 years old (currently residing in Le Dai Hanh Ward, Hai Ba Trung District, Hanoi) in recognition of his contribution to developing Song Con orange (also known as Vinh orange and many other varieties).
Attending the ceremony were former Politburo member and former Secretary of the Hanoi Party Committee Pham Quang Nghi; and Deputy Minister of Agriculture and Rural Development Phung Duc Tien.
At the ceremony, Deputy Minister Phung Duc Tien highlighted the efforts of Mr. Pham Quang Loc and Song Con Farm in the central province of Nghe An in contributing to the discovery, selection and development of Song Con orange.
"Father" of Vinh orange
Born in 1927 in Yen Dinh district, Thanh Hoa province, Mr. Pham Quang Loc is a pre-uprising official, former Director of Song Con Farm in Nghe An province, former Acting Chief of Agriculture and Forestry Company of Thanh Hoa province, former Head of Agricultural Producing Cooperatives Management Board under Ministry of Agriculture (now MARD).
Mr. Loc has more than 40 years of experience in the field of agriculture. While he was working at Song Con Farm, Mr. Loc was the one who discovered, crossed-breed and promote the dissemination of Song Con orange plantation model.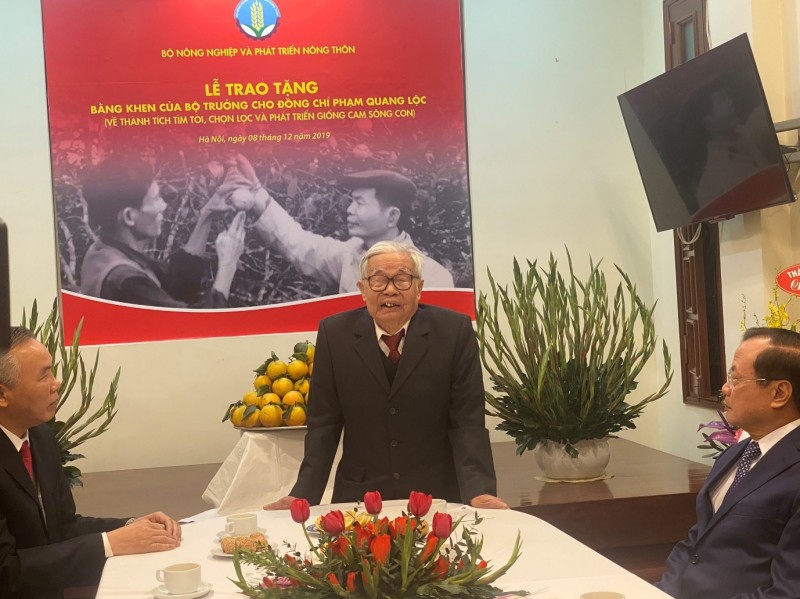 Mr. Pham Quang Loc spoke at the ceremony. Photo: VNF
In 1977, he was recognized as the "birth father" of Song Con orange by agricultural experts and the Minister of Agriculture. This speciality fruit of northern Nghe An province originated from Mediterranean orange variety, grown by French landlords in Song Con Farm.
Noticing the juicy delicious taste and good look of the orange variety which very well suited to the soil and weather conditions in the province, Mr. Loc, who was then an officer of Song Con Farm, decided to implement and guided technical staff of the farm to cross-breed and disseminate the plantation.
Song Con orange has been generating high economic values. In domestic market, Song Con orange is often known by consumers as Vinh orange because it is grown in farms in Nghe An and then transported to other consumption markets from Vinh Station.
"Since the time of budget subsidy, this fruit has topped our country's agricultural products list in terms of cultivation, consumption and exports quantity," Mr. Loc said at the appreciation ceremony.
With an outstanding advantage in productivity and quality, Song Con orange possesses a high growth rate. In the 1960s and 1970s, Song Con orange has become famous in agricultural sector and were planted on an area of tens of thousands of hectares, providing domestic and international markets with tens of thousands of tons of fruit every year.
The significant growth of Song Con orange has contributed vastly to poverty alleviation, increasing the income for farmers in many provinces and cities across the country. Today, Song Con orange is commonly known by their names according to its geographical origin such as Vinh orange which grown in Vinh city of Nghe An province./.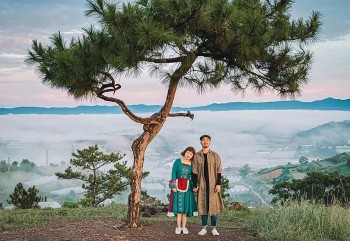 Travel
Three local cities are set to be presented with the ASEAN Clean Tourist Awards 2022.