Modern Talking's singer to return to Hanoi in March
"You're My Heart, You're My Soul" alone reached No.1 in 81 countries. Worldwide CD sales of Modern Talking and of Thomas Anders' solo works have now topped the 125 million mark.
(VNF) - Thomas Anders, key singer of the famous German pop band Modern Talking, will return to Hanoi with the live concert "Modern Talking ft Thomas Anders & Band 2018", scheduled on March 7 in My Dinh National Convention Hall.
Thomas Anders (R) performing at a concert in Hanoi in 2016 (Photo: vietnamnet.vn)
The show is held following the success of Anders' three-hour debut show in Hanoi in 2016, which attracted around 4,000 audience.
During the show "Modern Talking ft Thomas Anders & Band 2018", the German singer-composer-producer will bring to the stage the band's hits during the 1980s and 1990s.
Formed in 1984, Modern Talking became one of the most famous pop bands in Germany and Europe in the 1980s. The band's two members, Anders and Dieter Bohlen, became immensely popular in early 1985 with their first single 'You're My Heart, You're My Soul', which reigned the Top 10 in 35 count.
The duo split up a few years later, in 1987, and reunited in 1998 with their comeback album Back for Good, which stayed at the No.1 spot in Germany for five consecutive weeks and topped the charts in 15 countries.
Thomas Anders was born on 1 March 1963 and is one of the few German stars who has made both a national and international impact on music history. During his immensely successful run with Modern Talking, he had countless chart hits, which made him famous in almost every corner of the earth.
The worldwide success he enjoyed with Modern Talking was followed by the release of many solo albums in Germany and abroad. His most recent solo pop album "STRONG" sold over 1.000.000 copies in Russia alone and immediately went platinum.
Thomas Anders has received more than 420 gold and platinum records and numerous awards for his artistic achievements, including the "Bambi", the "Goldene Europa", the "Goldene Kamera", the "ECHO", the "World Music Award", the Golden and Silver "Bravo-Otto", the "Golden Lion" from Radio Luxembourg and many more.
After 40 years in the music industry, Thomas Anders continues to excite and enthuse the music world as a solo artist. His fans cherish his fascinating charisma and the stylish intimacy he shows in his concerts. They love the feeling and mood he comes across with in his songs./.
( VNF )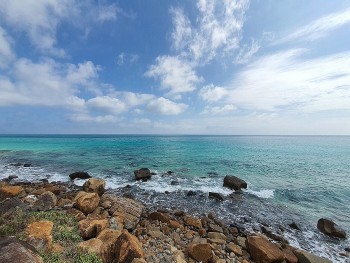 Viet's Home
Con Dao, a historical and famous island situating in the southern province of Ba Ria - Vung Tau, has been named among the top 16 best island vacations in the world, as compiled by tourism magazine Condé Nast Traveler (CNTraveler) of the United States.