Mom and daughter reunited after being trafficked 24 years ago thanks to Facebook post
A Vietnamese mother and her daughter were finally reunited after being separated for 24 years, all thanks to a Facebook video post.
The joyful reunion happened on Thursday at the house of the mother's family, Nguyễn Thị Liên, in Nghi Lộc District, Nghệ An Province, Vietnam. Neighbors attended the heartwarming event as Liên is reunited with her long-lost daughter Lê Thị Lan, Vietnam News reported.
"I thought that I would never see her again. I couldn't sleep last night because I kept thinking of the moment my daughter come back," the 69-year-old mother told reporters. "My family want to express our sincere thanks to the media who have helped spread news about my daughter that lead to the reunion."
Other locals thought that Lan was no longer alive, said Liên's neighbor Nguyễn Thị Thu.
"We couldn't believe that Lan would return home. Everyone is very happy and congratulating Lan's family."
Her family looked for her, but was unsuccessful, according to Lan's mother. The woman's father also died four years after her disappearance, and it was reportedly "partly due to illness caused by losing his daughter."
In order to support her family, Lan, the oldest of six children, worked a hired labor in Nghĩa Đàn District when she was 19. However, she was tricked into human trafficking neighboring Thanh Hóa Province before eventually being transported to China in Guangxi Province, where a 65-year-old man bought her for 7 million Vietnamese dong ($300).
Lan had three daughters and a son in her 13 years of living with him. She reportedly suffered abuse under his roof and was regularly beaten. She tried to flee several times, but to no avail. Lan's first husband also locked her up in a dark room and was given drugs to gradually lose her memory.
Lan was then sold to another man, but this time, she was treated very well and lived with him for 11 years.
Her second husband gave her money when she asked him if she was allowed to return home two years ago. However, she was tricked out of her cash and was unsuccessful in returning to Vietnam.
In July, she met a Vietnamese woman, who was from Hòa Bình Province but living in China. The woman helped Lan upload a video of her on Facebook in the hopes of reaching her family and establishing contact with them.
The video was widely shared online and managed to find its way to Đặng Thị Thảo, Lan's sister-in-law.
Although Lan couldn't speak Vietnamese fluently, she was able to remember the name of her parents and her hometown, and expressed her desire to return to her family.
"At first I did not recognise her, but when I heard she talk about the home address, the names of parents, sisters and brothers, I knew it was my sister-in-law," Thảo said.
The family then reached out to Lan after confirming her identity and helping her recover her memory. They also reported what happened to the authorities, hoping they could bring back Lan as soon as possible.
However, the authorities had a difficult time communicating with Lan, said Nguyễn Thanh Hải, deputy head of criminal police pision from Nghệ An Province's Police Department.
"We persistently encouraged and set up a contact group between the family, the police and Lan. Gradually, Lan trusted the Vietnamese agency and the Chinese authorities," he said. "Only then, could we only bring Lan back home."
Images Screenshot via YouTube / Truyền Hình Đồng Tháp
VNF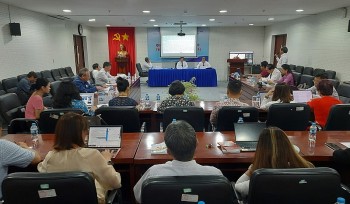 Friendship
The Vietnam - India Friendship Association's Ho Chi Minh City branch, the Ho Chi Minh City Union of Friendship Organizations (HUFO) and the Southern Institute of Social Sciences on March 21 held a scientific seminar themed "Vietnam - India relationship: tradition and present".