Mooncakes makers stepping up their game
For this Mid-Autumn Festival, which falls on September 13 this year, many mooncake brands are increasing their output and varieties and focusing on environment-friendly packaging.
Mooncake brands are offering more flavour choices and using less plastic in packaging this Mid-Autumn Festival. (Photo: VNA)
Many have announced an increase in output of 5 - 30 percent compared to last year's.
Thanh Long Bakery is offering more than 10 new flavours to target youths such as avocado, sesame and garlic and almond and coffee, Sai Gon Giai Phong (Liberated Sai Gon) newspaper reported.
Bibica Corporation is reducing the sugar and fat content in its mooncakes and using more natural ingredients such as lotus seeds and sesame in place of jam.
Hemant Rupani, CEO of Mondelez Kinh Do Vietnam, which is offering two new mooncake lines, said the brand's "Rich portfolio of 83 kinds of products can satisfy consumers' perse demands, from premium to classic, mid-level mooncakes, and special needs."
The company also announced that this year it is using recyclable and reusable paper bags to cut plastic waste in addition to offering vegan and low-sugar mooncakes.
Nguyen Thi Ngoc Thuy, head of Thanh Long Bakery, said that more cardboard is now used in packaging to reduce waste.
Prices have also increased from same period last year, ranging between 5 to 7 percent per box.
According to Tran Huu Linh, general head of the Vietnam Directorate of Market Surveillance, authorities would closely monitor the mooncake market during the Mid-Autumn Festival, keeping an eye on production facilities and storage of ingredients and collecting samples for testing.
VNF ( VNA )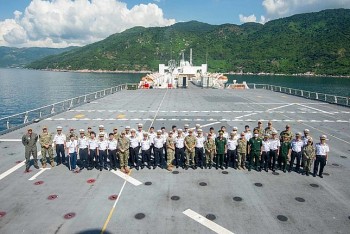 Friendship
The Pacific Partnership 2022 (PP22) concluded on July 3 on USNS Mercy, a hospital ship of the US Military Sealift Command anchored at Vung Ro Port in Dong Hoa town, the central province of Phu Yen.