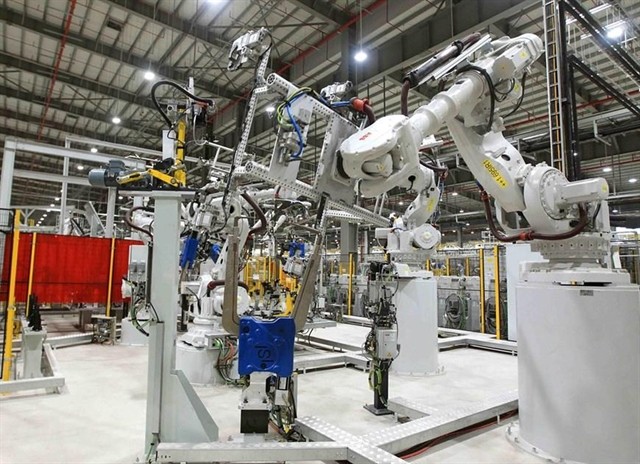 With Việt Nam's demand for robots in the manufacturing industry on the rise, many businesses are investing in the field. — VNA/VNS Photo An Đăng
Among eight local projects granted investment permits by Saigon Hi-Tech Park late last year was a US$5 million research, development and manufacturing centre for experimental robots and automation from IDEA Technology Joint Stock Company.
Đỗ Hoàng Trung, chairman and general director of IDEA, said the company about two years ago began producing robotic arms, automatic guided vehicles and other items, which have been sold to FDI businesses in Việt Nam.
The company plans to build its 1ha facility at the park soon, as well as a training centre for staff. It aims to become a leading robot brand in Việt Nam in the next five years.
Kiều Huỳnh Sơn, deputy chairman of the HCM City Mechanical and Electrical Businesses Association, said many businesses such as IDEA, Autotech and Trực Quang were taking part in the field.
Huỳnh Phong Phú, director of electrical and electronic manufacturer ABB Việt Nam's Robotics and Discrete Automation Business, said the demand for robots in manufacturing was rising fast in Việt Nam.
The country is one of the fastest-growing robot consumption markets in ASEAN, and is expected to grow even more in the next two to three years, he added.
Trần Thanh Thủy, former deputy rector of Việt Nam Research Institute of Electronics, Informatics and Automation, said that domestically produced robots were cheaper than imported ones.
However, due to limited technical infrastructure, underdeveloped supporting industries and limited robot quality testing equipment, local businesses have not been willing to invest heavily, preventing the industry from reaching its full potential.
Hoàng Việt Hồng, deputy general director of Industrial Machinery and Instruments Holding JSC, said that many businesses wanted to apply more modern technology and robots, but were encountering problems related to manpower and investment funds.
He said that there should be more collaboration between domestic and foreign experts to develop new automation technology for Việt Nam's manufacturing process. More attention also needs to be paid to pushing investment and research, he added./.
VNS