More Hospitals Needed for Agent Orange Victims
Dr. Nguyen Thi Ngoc Phuong made a plea for more hospitals for Agent Orange victims at the conference entitled "Agent Orange: Lasting legacy of the American war in Vietnam" held online last Friday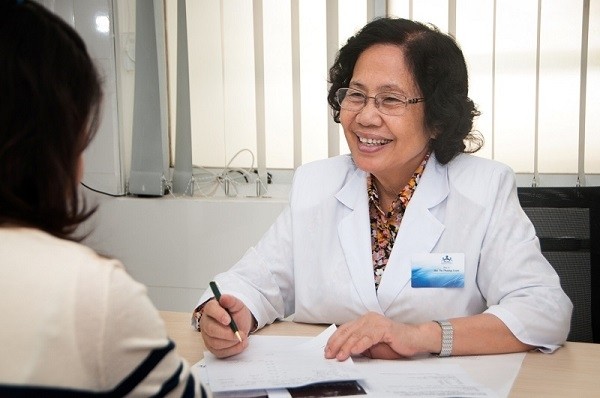 Dr. Nguyen Thi Ngoc Phuong recommends more hospitals to be built for agent orange victims. Photo: Thoi Dai
"We must take special care to our future. Expectant mothers exposing to agent orange might take a heavy toll on themselves and the fetus. Dioxin can accumulate in the liver or mammary glands then travel to breast milk, thus get into the baby's body in the end," Phuong said.
The doctor added that at the moment, there's no need to discuss whether dioxin caused cancer or any other diseases. "Instead, we should address these consequences by detecting birth defects of the uterus at the early stage of pregnancy, counseling families about the fetus' health condition to help them make the right decision. Early diagnose of cancers is also important," she said. "We should also equip new medical equipment and technology, establish good hospitals to take care of agent orange victims."
Phuong also suggested to speed up decontamination at dioxin-affected areas, imposing more stringent laws to curb the exposure. Those chemical companies involving in the spread of dioxin in the past must be held accountable and help agent orange victims have a better life.
The stronger scientific collaboration efforts between Vietnamese and US scientists will also promote information exchanging and practical solutions to address the consequences of agent orange to Vietnamese, US veterans, and their families.
For almost 10 years since 10 Aug. 1961, the US military had been spraying toxic chemicals, mainly Agent Orange/dioxin across many localities in Vietnam, leaving disastrous consequences for people and the environment. 4.8 million Vietnamese have been exposed; about 3 million people are victims of incurable diseases, passing genetic diseases to their offspring. This is considered the largest and most catastrophic chemical war in human history, and its consequences continue to this day.]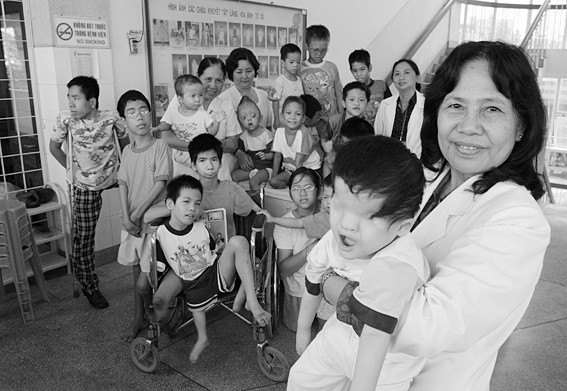 Dr Phuong and agent orange victims. Photo: Thoi Dai
During American war, around 80 million liters of chemicals, 60% of which is Agent Orange, were sprayed directly to over 20.585 villages housing millions of people, including Americans veterans. Dioxin contamination, therefore, is particularly more severe than other poisons in Vietnam.
At the first conference on the long-term consequences of defoliants and herbicides used in American war held in HCMC in January 1983, international experts had analyzed that the average dioxin level in agent orange used in Vietnam was 150 times higher than the standards of the Soviet Union and 50 times than the EU.
In 1973-74, Baughman and Meselson found elevated levels of dioxin in breast milk samples of mothers living in contaminated areas, including Tan Uyen village, Binh Duong province, southern Vietnam.
The war has ended for over four decades, but the wounds of war are still ache. Millions of people, including children, are suffering both physical and mental pains. These pains are unforgettable for Vietnamese people and those supporting peace around the world.
Even during the war, international public opinion voiced opposition, demanding an immediate end to the use of Agent Orange/dioxin in Vietnam. In May 1964, the Washington Post (USA) published an article by Jim. G. Lucas asserted that America's Ranch Hand campaign destroyed crops in the Mekong Delta. On December 28, 1970, The Times newspaper (UK) assessed that "from 1962 to now, more than 5 million acres (about 2 million hectares) equivalent to one-eighth of the area of South Vietnam have been sprayed with insecticides which were 15 times higher the permitted doses.
Also in 1970, the World Federation of Scientific Workers held the "International Conference of Scientists on Chemical Warfare in Vietnam" in Orsay, France. The conference issued a Resolution requiring the US to immediately stop using agent orange, calling on all scientific research organizations in the world to support the Vietnamese people to do more in-depth research on the harmful effects of agent orange on human health and the environment.