More than a Gift
Over the years, international non-governmental organizations (INGOs) have implemented meaningful projects in Vietnam, targeting women, children, and people with disabilities. Such support brings joy and better life quality to beneficiaries and helps them gain confidence, bravery, and a brighter future.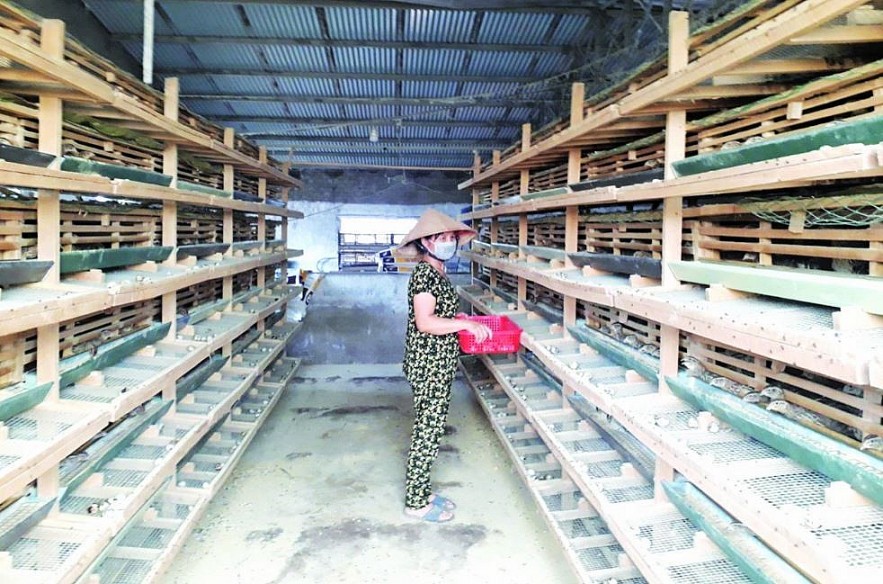 Thanks to the loan, Vong's family gradually stabilize their lives
CARE International in Vietnam helps get loans, improves lives
Visited the Vietgap-standard pig farm system belonging to Pham Thi Vong, Gia Hiep commune, Di Linh, Lam Dong, many people will be surprised by her property, which includes 20 sows, more than 300 pork, 100 durian trees, 200 laba banana trees, many chickens and ducks... Few people could imagine that just over a year ago (June 2021), her family almost went bankrupt due to African swine fever.
At that time, she lost more than 400 pigs, equivalent to a loss of more than VND 1 billion. Within a month, all her family's savings and accumulations over the years disappeared. During that difficult time, Vong received support from Village Savings and Loan Association (VSLA) under the project "Reach to Excel: Promoting Financial Inclusion for Ethnic Minority Women" implemented by CARE International in Vietnam and partners.
Vong was given a loan of VND 8,000,000 to buy 5,000 breeding quails to raise eggs, and compost quail manure to fertilize her durian and laba banana trees. After more than half a year, she now has a monthly income from quail, helping to stabilize her life.
Vong said: "Thanks to CARE International Vietnam and VSLA, I got a loan to change my production model. My family is no longer in difficulties, life becomes more stable. I find this project very meaningful and practical, suitable to the needs of the people."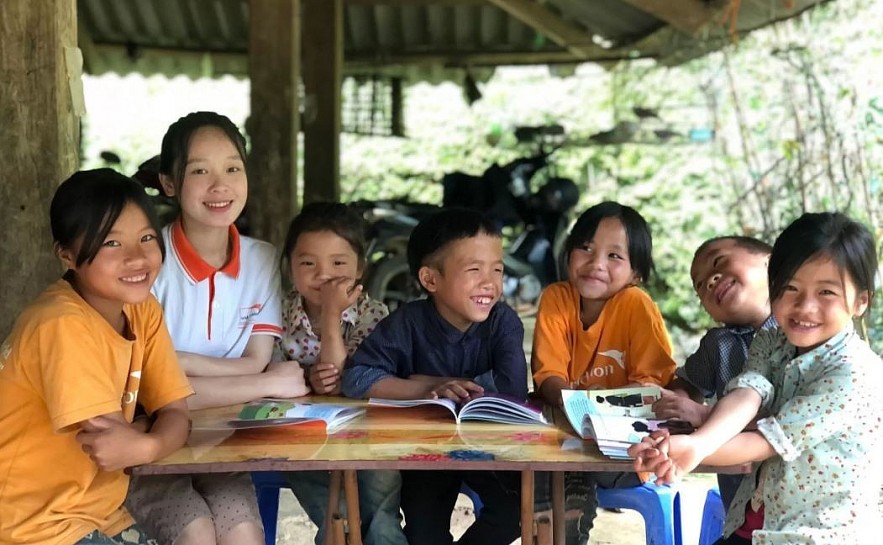 Thao (second from left) wishes to become a preschool teacher
Thanks to World Vision Vietnam, I can go to school!
Lau Thi Phuong Thao (17 years old), lives in one of the poorest communes of Dien Bien Dong district, Dien Bien province. Thao's family had no access to tap water and standard toilets. Adults have to travel tens of kilometers to get water for daily use. Thanks to the support of World Vision Vietnam, Thao's family could build standard toilets and participate in communication sessions about clean water. Thao's parents can now build a farm with geese and piglets. Training to improve husbandry skills for sustainable livelihood development is provided. As a result, the family economy improves. Thao and her brother were given a chance to participate in World Vision Vietnam's Sponsorship Program, eat nutritious food, and live in hygienic conditions.
Thao said: "Thanks to World Vision Vietnam, the family's livelihood is improved and I can go to school. I want to be a preschool teacher. I want to teach and tell stories to children, helping them confidently explore the world out there. I hope all children in the village can go to school like me."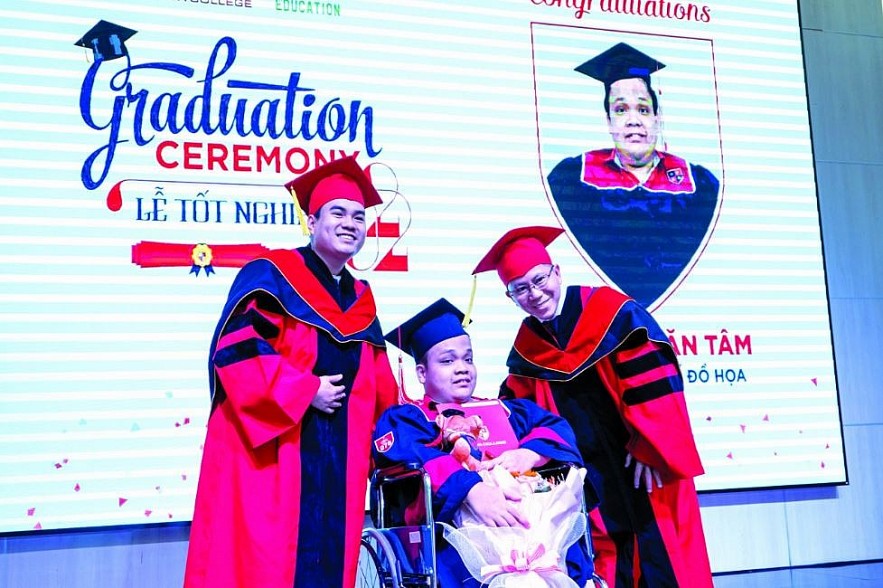 Nguyen Van Tam (middle) receives his diploma
The Giving Back to Childhood Foundation gave me a "fishing rod"
Nguyen Van Tam (22 years old, Ho Chi Minh City) is an orphan. Tam had a congenital spinal cord herniation. Both of his legs were paralyzed. As a result, Tam had to sit in a wheelchair.Tam was fortunate enough to receive a scholarship from Giving It Back to Kids and has a laptop for studying. He graduated from Bach Viet College, majoring in graphic design.
"I am really happy and grateful to Give It Back to Kids for sponsoring to open up a bright future for me. I love my job and will try to sharpen my skills. I have a monthly income of more than VND 5 million. I will work and learn harder and learn more to become a professional graphic designer. I want to send a message to those of you who are in the same situation as me that I have made a difference and you can too," Tam said.
Giving It Back to Kids is an American non-profit organization, operating in Da Nang city since 2002 with the goal of supporting disadvantaged children, and people with disabilities.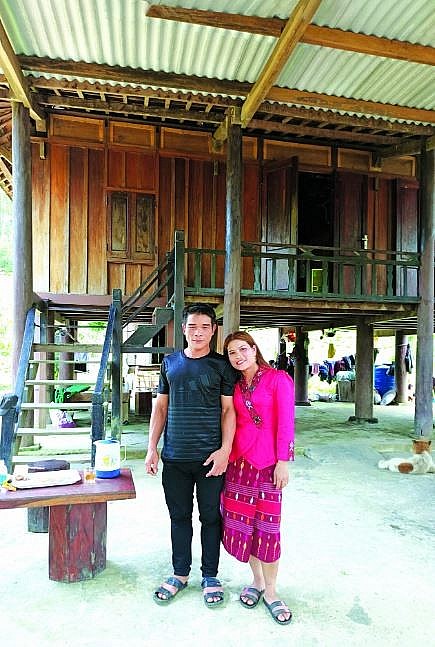 Ho Van Huynh and Ho Thi Son in SON Homestay
Helvetas Vietnam helps Van Kieu ethnic group develop their economy through community eco-tourism
Ho Van Huynh and his wife, Ho Thi Son (Kim Thuy commune, Le Thuy district, Quang Binh province) named the family's small house for tourism as SON homestay. The house welcomes tourists after conquering Duong Cam waterfall in Dong Chau - Khe Nuoc Trong Nature Reserve, Le Thuy district, Quang Binh province.
Before acknowledging this service, Huynh Son, his wife, as well as families in Rum-Ho village, have depended on farming in the forest for generations. They enter the forest at least 10 days a month, using their limited land resource to earn a limited income.
Supported by the Project on Sustainable Forest Management and Biodiversity Conservation in Vietnam (VFBC) implemented by Helvetas Vietnam and Netin Travel, Huynh Son and his wife Huynh Son turned their small house into SON homestay to welcome guests.
After nearly half a year, they were equipped with more skills, knowledge and upgraded tourism facilities. At the same time, they welcomed the first guests. Son said: "In the past, when there was no tourism, we just went to the forest to make a living, but now we have more income, and a better life. We don't have to go to the forest anymore. Thank you VFBC for giving us a new life."
The VFBC project supports 20 other households, some build homestays, and some provide tourism services, such as catering, and tour guides. People in the village have begun to change their lives and reduce their dependence on forests.
| | |
| --- | --- |
| | Unions of Friendship Organizations of many provinces and cities are having specific strategies and plans for 2023. The Vietnam Times would like to introduce some ... |
Eat Healthy for Lunar New Year Holiday

Although Vietnamese cuisine among the healthiest cuisines, Tet (Lunar New Year) is the time for all family members to get together while enjoying traditional dishes. ...
Expats Share New Year's Resolutions

To set up for great success in the Year of the Cat, expats living in Vietnam revealed their biggest achievements in 2022 and new year's ...