NA Committee For Social Affairs Convenes Second Plenary Session
The second plenary session of the National Assembly (NA)'s Committee for Social Affairs opened in an online format on September 27, in the presence of Politburo member and Permanent NA Vice Chairman Tran Thanh Man.
Politburo member and Permanent NA Vice Chairman Tran Thanh Man speaks at the session.
Speaking at the meeting, on behalf of leaders of the NA and the NA Standing Committee, Permanent NA Vice Chairman Tran Thanh Man acknowledged and spoke highly of the efforts and results of activities of the committee in recent time.
He suggested that the delegates give specific comments the draft Law on Emulation and Commendation (amended) so that when the draft law is promulgated, it will cover all fields and subjects, overcome the inadequacies, and create positive changes in the patriotic emulation movement and commendation work.
Regarding the verification of the Government's reports related to the implementation, management and use of social insurance and health insurance funds, the Permanent NA Vice Chairman emphasised the need to clarify the implementation of legal policies on social insurance and health insurance, and to analyse the reasons behind the arrears of social insurance.
Breakthrough solutions should be devised to combat abuse of health insurance funds, ensuring benefits of participants in health insurance and social insurance, he noted.
Permanent NA Vice Chairman Man also urged for the verification of the contents of the implementation of the national goals of gender equality, socio-economic, and State budget, as well as issues related to the organisation and operation of the NA Committee for Social Affairs.
Nhandan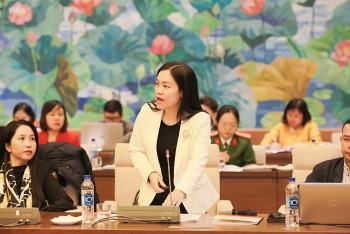 Friendship
Doan Thu Huyen, Vietnam Country Director for Campaign for Tobacco-Free Kids, made the statement at the "Child Downing Prevention" seminar.