State Committee for Overseas Vietnamese Affairs: Connecting Vietnamese Abroad with Homeland Amid Covid-19
The State Committee for Overseas Vietnamese Affairs - Ministry of Foreign Affairs has always actively acted as a bridge between overseas Vietnamese and their homeland.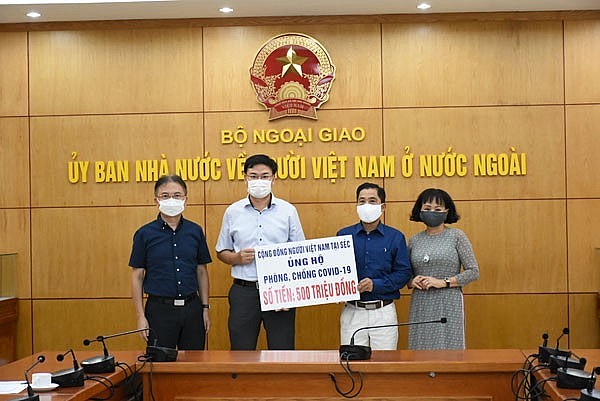 Deputy Minister Pham Quang Hieu receives donations from overseas Vietnamese in Czech for the vaccine fund
The Covid-19 pandemic has been affecting the lives and livelihoods of all social classes. However, this is also the time when the meaning of compatriots is most clearly expressed. With the close attention and leadership of the Party, State and Government, the State Committee for Overseas Vietnamese Affairs has actively promoted the role of a bridge between our compatriots abroad and the homeland, so that people unite and work together to overcome the pandemic.
Mobilizing resources to support overseas Vietnamese
At the beginning of 2020, when the first cases appeared in countries around the world, including many countries with large numbers of Vietnamese expatriates (USA, Canada, Australia, France), the community faced many difficulties, especially the scarcity of masks and medical items due to a spike in demand. Although the country also faces many difficulties, the government still sets an urgent goal of providing masks and medical equipment to affected Vietnamese people around the world.
Understanding the situation and needs of overseas Vietnamese, the State Committee for Overseas Vietnamese Affairs has urgently acted as a focal point to call on domestic agencies, localities and businesses to support overseas Vietnamese. Up to now, with the active mobilization of the committee, Vietnam has transferred more than 830,000 masks, protective clothing, medicine and food to overseas Vietnamese in more than 20 countries and territories around the world. In particular, the committee has coordinated with relevant ministries, departments, agencies and organizations to implement a plan to allocate an amount of VND 4,052 billion (US$178,1 million) to support some of the most difficult communities in Cambodia, Laos, Malaysia. This funding is used to buy food, necessities and medical supplies in time to help communities in these countries overcome the most difficult period of the pandemic.
In the most difficult situation, practical and timely support from homeland has helped overseas Vietnamese firmly overcome the pandemic. Overseas Vietnamese in many places such as the US, Canada, Russia, the Philippines, and Laos were very touched by the material and spiritual support from the country.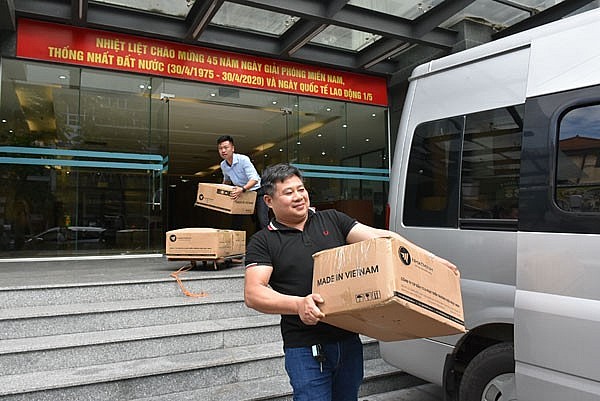 Officials and employees of the committee prepare to deliver masks to overseas Vietnamese
Along with supporting medical supplies, the committee also promptly coordinated with the Ministry of Health to develop and deploy a set of advice and guidance documents on pandemic prevention and control for overseas Vietnamese. This important document not only helps people feel secure, but also helps them take care of their own health and their families in difficult medical conditions in the community, helping to reduce the pressure of medical examination and treatment in local health system.
Acting as a bridge for overseas Vietnamese to join hands with Vietnam's fight against Covid-19
Overseas Vietnamese from many parts of the world have been contributing to the fight against Covid-19 in Vietnam. Up to now, overseas Vietnamese have donated nearly 60 billion dong (US$2,6 million) and a large amount of medical equipment and supplies to the Covid-19 vaccine fund. Among them, the campaign "Join hands for Vietnam" and "10 thousand doses of vaccine for Vietnam" were launched by nearly 30 Vietnamese associations in France, the US and Canada to raise enough money to buy 10,000 doses of vaccine (about US$180,000) to support the fund.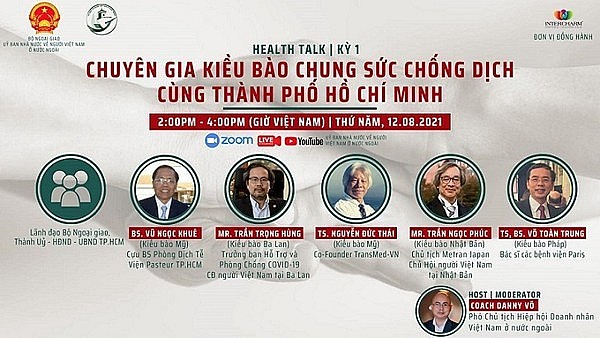 Webinar "Overseas Vietnamese experts working together with Ho Chi Minh City to fight the pandemic", August 12, 2021
Besides, some expatriates such as Nguyen Hoai Bac (Canada) and Nguyen Ngoc My (Australia) in addition to donating money, they also use local schools as isolation facilities in Hai Duong and Vung Tau; initiate programs of free meals and stalls for poor households in difficult circumstances, thereby sharing with localities in coping with the pandemic.
Along with material contributions, the most meaningful contributions are from overseas experts, intellectuals and scientists through webinars and talks on Covid-19 prevention and control. Especially, from the beginning of 2021 until now, the committee has organized a series of webinars to gather overseas Vietnamese with expertise and experience in pandemic prevention and control. On these occasions, overseas Vietnamese experts not only help to disseminate necessary knowledge for the people in the country to effectively prevent and control the pandemic, but also propose to the Government many macro solutions to recover post-pandemic, helping to maintain the dual goals of fighting the pandemic and developing socio-economic.
In particular, some overseas experts have expressed their wish to directly return to the country to participate in pandemic prevention and control, such as Doctor Vu Ngoc Khue and a delegation of experts from the Association of Vietnamese Scientists and Experts. The committee has coordinated with relevant agencies in the country to resolve this aspiration, creating conditions for overseas Vietnamese to directly contribute to the fight against Covid-19 in the country.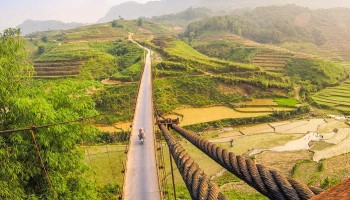 Travel
Visitors rate the 7 most amazing roads in Vietnam, weaving through mountains, jungles, and beaches, according to Lonely Planet magazine.