Netherlands Development Organization Implements New Project in Tra Vinh
SNV will cooperate with Tra Vinh province in implementing activities related to the development and implementation of programs and projects in the fields of smart and sustainable agriculture, clean water and sanitation, renewable energy, and bioga. The organizations hope towards sustainable development goals.
A signing ceremony of a Development Cooperation Agreement between the People's Committee of the Mekong Delta province of Tra Vinh and Netherlands Development Organization (SNV) took place on Feb.14 in Tra Vinh City.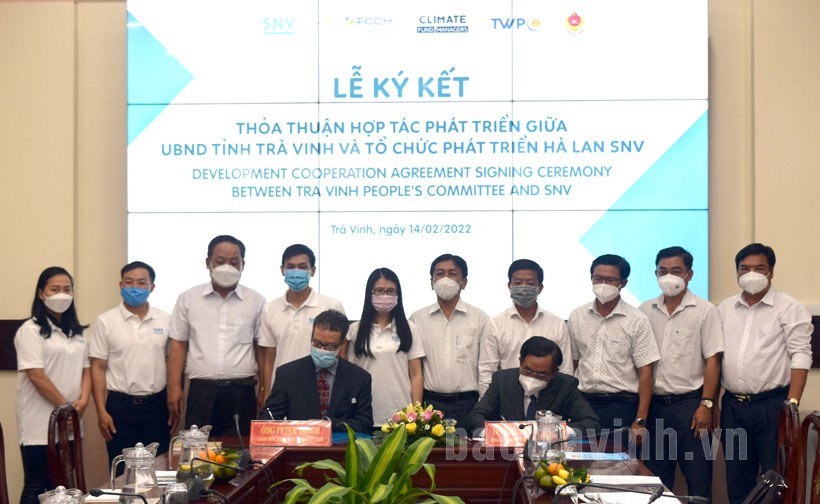 At the signing ceremony. Source: Tra Vinh newspaper
This is a cooperation activity within the framework of a long-term Community Development Project (CDP) to deliver net positive environmental and social impacts for affected communities in coastal Tra Vinh province.
The project is implemented by SNV Vietnam and sponsored by two near-shore wind power project developers – the Tra Vinh Wind Power No. 1 Joint Stock Company (TWPC) and Ecotech Tra Vinh Renewables JSC (Ecotech) with a total project budget of nearly VND 5.7 billion (USD 250,700).
It is implemented from November 2021 to December 2022 in Cau Ngang, Duyen Hai districts, and Duyen Hai town.
The project is expected to focus on improving local livelihoods by investing in market-based approaches and the development of inclusive value-chains for sustainable aquaculture and horticulture, as the main livelihood sources in the area. Interventions will have a strong emphasis on promoting climate resilience approaches and on women's economic empowerment in the target areas.
In addition to designing and developing the CDP, SNV will support with the delivery of a set of water, sanitation and hygiene (WASH) interventions that are expected to rapidly provide affected communities and households with benefits from the wind power projects.
The purpose of the cooperation agreement is to build a framework between Tra Vinh Provincial People's Committee and SNV to jointly implement activities related to the development and implementation of programs and projects in the fields of smart and sustainable agriculture, clean water and sanitation, renewable energy, biogas, with aims towards sustainable development goals.
Before the signing ceremony, the Provincial People's Committee and SNV had a meeting to agree on some contents of the project. With the goal of promoting socio-economic development of the province, contributing to poverty reduction, increasing gender equality, and effectively responding to climate change, the two sides have reached a joint cooperation agreement.
According to Le Thanh Binh, vice chairman of Provincial People's Committee, Tra Vinh is a province heavily affected by climate change. The majority of people live in rural areas, agricultural production (crop, livestock, aquaculture) is related to project activities.
On behalf of the Provincial People's Committee, Binh hoped that SNV would support Tra Vinh province to change the efficiency of agricultural production and effectively adapt to the impacts of climate.
"We are proud to work with Tra Vinh province on the WASH project and design an community development programme. Through this initial project, we hope to support the sustainable development of the agricultural and aquaculture value chain in Tra Vinh, contribute to mitigating the impact of climate change, and support the local people's access to clean water, environmental protection," Dr. Le Thu Huong, project manager said.
Founded in the Netherlands in 1965, SNV is a not-for-profit international development organization.
SNV has been working in Vietnam since 1995, and currently works hand-in-hand with communities, government agencies, and businesses in more than 50 provinces, including the remotest and poorest areas of the country.
King Sejong Institute Launched

The online signing ceremony and launch of the Tra Vinh King Sejong Institute was recently held at Tra Vinh University. At the ceremony, Deputy Head...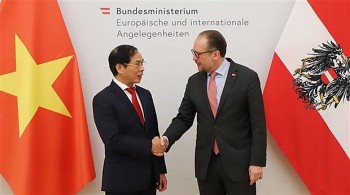 Overseas Vietnamese
Fifty years have passed since the establishment of the relationship, the two countries have enjoyed great strides in bilateral cooperation.