New tricycle from Project RENEW helps ease the burden of disabilities for a mother of two
Recently, Project RENEW's Victim Assistance program handed over a brand new tricycle to a mother of two who suffers disabilities caused by Agent Orange (AO) in Quang Tri province.
New tricycle from Project RENEW helps ease the burden of disabilities for a mother of two. Photo from the Project RENEW's video
Ho Thi Y Po Lang, a mother of two sons aged 17 and 6 in Dakrong district, Quang Tri province, suffers disabilities caused by AO. As a result, she can't walk due to disabled legs. In 2011, Po Lang got her first tricycle but it broke down two years ago. The past two years were a difficult time for her as she couldn't get her youngest son to school nor go collecting woods.
On August 20, the 39-year-old mother received a new tricycle from Project RENEW's Victim Assistance program which is funded by Irish Aid.
The tricycle helps ease the burden of disabilities for the mother and her two sons, who now live with a monthly allowance of VND 1.4 million (USD 60.2) provided by the government. Funding from Irish Aid has enabled Project RENEW to help persons with disabilities to restore their mobility and integrate into society.
Victim Assistance and Disability Support are an integral part of Project RENEW's humanitarian work in Quang Tri province. The project assists victims of Unexploded Ordnance (UXO) and AO and other disabled families to restore their lives and livelihoods through provision of needed support to maximize their potential for development and integration into society.
Currently, Project RENEW is receiving funding from Irish Aid, Veterans For Peace, Friends of Project RENEW and other foundations and private donors. In the period of 2018 to 2022, the project will focus on: Building capacity for the provincial Disabled Persons Organization (DPO) to better represent the rights and benefits of disabled persons; Encouraging explosive remnants of war (ERW) victims and disabled persons participate in public information and dissemination campaigns in order to improve their awareness and understanding of their rights; Continuing the Prosthetics and Orthotics outreach program to provide artificial limbs and other assistive devices to disabled persons in need of physical rehabilitation; Replicating successful vocational training models in order to provide disabled persons income generation opportunities; and Seeking funding to bring support and interventions into the homes of severely disabled persons suffering from problems related to AO, to make their lives more bearable./.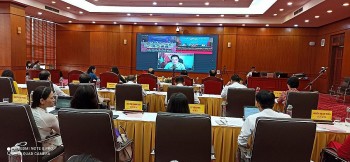 Friendship
The Guangxi Government and Vietnamese localities work to intensify cooperation through education in order to nurture the Vietnam-China comprehensive strategic cooperative partnership.