Nha Trang hosts Blue Ocean Economy Seminar
The Ministry of Agriculture and Rural Development (MARD) and the Royal Norwegian Embassy co-host a national Blue Ocean Economy Seminar in Nha Trang City, Khanh Hoa Province.
The Ministry of Agriculture and Rural Development (MARD) and the Royal Norwegian Embassy co-host a national Blue Ocean Economy Seminar in Nha Trang City, Khanh Hoa Province.
Photo: VOV
The Seminar spotlights Norway's Ambassador to Vietnam, Ms Grete Løchen, and Deputy Minister of Agriculture and Rural Development Mr Phung Duc Tien, together with over 150 participants representing ministries and central agencies; MARD relevant bodies; people's committees, departments of agriculture and rural development, and departments of science and technology of several coastal provinces with potential to develop marine aquaculture industry; Vietnam Directorate of Fisheries (DFish); Innovation Norway in Vietnam; Norwegian Seafood Council; relevant international organisations in Vietnam; academia and institutes on fisheries; local authorities from Khanh Hoa Province; and a large number of Vietnamese and Norwegian businesses.
The one-day Seminar serves as forum for Norwegian and Vietnamese policy makers, researchers and creative business community to meet and share information and experience about the government planning and management of the marine aquaculture industry, needs for green technologies and smart solutions for the industry's sustainable development, challenges including financing, solutions as well as to promote transfer technology and explore potential opportunities for cooperation.
Focusing on green technologies and solutions for sustainable industrial marine aquaculture, the Seminar covers the entire value chain in the industry from genetics breeding, fish health, feed, farming techniques, to fish handling & marine rest raw materials processing.
"Building on over 30 years of cooperation between Vietnam and Norway in the fishery sector including aquaculture, this Seminar is a good opportunity for Vietnam and Norway to exchange information and experience in relation to sustainable development of industrial-scale marine aquaculture. Vietnam sees Norway as one of its preferred partners in this industry", said MARD Deputy Minister Phung Duc Tien.
"The message that Norway wants to deliver from this Seminar is an effective tripartie collaboration between Government, industry and research institutions. It holds a key to sustainable development of the marine aquaculture. Norway has many lessons including both successful and unsuccessful to offer which would save you lots of time,"said Ambassador Grete Løchen in her welcoming remarks at the Seminar.
Top leaders of 12 Norwegian organisations take part in this Seminar. Each of them represents a link of the entire value chain and has unique and interesting experience to share about, for example, the importance of applied genetics in breeding as a driver for sustainable seafood, feeding solutions for marine fish species, new modern fish farming techniques, how to handle fish from sea to processing plant, particularly how to turn marine rest raw materials into high quality human grade & feed grade products.
As part of the Seminar, Director General of Vietnam DFish, Mr Tran Dinh Luan and Norwegian Commercial Counsellor, Mr Arne-Kjetil Lian co-chair a discussion session on possible ways for Vietnam to develop an industrial marine aquaculture industry in an effective and sustainable manner, and how the two countries and businesses can cooperate in this course.
A display area at the Seminar provide the participants with an overview of the current advanced green technologies used in Norway's industrial-scale marine farming and processing industry. Following the Seminar, on October 10, Vietnamese and Norwegian businesses will join in a field trip to visit the barramundi hatchery of Australis Vietnam Co. Ltd, and learn about practices of pompano and barramundi aquaculture in the industrial cage farming system in Khanh Hoa Province.
"We are very happy to partner with MARD and DFish in creating this important meeting venue. I believe both Vietnamese and Norwegian find this Seminar and the field trip useful because it helps us to understand each other better. I hope many good things will come out of this. Promoting business-tobusiness cooperation between Norway and Vietnam is our mission to which we are very committed", said Norwegian Commercial Counselor Mr Arne-Kjetil Lian.
( VNF/VOV/Norwegian Embassy )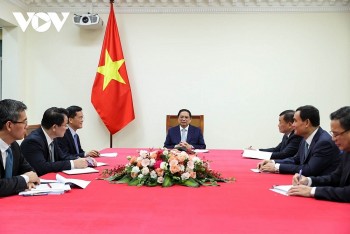 National
Vietnam News Today (Nov. 29): Vietnam records 333 new Covid-19 cases on November 28; Economic cooperation a solid pillar of Vietnam – France strategic partnership; Science, technology development key to sustainable agriculture; Glorious Ashes wins top prize at Three Continents Film Festival.