No.1 in What? Vietnam's World Rankings You Probably Didn't Know
This fascinating country is full of surprises and is one of Southeast Asia's most underrated destinations. Get on with our list of the best things in the world you can only find in Vietnam.
Vietnam is an enchanting mix of natural highlights and cultural diversity. Want to know more if it is worth a visit? We have just the list for you.
1. Ha Long Bay - The most beautiful bay in the world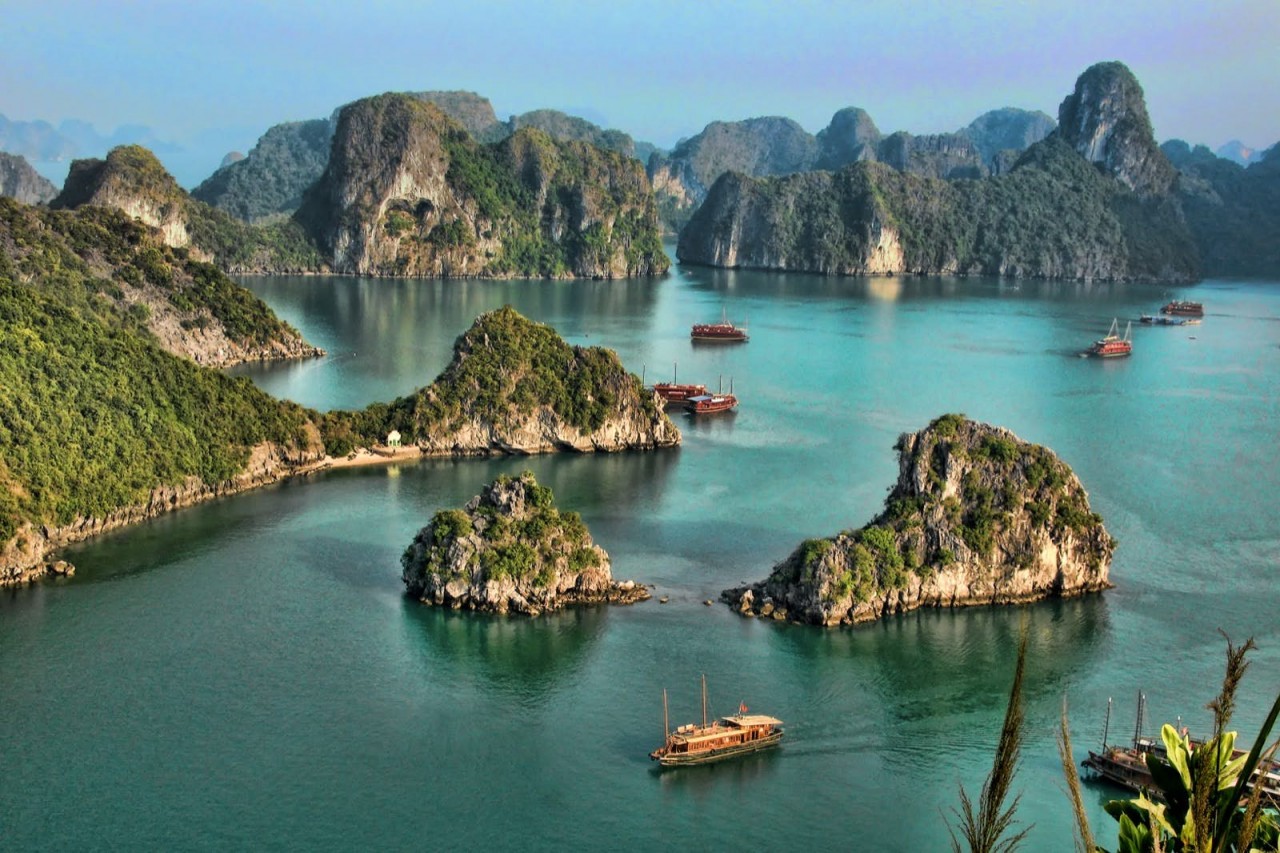 Ha Long Bay. Photo: lonelyplanet
Only hours away Hanoi - Vientam's capital, you will reach the world's natural heritage side - Ha Long Bay
Just a short boat ride out and you will be greeted by huge limestone karsts just scattered in the bay.
Named a UNESCO World Heritage Site in 1994 and featured among the New Seven Natural Wonders of the World in 2012, Halong Bay deserves all the praise lavished on it and more.
With a mind-blowing landscape of limestone karsts emerging from the emerald waters of the Gulf of Tonkin, Ha Long Bay ranks among the most impressive tourist attractions of Southeast Asia and is guaranteed to awe even the most experienced, world-savvy traveler.
You can certainly have the holiday of your lifetimeright here in Halong Bay, Vietnam
2. Ho Chi Minh City Street Food - The best street food in the world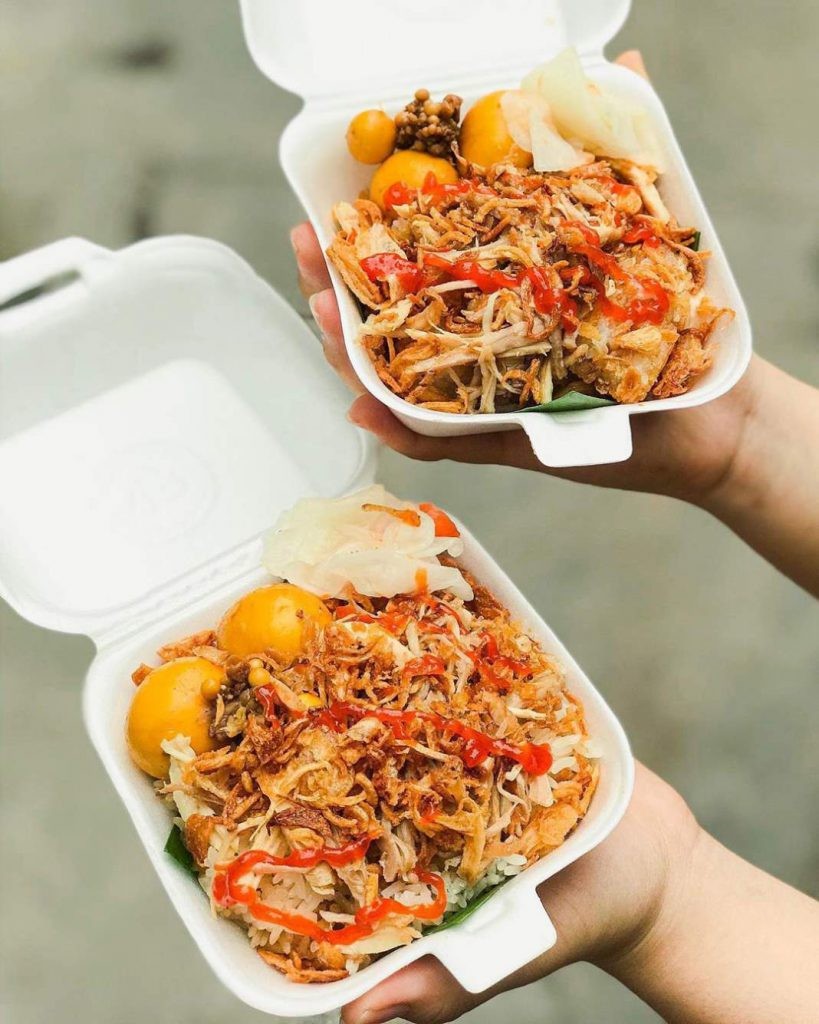 Chicken sticky rice. Photo by @_teeluvfood_
For Vietnamese people, food is our life; we are forever eating, cooking and talking about food. Food is communication – food is culture.
This signature trait will come on strong as soon as you step on the streets of HCMC.
We highly recommend you browse the street food stools and the vendor bikes to find what is best for you.
Saigon is most definitely a magical place for your tastebuds. The balancing act between warming and cooling ingredients, between heavier meats and lighter rice-based carbs, fresh herbs to round out the taste, never get old.
No need to be a culinary anthropologist, but in learning about Vietnam through eating, you can tell how much the locals are passionate about food.
By experience the food culture, travelers then discover more about the city.
3. Son Doong Cave - The biggest nature cave in the world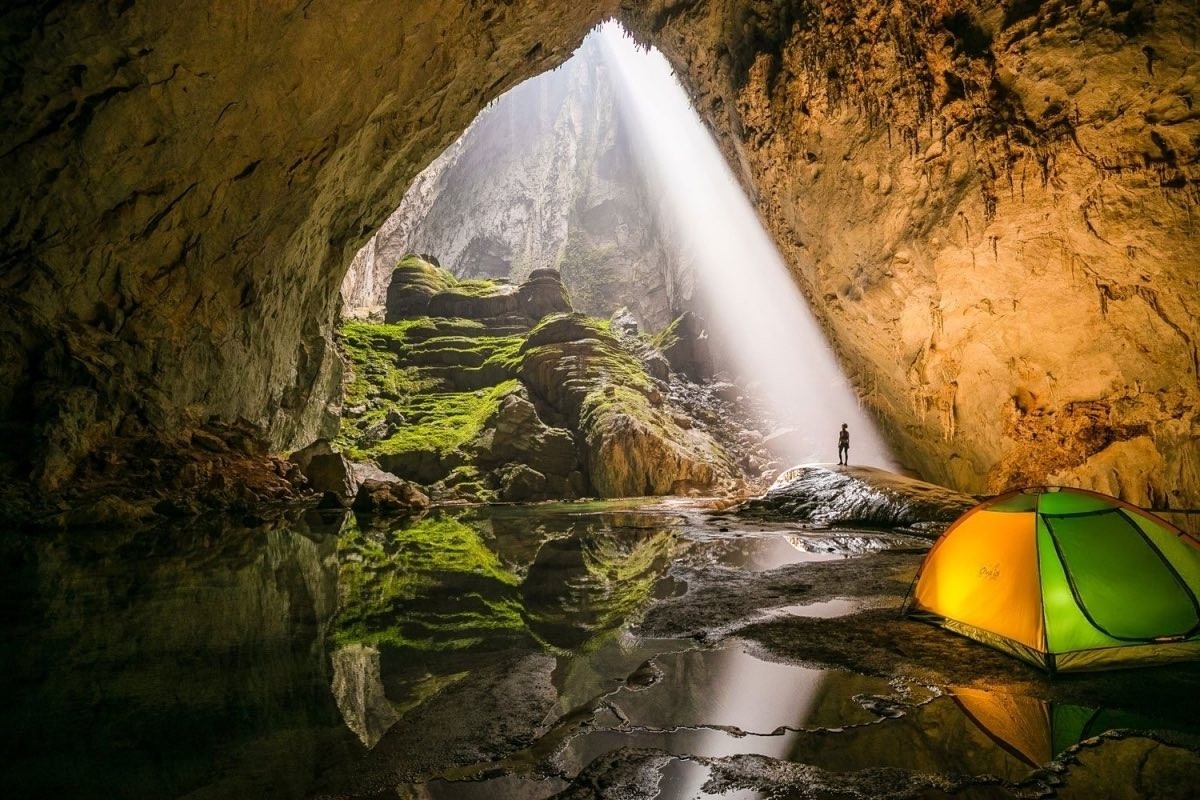 Tours of Son Doong cave are fully booked for 2022. Photo: Oxalis Adventure
Much like Mt. Everest, the Grand Canyon and the Great Barrier Reef, Hang Son Doong (Son Doong Cave) is one of the world's great natural wonders.
Hang Son Doong's towering stalagmites are nothing short of extraordinary. Some stalagmites are taller than the Arc de Triomphe, and others form outlandish and mesmerizing shapes.
The two campsites in Hang Son Doong are undoubtedly some of the best campsites found anywhere in the world. Both sit at the edges of the cave collapses, which means you can gaze at the stars on clear evenings.
If that still falls short for you, how about a world within our world? Hang Son Doong is so big that it has its own weather, evident by the sunbeams that shoot down from the cave collapses and the mist that floats through the chambers.
4. Cuu Van Fishing village - The most beautiful fishing village in the world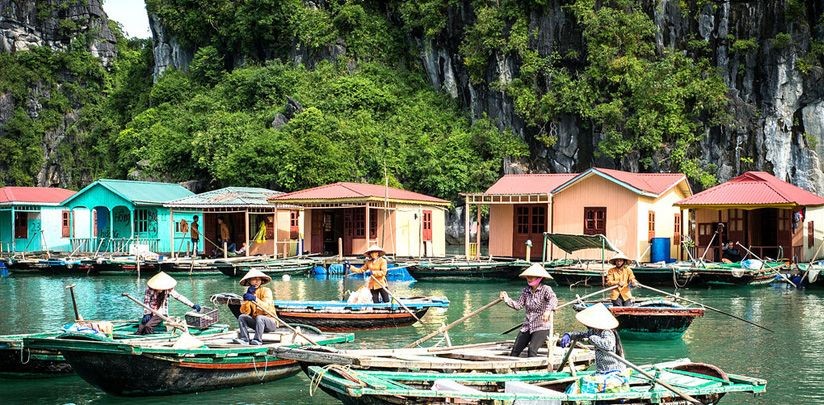 Photo: Halong Bay Tours
Located in Hung Thang Precinct, Quang Ninh Province and attached to Halong Bay & Lan Ha Bay, Cua Van floating village is a precious gem to be found alongside the shoreline.
Cua Van used to be among the biggest floating villages of Ha Long Bay residential area. Despite being in the middle of the sea, Cua Van village is not disturbed by the strong wind blowing in different directions.
The native residents of Cua Van are warm, hospitable and friendly, always trying to make tourists feel welcome. If you interact with them, they'll be all smiles and happy to show you all the village's hidden attractions.
Cua Van fishing village of Vietnam is also one of the 16 most beautiful ancient villages in the world.
This summer, accompany your friends and family to travel to Cua Van fishing village to immerse in the charming natural scenery and friendly people here!
5. The Far North - The most beautiful rice terrace fields in the world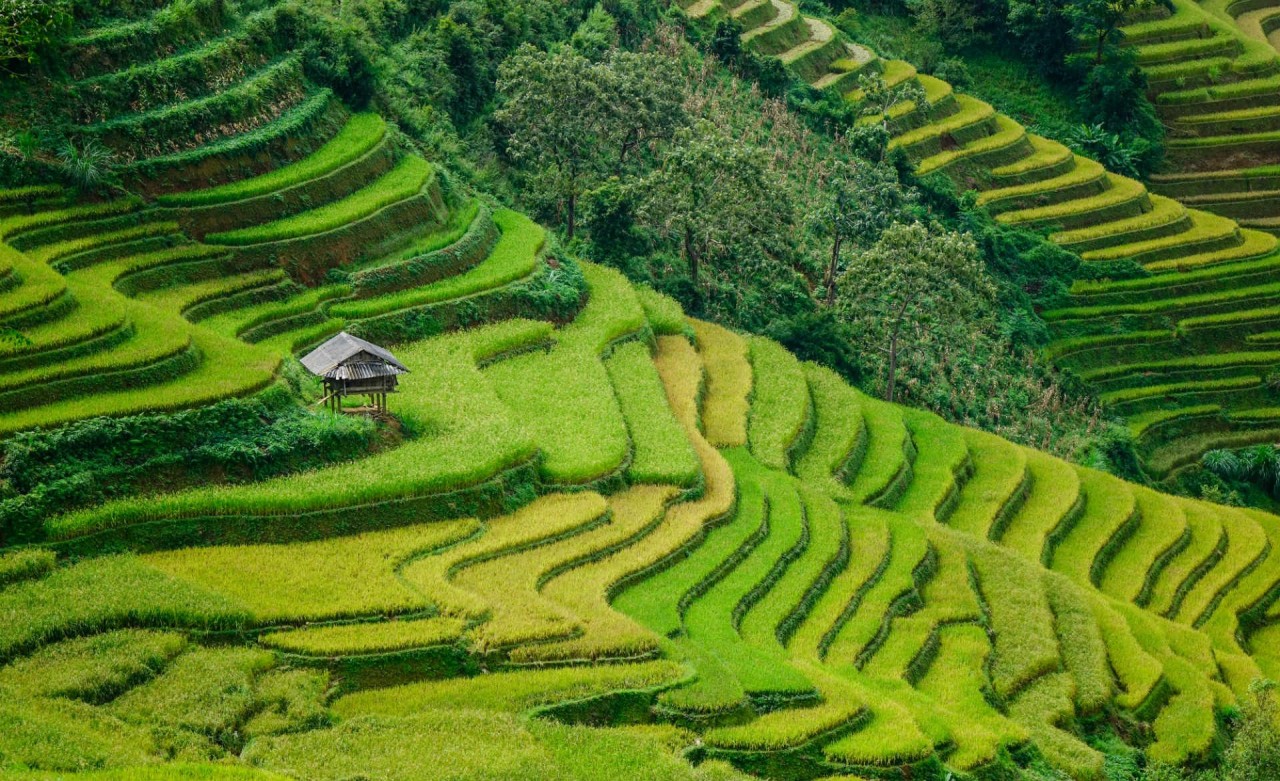 Photo: Shutterstock
One of the most significant and special views you can find in Vietnam is endless paddy fields as rice has been the staple food of Vietnamese people for thousands of years. The country is covered with beautiful rice fields at several locations in the countryside from north to south.
The lowlands are covered with rice fields, while the high hills benefit travelers with terraces carved out of the fertile soil, both are magnificent. Especially, in late September and early October, the change of the seasons is so vivid, and it is also the start of the traveling season.
Some of the most popular choices for you to consider are Tam Coc, Bac Son Valley, Sapa, Hoang Su Phi, My Cang Chau, Y Ty, etc just to name a few.
6. Home to the most beautiful beaches in the world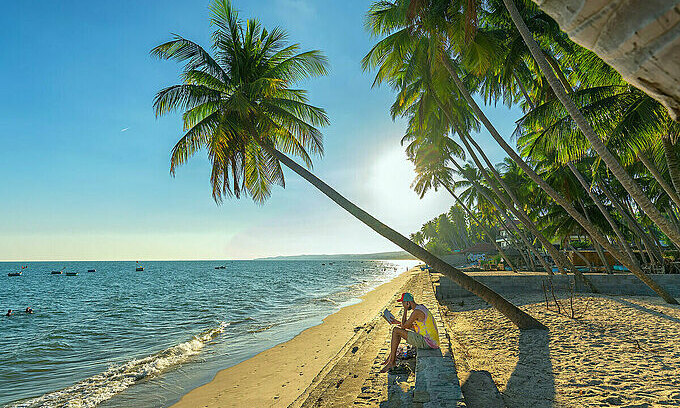 A tourist sits at a beach in Mui Ne in Phan Thiet, Binh Thuan Province, 2020. Photo: VnExpress
With over 3000 kilometers of coastline that stretches like a thread through a needle, Vietnam has plenty of sun, sand, and surf for all beach-loving travelers. Here are some of the best beaches in Vietnam that are sure to add that extra bit of beauty to your holiday.
Many of the Vietnam beaches are known for its soft sand and tropical trees that give it an appearance of an ideal stretch of land to soak some sun.
To give travelers a fair idea of what kind of beach would be the perfect place to visit for their Vietnam beach vacation, try Da Nang city.
Listed among the finest beaches in the world, My Khe Beach (Da Nang) is set in a very picture-perfect setting and boasts of soft sand as well as clear water. Centrally situated, the beach is swarming with locals between 4 PM to 8 PM. But remains relatively empty during the other hours. You can relax on the sand or take a long walk with your partner on this 9 km stretch, or take a dip in the 50-70 m high water level near the shoreline.
7. Home to most beautiful waterfalls in the world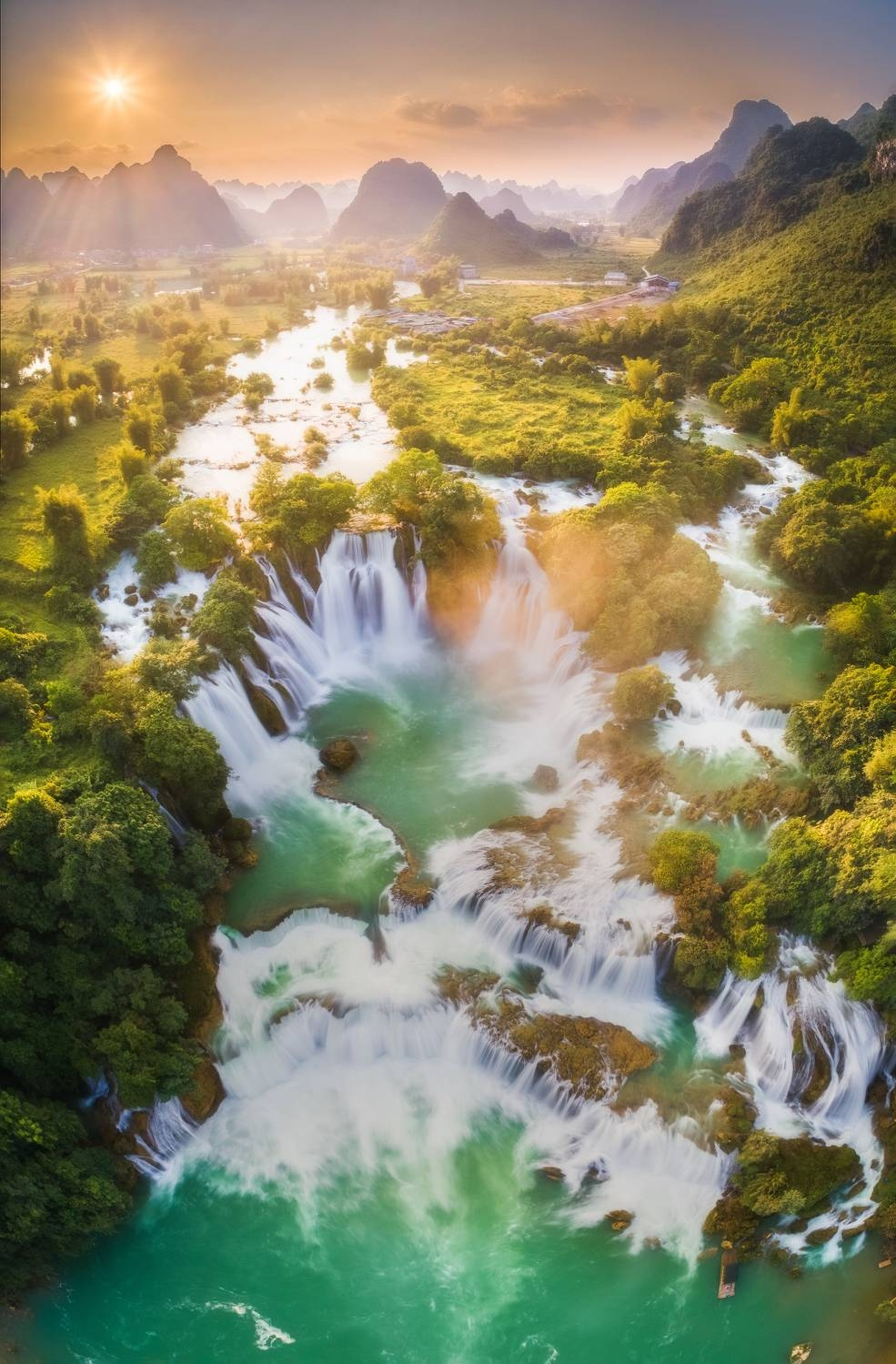 "Sunset on Ban Gioc Waterfall" Photo: Vu Phi Long
Vietnam offers mesmerizing waterfalls, some says the best and most majestic ones in the world.
Waterfall destinations in Vietnam are plenty, and you must pay a visit while holidaying in Vietnam for a memorable experience!
If we were to list the best ones, there are Ban Gioc waterfall (Cao Bang) - one of the largest waterfall in Vietnam. Giang Dien waterfall (Dong Nai), and Dray Nur Waterfall (Dak Lak).
8. The most budget-friendly destination in the world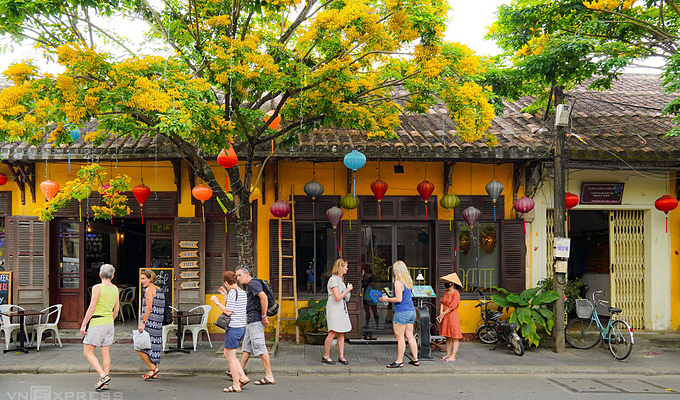 Foreign visitors in Hoi An Ancient Town of Quang Nam Province on March 14, 2021. Photo by VnExpress/Do Anh Vu.
Even for a Southeast Asian country, Vietnam is cheap. Travelling here will stretch your money farther and wider and will allow you to have a more enjoyable trip. Hostel and hotel rooms can cost you under $5 a night and beer will only run you a couple of cents.
Each meal can be eaten for under US $2 and a nice meal for two people can cost you just about $10. Food, accommodations, transportation, activities and souvenirs, they all end up costing less in one week than you would spend in a day in some other countries.
You will be able to afford to do more, eat more and see more when you travel to Vietnam.
9. The most memorizing destination in the world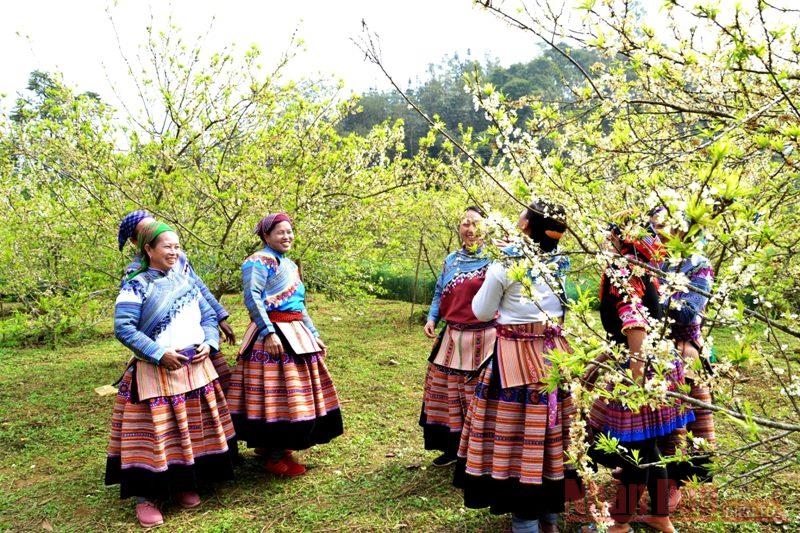 Young H'Mong girl plays in the plum garden. Photo: nhandan
Vietnam is made for travelers. With increasing dependence on the tourism industry for their economy, the Vietnamese have set up the country to be as travel friendly as possible without losing the signature cultural traits.
After two years of Covid-19, tourism in the S-shaped country has rebounded with vigor, Rough Guides remarks.
Infrastructure upgrades, the resume of direct flights that connect Vietnam with major cities in the world and modern development with a bunch of luxury hotels and skyscrapers have made Vietnam more attractive to foreigners.
The most memorizing destinations in Vietnam include the "impressive" rock formations in Ha Long Bay, four hours drive to the west of capital city Hanoi, and terraced rice fields in the northern highlands town Sa Pa as "not-to-be-missed" beauty sites in Vietnam.
10. Vietnam - the most beautiful countries in the world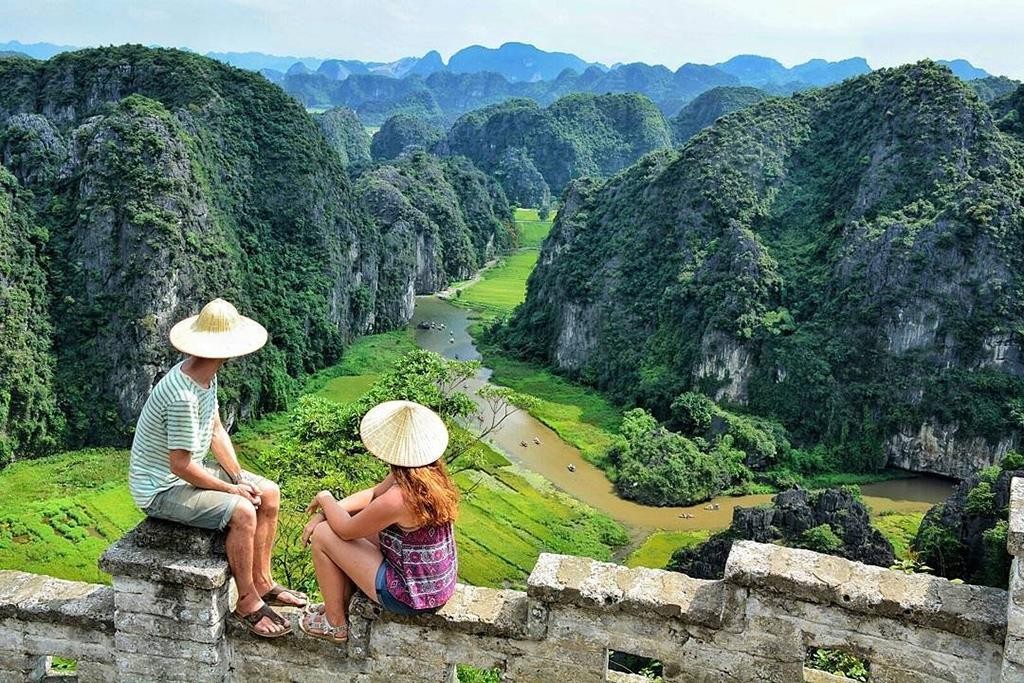 Photo: Vietravel
Vietnam is proving its position as a hot travel destination, and in recent year it always top the "must see" travel lists.
The people in Vietnam are some of the friendliest and accommodating people you will find around Asia. You are always greeted with smiles and the occasional hello.
Everyone seems willing to offer help, especially to travellers and tourists. Questions will get answered quickly and people will seem to go out of their ways in order to help you out.
You will meet new friends and feel like you have found a family away from home. Let us know what is your favorite thing about Vietnam?
Opportunity to Revive Vietnam Tourism

After nearly two years of being closed off due to the Covid-19 pandemic, the government has decided to open the border again to international tourists ...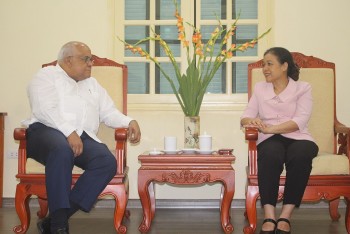 Friendship
Ambassador Nguyen Phuong Nga - President of the Vietnam Union of Friendship Organizations had a meeting and worked with Cuban Ambassador Extraordinary and Plenipotentiary to Vietnam Orlando Nicolas Hernandez Guillen. The two Ambassadors agreed to work closely in organizing solidarity and friendship activities.