NPA-RENEW expands non-technical survey into Dong Ha city of Quang Tri province
As of September 2019, urban dwellers of Dong Ha city, Quang Tri province will benefit from Non-Technical Survey (NTS) operations of Norwegian People's Aid – Project RENEW (NPA-RENEW) as the first step in the Explosive Remnants of War (ERW) Survey and Clearance process which has already been implemented in other districts of the province.
Non-technical survey provides important evidence for conducting clearance where it is needed most. An Non-Technical Survey operator interviews an elderly man at his residence in Ward 2, Dong Ha City. 10 September 2019. Photo: Khuong Sy Ho/NPA-RENEW
Following the completion of inception meetings between the NTS team representatives and authority representatives of seven wards in Dong Ha two weeks ago, NPA-RENEW NTS operators will conduct household interviews to identify evidences of the presence of ERW, also known as starting points, for Technical Survey follow-up.
The NTS teams conduct desk studies and village meeting and collect valuable information from local residents that lead to exact sites of dangerous ordnance. This "evidence-based" approach is then followed by sweeps of the area using tested methodology that is specific to cluster bombs strikes. A pattern or "footprint" is determined quickly and followed by cleanup of the ordnance found and, ultimately, when all ordnance in the area has been destroyed, the team informs local residents that the area is now safe for normal activities.
This approach has proved to be faster, more efficient and very cost-effective, and a reliable assurance of safety for local people.
According to NPA-RENEW, EOD spot task information provided by local people provide the evidence needed by NPA-RENEW to trigger deployment of a technical survey team and a plan of action. The Cluster Munitions Remnants Survey (CMRS) method, based on an investigative search process, permits the CMRS team to define the hazard accurately and generate a Confirmed Hazardous Area (CHA).
In the meeting with the leaders of the Ward 2 People's Committee, Chairman Hoang Nhat Thi said: "It is the local authority's responsibility to cooperate with NPA-RENEW in the field of humanitarian mine action to ensure safety for residents in their daily activities."
NPA Survey & Clearance Program implemented at Project RENEW is funded by the US Department of State and the DFID - UK Department for International Development, and a cooperation project between NPA and Quang Tri Province Department of Foreign Affairs.
According to the mine action database at the Quang Tri Mine Action Center, accidents related to ERW have killed 177 people and injured 255 others in Dong Ha City since the war ended in 1975./.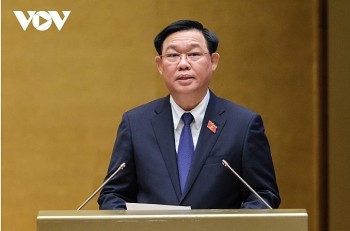 National
National Assembly Chairman Vuong Dinh Hue on May 23 praised the government for its outstanding performance to help the national economy weather the COVID-19 crisis and quickly keep up positive momentum in the post-pandemic period.